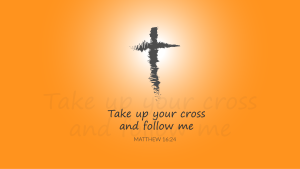 A quote from William Stringfellow, Dissenter in a Great Society illustrates how hard it is for the Cross to penetrate our personal theologies and our lives:
Let the Church, they [we?] say, remain pure and undefiled.

Let the Church, at least, be one place left where men can contemplate their God, devote themselves to 'spiritual' things, and get away from conflict and dissension.

Let the Church be a shrine of peace of mind and positive thinking, of the blessed assurance of better things somewhere, sometime, someplace beyond this realm. Let the Church be uncontaminated by worldly business. Let the Church be a place of rest and abstinence from worldly cares. Let the Church be a refuge from the world. Let the church be a sanctuary for escape. (p. 125)
No one was ever martyred for belonging to that kind of church. Jesus didn't go the Cross for being that kind of savior. That raises the question, What kind of savior was Jesus that he aroused hatred and condemnation as much as love and devotion? I'll look at this question in light of the Gospel readings of the last two Sundays. Really the answer is whole of Luke's Gospel – and we're in the year of Luke for the Sunday Gospel readings.
Ninth in a series on social justice in the Gospel of Luke.
Two sermons for two different groups of "poor"
Two Sundays ago we heard in Church from Luke's Gospel the story of Jesus' first preaching in his hometown of Nazareth. (Luke 4:16-21) There he declared a "year acceptable to the Lord," a year of "glad tidings to the poor." Last Sunday it was the Beatitudes, Luke's less familiar and (my guess) more accurate version. More poignantly than in Matthew's Gospel, Jesus addresses these "blessings" to "you who are poor," not just poor in spirit. Jesus addresses" you who are [literally] hungry," not hungry and thirsty for righteousness. Not just mourning, these ones are weeping.
I was surprised to hear in my pastor's homily that the two groups of poor in these two passages are not exactly the same. The poor Jesus addresses in the Beatitudes are a group I didn't expect.
Along with most people I assumed that Jesus was speaking to and invoking blessing on poor people in general. It's understandable because throughout Luke's Gospel one sees Jesus' concern for the poor. So it's easy to miss the introduction Luke gives to the Beatitudes: "Raising his eyes toward his disciples he said…." And the Beatitudes follow (Luke 6:20-22):
Blessed are you who are poor….
Blessed are you who are now hungry….
Blessed are you who are now weeping….
Blessed are you when people hate you, and when they exclude and insult you, and denounce your name as evil on account of the Son of Man.
There's a huge crowd around, but Jesus is addressing his disciples only. It turns out that the disciples will have plenty of opportunity to be poor and to go hungry. Jesus' lifestyle is pretty much at odds with the ways of the world. But why would the disciples weep? Well, the last Beatitude contains reason enough for weeping.
Blessings shaped like a cross
On more than one occasion we hear that getting too close to Jesus is dangerous. For some disciples of John the Baptist Jesus lists the messianic features of his work: "The blind regain their sight, the lame walk, lepers are cleansed, the deaf hear, the dead are raised, the poor have the good news proclaimed to them." But he adds, mysteriously, "And blessed is the one who takes no offense at me." (7:22-23) Apparently, some were taking offense, even at Jesus good works.
Jesus cured a possessed man in the Gerasene territory, and people in fear begged him to leave. A commentator explains, as I wrote in a previous blog:
Demon possession is often a symptom of an unconscious protest against occupation. The power of the occupiers is too frightening for conscious protest. The Gerasenes are not ready to enter into open defiance of Rome. They certainly are not ready for Jesus' kind of defiance, without army or arms. (paraphrasing Ched Myers, Binding the Strongman, p. 190)
Jesus sends the disciples out to proclaim the good news, heal the sick, and cast out devils. But he warns that there will be "those who do not welcome you." On your way out of town, Jesus says, "shake the dust from your feet in testimony against them." (9:5)
Jesus commanded his disciples to "love your enemies, do good to those who hate you, bless those who curse you." (6:27-28) At five years of age our daughter took this message to heart. Among our "God blesses" during night prayer, she always included, "God bless my enemies." We wondered who those enemies could be. In Jesus' day there was no mystery. For the disciples there were going to be enemies.
The real cross
Finally and most unmistakably, Jesus discusses with his disciples his suffering, rejection, and eventual death. Peter tries to turn Jesus away from such a fate and gets called a devil for his trouble. Then Jesus calls out to anyone who would listen, "Whoever wishes to come after me must deny himself, take up his cross, and follow me."
Here I reference Mark's Gospel (8:31-34) instead of Luke's. Luke copies Mark but omits the part about Peter. He also adds the word "daily" to "take up his cross." (Luke 9:23) That way Luke softens, probably in sympathy with his Gentile audience, and obscures what Jesus must have meant. It was not some metaphorical, voluntary or involuntary penance. Any first-century Palestinian would understand that a cross is the literal cross of crucifixion. The Romans built thousands of them.
A dangerous place, Nazareth
Jesus must have known he was in dangerous territory when he gave what Luke presents as his first sermon. Nazareth in Jesus' time was a village of some 400 people in the region of Galilee. Geza Vermes refers to a "patriotic fever" in Jewish society in general but most especially in Galilee. (The Authentic Gospel of Jesus, p. 401) N.T. Wright describes the hills by the Sea of Galilee as "the hangout for holy revolutionaries, for outlaws ready to defeat the pagan Romans and to bring in the kingdom of God—by force if necessary." (The Original Jesus, p. 46)
Many of these outlaws believed they would have a legion of angels fighting with them. In Matthew's Gospel Jesus refers to that belief. He could ask the Father and get "more than twelve legions of angels" at his side. (26:53) But he doesn't.
Nathaniel, before he became a Jesus follower repeated a common saying, "Can anything good come from Nazareth?" (John 1:46) Respectable folks looked down on the folks from Nazareth.
It was on one of those hills near Nazareth, with revolutionaries hiding in its caves, that Jesus chose the group of his intimate followers. Among those hills is the Mount of the Beatitudes. On the plains nearby (at least in Luke) Jesus preached his most famous sermon. But that comes later in Luke's story. At the moment Jesus is alone, facing a crowd with its own agenda.
And Jesus' dangerous sermon
The crowd appreciates Jesus' choice of this passage from Isaiah:
The Spirit of the Lord is upon me; because he has anointed me to bring glad tidings to the poor. He has sent me to proclaim liberty to captives and recovery of sight to the blind, to let the oppressed go free, and to proclaim a year acceptable to the Lord. (Luke 4:18-19)
Excitement mounts and "all spoke highly" of what Luke calls Jesus' "gracious words":
Today this scripture passage is fulfilled in your hearing. (4:21)
The crowd would have heard, and maybe Jesus even said: This is the Year of Jubilee, the year we get free of the debt that enslaves and oppresses us. This year restores to each of our families the fields they possessed before theylost them through debt.
It dawns on the crowd: "Isn't this the son of Joseph?" In Mark's Gospel, which Luke quotes here, that's a putdown. Who does he think he is? He's just the carpenter's son. "And they took offense at himn." (6:3) But in Luke it's more like, He's one of us. That's our good fortune. No longer will people say, "Can anything good come from Nazareth?" He might be good for business.
Understanding God's favor
Which evangelist got the mood of the crowd right isn't important. The point is to understand what a Gospel means to say. Luke takes this occasion to have Jesus call out the Nazarene's poor understanding of God's favor. It's not just to boost the fortunes of one town or even one nation. So Jesus inveighs against the Nazarenes (you might call it a tirade):
Indeed, I tell you, there were many widows in Israel in the days of Elijah when the sky was closed for three and a half years and a severe famine spread over the entire land. It was to none of these that Elijah was sent, but only to a widow in Zarephath in the land of Sidon. Again, there were many lepers in Israel during the time of Elisha the prophet; yet not one of them was cleansed, but only Naaman the Syrian. (4:25-27)
So much for Jewish nationalistic, patriotic fever. God's love is for everyone.
The fallen world and the Kingdom
There's an even deeper theological truth here. Suppose that the hillside rebels' dream of freedom from Roman oppression came true. In our day we could say, Suppose the dreams of racial harmony, economic justice, and sustainable living on earth came true. All dreams worthy of a Christian's striving. But the Kingdom of God isn't realized with these dreams. Even with our best efforts, it will still be a fallen world, still in need of redemption. The world will still need the opposing witness of Christians; and the world won't like it. The cross still waits for the followers of Jesus.
I like the way Stringfellow puts it:
The Christian is perpetually in the position of complaining about the status quo, whatever it happens to be. His insight and experience of reconciliation in Christ are such that no estate in secular society can possibly correspond to, or much approximate, the true society of which he is a citizen in Christ. He is—everywhere, in every society—an alien. He is always, in any society, in protest. Even when a cause which he has himself supported prevails, he will not be content but will be the first to complain against the 'new' status quo. (Dissenter in a Great Society, p. 162)
Jesus' more powerful enemies – and the Cross
It's early in Jesus' career, but already he has made enemies.
When the people in the synagogue heard this [Jesus' tirade against them], they were all filled with fury. They rose up, drove him out of the town, and led him to the brow of the hill on which their town had been built, to hurl him down headlong. But he passed through the midst of them and went away. (4:28-30)
Jesus takes seriously the concept of Jubilee, the way Jewish Scriptures intended for securing economic justice for all. He sympathizes with the rebels' cause, the cause of the poor and oppressed in Galilee and throughout Palestine. That stand, which for too short a while endeared him to the Nazarenes, will galvanize both friends and enemies in the coming months or years. And the enemies, those thriving in the status quo or finding it tolerable enough, hold the positions of power. They are the receivers of the "Woe's" with which Jesus balances his blessings (6:24-26):
But woe to you who are rich…,
But woe to you who are filled now….
Woe to you who laugh now….
Woe to you when all speak well of you.
These are the type of enemies who can send someone to the cross.
But even Jesus' friends will take a long time to understand what Jesus means by the Kingdom of God. They can see, but only with difficulty, that the way to that Kingdom is not by power but by the Cross.