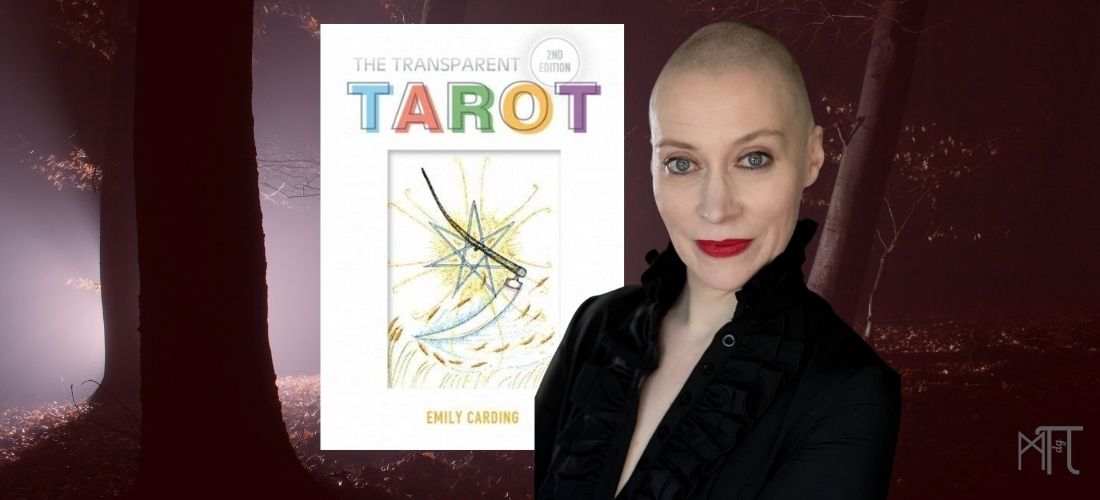 Tarot is something most of us know of. We probably visualise it as the same style of cards and whilst there are countless decks doing slightly different things, real dynamism and change was missing from the practice for many years.
That was, until Emily Carding created the Transparent Tarot.
I've been researching Tarot recently for a new project I'm working on (more about that in a few months) and decided to take this opportunity to talk to Emily about their work.
Emily is the kind of person who not only has a plethora of ideas bubbling about in their mind but is also one of those rare people who possesses the drive and staying power to see those ideas through to fruition.
As well as the Transparent Tarot Emily co-created a one-actor Richard III theatre act and is the author of several books including their most recent So Potent Art: The Magic of Shakespeare which is released in July.
I asked Emily what inspired them to create the concept of Transparent Tarot and they explained
"I'd recently finished The Tarot of the Sidhe and I was keen to create another deck. I wanted it to be something that hadn't been done but it felt like there was no new ground to cover. My brain was clearly very busy on the problem whilst I slept because I woke with a jolt one night with the idea fully formed in my head."
Emily realised their usual style which was densely packed with symbolism (and has often been compared to the late great Rosaleen Norton) wouldn't work for this project. They started to mock-up and plan out some ideas, looking at the major arcana and reducing them to key symbols and images which would stand alone.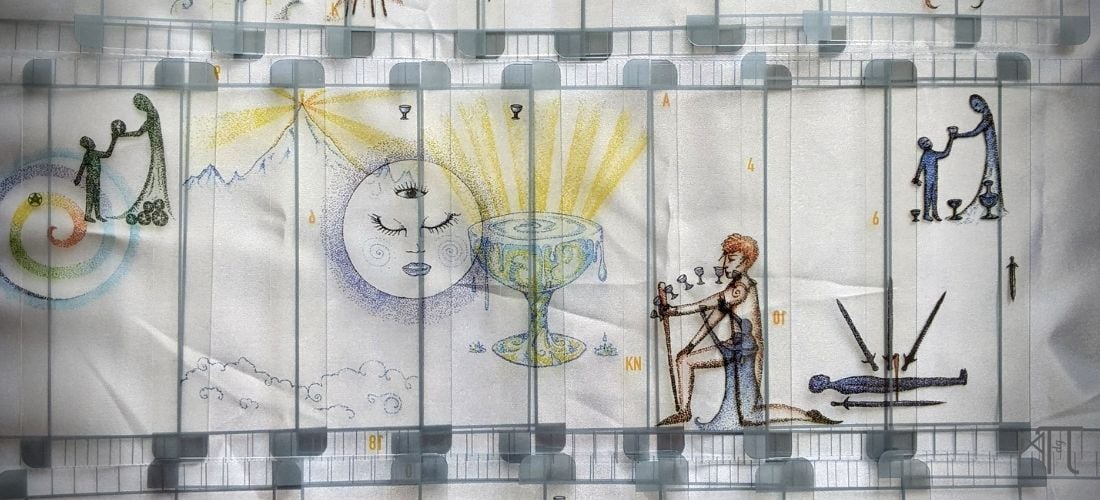 Once they started researching they realised this idea had never been done before.
Emily started designing them with tracing paper in order to see how the cards worked together when layered. It became clear there would be billions of possible combinations making the answers to a given question infinite. Once you add reversed cards and flipped cards you create even more possibilities.
It took a bit of trial and error as each of the cards needed to be able to overlap with the others. Emily experimented with different patterns and imagery, in particular finding dots worked better than lines. Eventually Emily says, "I had something I knew that worked, printed some of the cards at home on acetate and started to approach publishers."
Surprisingly, the reaction was not what Emily had hoped for.
"I approached all the established Tarot publishers, and no-one wanted it. Too different. Too risky. Expensive to produce."
I suppose the thing about innovation is it's untested, it's something you have to take a chance on. However, the publishers who said no thank you missed out on a huge opportunity. That chance was taken by Schiffer books who were new to creating Tarot decks. Emily says:
"The acquiring editor Dinah Roseberry really stuck her neck out and Peter Schiffer agreed that although it would be expensive they would have to charge more and see. And it worked!"
And it really did! The Transparent Tarot made a splash with many people hailing it as a true inspiration. Ten years and a second edition later and Tarot readers are still discovering it.
Apart from sleep, where else does Emily find inspiration?
"I have more inspiration than I know what to do with most of the time! It feels as though it's coming from somewhere external, or rather universal, that is both internal and external at once. I think that's also what our relationship with deity is."
Whilst it's one thing to see the ripples of the collective unconscious and allow them to move us to create, it feels as though what Emily does is less tap into and more dive into and find the hidden pearls!
Emily defines their spirituality as 'Mystic' not wanting to align with anything which might create expectations.
"I am a Priestess of Hekate," they say. "Pagan, yes. Witch, sure… but those labels are limited in some ways. I also find value in teaching which may fall outside what these terms are traditionally considered to encompass."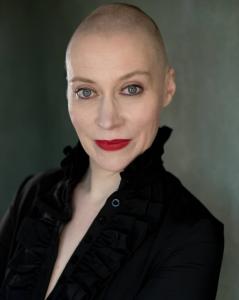 What is happening in 2021?
The good news is Emily is currently in rehearsals at the moment for an online production of John Lyly's Gallanthea in which they play the goddess Diana.
But there will be other things on the horizon too, as Emily says:
"This last year has taught me to practice acceptance so holding on tightly, and letting go lightly…"
You can read more about Emily Carding through her website.
This series of articles about pagan craftspeople and artists is purely for my own enjoyment. I have not been paid by anyone to advertise their work.
I am only featuring those who I personally admire and enjoy the work of, I don't take influencer style requests. I do however love discovering new artists so if you want to use this post to publicise your similar creations please feel free to leave your links in the comments.