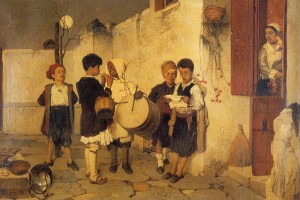 The after-Christmas clearances are in progress in the stores, discarded Christmas trees are dotting the curbs, the carols have faded from the mall speakers and radio stations, and one by one, neighborhood houses have stopped turning on their light displays in the evenings.
For the rest of the world, Christmas is grinding to a halt, but for Catholics, it's still in full swing. Or, at least it should be if we're following the liturgical calendar.
In the Catholic tradition, the Christmas season extends to the Baptism of the Lord, which is observed on January 11 this year. January 11! That means there are nearly two weeks left of Christmas, and almost two weeks more for us to rejoice in the Savior's birth and give witness to our Catholic Faith.
By demonstrating our continued joy, we're making a statement about the importance of Christ's birth and the essence of our beliefs. All during Advent, we read, talk, listen, and write about holding back on the Christmas celebrations because "Christmas isn't here yet." But all through the Christmas season we should read, talk, listen, and write about keeping the celebrations going because Christmas isn't gone yet.
Toward the end of Advent every year, our family goes to the library and scoop up a bunch of Christmas movies and music CDs to play during the Christmas season, because we know we won't find any shows or music on TV or radio after December 25. Then we enjoy them in the weeks following.
Our tree stays up, too, which has made for interesting conversation at times. Start listening to the chatter going on around you – at work, shopping, hair salons, and banks, for example — you'll be surprised how often someone will mention something about having taken their tree down or putting away the Christmas decorations. If you can do it without sounding like a know-it-all, this is the perfect opportunity (read: teaching moment) to do some subtle evangelization. Use it to show your joy and commitment to celebrating our Lord's birth fully, and to explain the other feasts that come in the Christmas season, like the martyrdom of St. Stephen, Solemnity of Mary, Mother of God, Epiphany, and Jesus' Baptism.
I've done this and have gotten some interesting results. There haven't been any miraculous conversions, at least as far as I know, but it has gotten folks to stop and think, if even for a moment or two, about the magnitude of Christmas.
Try it for yourself and you'll see. Leave the tree and decorations up, read  and re-read the Scripture passages on the Nativity, rejoice in the Christmas season, and just keep caroling. Even it no one else gives a hoot about why you're doing it, you'll know, and you'll be glad you did.
photo credit: Nikiphoros Lytras (1832-1904), CC