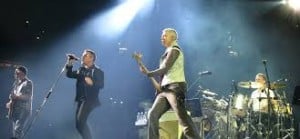 Dennis Sheehan, who spent 33 years as the tour manager of the popular Irish rock band, U2, died suddenly May 27 of a massive heart attack. Sheehan was 68. He was found in his Los Angeles hotel room just hours before the band was to perform.
Expressing the band's grief, lead singer Bono wrote on the U2 website, "We've lost a family member, we're still taking it in. He wasn't just a legend in the music business, he was a legend in our band. He is irreplaceable."
According to a report by The Blaze, the band did something both surprising and beautiful in response to Sheehan's death.
They asked Pastor Rick Warren of nearby Saddleback Church to join them in reading Scripture and praying before that night's show.
U2 doesn't bill itself as a Christian band, yet they've consistently put their Christian faith and Biblical themes at the center of their music.
Way cool, especially considering that U2 is one of the most popular rock bands of all time.
One of their most famous tunes, "I Still Haven't Found What I'm Looking For" is a straight-up Gospel song:
I believe when the Kingdom comes / Then all the colors will bleed into one / But yes, I'm still running / You broke the bonds / You loosened the chains / You carried the cross / Of my shame / You know I believed it / But I still haven't found what I'm looking for.
The band normally ends their shows with the song, "40," which is based on Psalm 40:
I waited patiently on the Lord / He inclined and heard my cry / He lifted me up out of the pits / And out of the miry clay.
This night, the band again ended with "40," but before they began Bono dedicated the song to Dennis Sheehan, saying, "We dedicate this song, in fact we dedicate the night, in fact we dedicate our whole tour to the very living memory of Dennis Sheehan."
Then, as is their tradition, they performed the song and left the stage one by one, leaving the crowd repeating the refrain at the tops of their lungs.
Pastor Warren had posted on his Facebook page that Sheehan "was a calm and kind Christian man."
A Christian man managing the tours of a Christian band. That's not so unusual, is it? What's unusual, I think, is that it's an incredibly famous mainstream rock band who unabashedly sings about their Christian faith. What's also unusual is that, upon hearing of their friend's death, they turned to God. That doesn't happen a whole lot in the entertainment industry. (In this regard, you might want to check out Mark Dice's new book, Inside the Illuminati: Evidence, Objectives, and Methods of Operation)
Here's the video of U2's performance at the Forum the night Dennis Sheehan died. What a great tribute to Sheehan, but also what a great tribute to the grace of God.