It's easy to see the Christmas story through rose-colored glasses. Porcelain nativity scenes and greeting cards convey a message far removed from the truth. However, the birth of Christ shows us what happens when the divine kingdom realm invades the lives of finite humanity. The real story is wrought with complicated tensions and subplots that are relatable to ordinary people. These three lessons from the real Christmas story show that Jesus was born for real life people.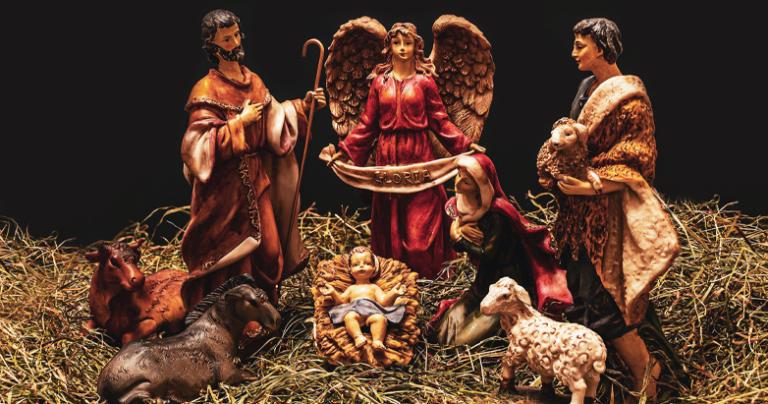 1) God Will Give You Confidence
This was how Jesus, God's Anointed One, was born. His mother, Mary, had promised Joseph to be his wife, but while she was still a virgin she became pregnant through the power of the Holy Spirit. (Matthew 1:18)
The real Christmas story was not an easy path for Mary. She was subject to severe controversy, rejection and gossip. Can anyone blame Joseph for wanting to divorce her? Or the people for believing she slept with another man? God's plans are not always easy, but He will give us confidence to face every season. Mary was assured in advance that she was blessed and highly favored. God did not allow her to face the controversy without first preparing her heart with confidence.
Many years ago the Lord promised that I would become the father of my own son. The promise was significant because I had never met a biological relative. During that time, my wife and I tried to have a baby for several years, but we simply could not get pregnant. Unfortunately, our marriage unexpectedly ended and my former wife died from cancer a few years later.
During that lonely season God reminded me about the promise. The assurance that I would someday become the father of my own son gave me confidence that my life was still blessed. Two years later, I met the love of my life. We got married and were pregnant within six weeks. I am now the proud father of two incredible boys. The real Christmas story shows us that God will give us confidence to face challenging seasons.
2) God Will Give You Direction
While he was still debating with himself about what to do, he fell asleep and had a supernatural dream. An angel from the Lord appeared to him in clear light and said, "Joseph, descendant of David, don't hesitate to take Mary into your home as your wife, because the power of the Holy Spirit has conceived a child in her womb. (Matthew 1:20)
Joseph was an honorable person with aspirations just like any soon-to-be-married young man. However, his dreams were crushed when he learned that his fiance was pregnant. We can only imagine the intense feelings of rejection, jealousy and anger that gripped his heart. He did not want to follow through with the marriage and secretly planned to break the engagement. During the height of his uncertainty, however, God gave him clear direction to take Mary as his wife. When it was humanly impossible to know the correct way forward, God intervened.
There was a time I was the chief marketing officer for a large real estate company. I was responsible for taking its marketing efforts out of the ashes and leading it towards relevancy in the industry. However, the dynamics of the executive team changed after several new people were hired. My new boss had never held an executive position before and did not have a marketing background. I knew the leadership changes were the beginning of the end for me with the company.
Two weeks after my relationship with the company ended, I grew frustrated not knowing where God was leading me. One morning, alone in my office, I cried out to Him for direction. In the midst of my perplexity, I heard the Lord gently whisper, "Check your inbox." I opened my email and saw a note from a literary agent interested in my manuscript The Art of Marketing Jesus. Today, I am a published author. The real Christmas story shows us that God will direct us when we don't know what to do.
3) God Will Be With You
She will give birth to a son, and you are to give him the name Jesus, because he will save his people from their sins." All this took place to fulfill what the Lord had said through the prophet: "The virgin will conceive and give birth to a son, and they will call him Immanuel" (which means "God with us"). (Matthew 1:21-23)
The real Christmas story centers on God's desire to be with us. It was prophesied many years prior that a virgin would give birth to a son. Jesus is known as "Immanuel" because the name means "God with us" and represents the purpose of Christmas. It's a wonder to behold the divine Creator became a man so that He could be with us.
You may feel lonely, but God is with you. The pandemic may have you anxious, but God is with you. You may be wrought with controversy, but God is with you. Perhaps you feel perplexed, but God is with you. It's no coincidence Jesus was born in a lowly manger. It teaches us that Christmas was designed for ordinary, real life people.
Do you feel burnt out trying to perform better to please God? Learn to live spiritually free and attract people to Jesus. Sign up for Robert's free, 3-part video series today, derived from the book The Art of Marketing Jesus.