Jesus promised two things that are certain in life. First, you will experience storms while on planet earth. Second, you are promised perfect peace during the storms. The disciples learned these lessons while experiencing a violent and unexpected storm. If you are going through a difficult time, these five truths will give you peace in the storm.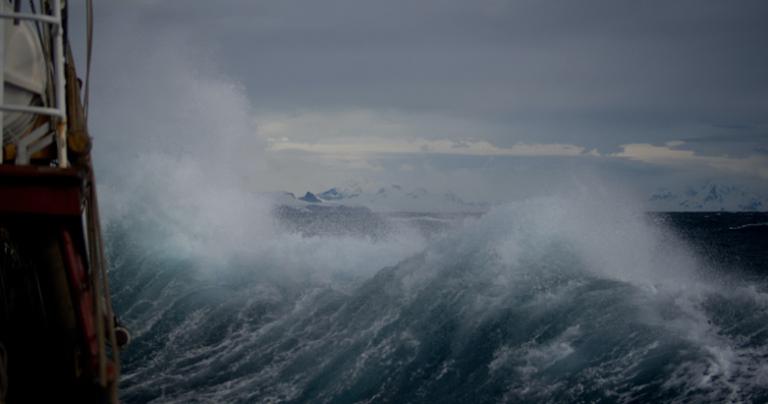 1) God Allows Storms to Test Your Faith
Suddenly, as they were crossing the lake, a ferocious storm arose, with violent winds and waves that were crashing into the boat until it was nearly swamped. (Mark 4:37)
You may be living your best life when suddenly everything is turned upside down by a ferocious storm. It's not easy to stay in peace during these times. However, it's important to remember that although the storm took you by surprise, it did not take God by surprise. Make no mistake, God allowed the storm for the purpose of testing your faith.
Storms do not feel good in the moment, but God uses them to produce character and strengthen our faith. I hated hearing this when I was struggling with anxiety and depression, but even the most ridiculous storms have enormous value. Don't ever forget that you will come out better on the other side of the storm.
2) God Is With You During the Storm
That same day, after it grew dark, Jesus said to his disciples, "Let's cross over to the other side of the lake." (Mark 4:35)
The disciples were in the boat because Jesus asked them to get into the boat. It was not their idea in the first place, and yet they still found themselves fighting for their lives. There are times when you will face violent storms even after you choose to follow God's plan. As you raise your children and provide for your family, storms will come. As you embark on the new ministry or decide to get married, storms will come.
God does not send His children into the storm alone. Jesus told the disciples, "Let's cross over to the other side of the lake." God was in the boat with the disciples and He's in your boat too. He will never leave you or forsake you!
3) God Cares Even When He Doesn't Stop the Storm
But Jesus was calmly sleeping in the stern, resting on a cushion. So they shook him awake, saying, "Teacher, don't you even care that we are all about to die!" (Mark 4:38-39)
The storm was about to swamp the boat and yet Jesus still did nothing to help. He calmly rested on a cushion while the disciples fought for their lives. It's no wonder the disciples were freaking out and felt perplexed that Jesus wasn't helping. If we're being totally honest with ourselves, there are times when we feel the same way.
We know in these moments that God is aware of the storm, but we don't understand why He allows the waves to keep crashing. Many people struggle to understand why God allows certain things to happen. We will never fully understand why on this side of eternity, but we must learn to trust the character of God when bad things happen.
4) God Cares More About the Second Storm
Then he turned to his disciples and said to them, "Why are you so afraid? Haven't you learned to trust yet?" (Mark 4:40)
There were two storms happening when the disciples were in the boat. The first storm was the natural elements that threatened their lives. The second storm was their distressed hearts and minds. Jesus did not spend one moment concerned about the first storm, but He cared deeply about the second.
Jesus showed us that it's possible to have perfect peace in the middle of the storm. He wants us to receive that same peace. Ask yourself the questions: Why are you so afraid? Haven't you learned to trust yet? You can walk in divine love, joy and peace, but the gift only comes after we fully trust Him in the storm.
5) What Has You Overwhelmed Will Determine Your Peace
But they were overwhelmed with fear and awe and said to one another, "Who is this man who has such authority that even the wind and waves obey him?" (Mark 4:41)
The disciples were overwhelmed after the storm was over, but they were no longer overwhelmed by the natural elements. They were overwhelmed with the power and majesty of their Savior. Perhaps this was the point of the storm in the first place. What has you more overwhelmed today, your storm or your Savior? As you keep your eyes stayed on Jesus, He will keep you in perfect peace.
Do you feel burnt out trying to perform better to please God? Learn to live spiritually free and attract people to Jesus. Sign up for Robert's free, 3-part video series today, derived from the book The Art of Marketing Jesus.