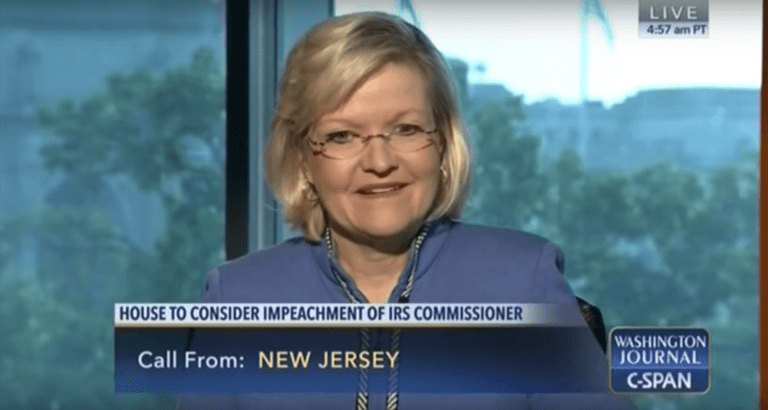 When allegations emerged that the IRS was targeting conservative groups based on their political beliefs, the left balked and said we were crazy. When Lois Lerner and her cronies got caught red-handed doing just that, the liberal media downplayed it and tried to sweep it under the rug.
But just last week an IRS employee boldly admitted on national radio that he would proudly target Conservative groups that he didn't agree with.
So no, we aren't crazy. The culture of corruption and abuse of power plainly pervades from the top to the bottom of the IRS.
The Free Beacon explains:
Mitchell, a political law attorney who has represented conservative groups during the IRS targeting scandal since 2010, was a guest on C-SPAN to discuss the possible impeachment of the IRS commissioner John Koskinen.

The first caller was a self-identified IRS employee who said he would go after the groups Mitchell represents if their goal was to abolish the IRS.

"I am a lowly clerk at the IRS, looking at your application for tax-free status," said the caller, Bill, from Elizabeth, New Jersey. "I go to your web page to see the goals of your group and one of the goals of your group is to abolish the IRS."

"You can bet every dollar you got I'm going to go after you and target you and try and end your group and that's just the way it is," the caller said.
Ms. Mitchelle eloquently rebutted:
"Well, it shouldn't be that way, actually, and I don't know anybody who said they would they would get rid of the IRS, but if they did that's their right, that's their First Amendment right to do that," Ms. Mitchell responded. "And a government employee is not supposed to superimpose his beliefs or his judgment or his concern about his job over those of a citizen who has a first amendment right to express that opinion to abolish the IRS or to change the tax code."

"Many of these groups did say they wanted lower taxes, they wanted to repeal the 16th Amendment, perhaps, that establishes the income tax," Mitchell said. "But that's our constitutional right as citizens."

"A government employee works for us and it's not the government employee's right or obligation and it's not permissible for an IRS employee to say 'I don't like that group' and so I'm going to try to punish them that is viewpoint discrimination and it's unconstitutional," she said.
Amen. It is insanity that even the lowest level employees at the IRS believe they have the power to do whatever they want and oppress whoever they want. But we shouldn't be surprised by this. It's human nature.
The key is these bureaucrats can't have this power.
We need the Convention of States now more than ever. It is the only option big enough to take on the massive beast that is our federal government.
You can watch the exchange for yourself here:
Join the only movement that can stop government overreach. Click the button below to support a Convention of States team in your state.