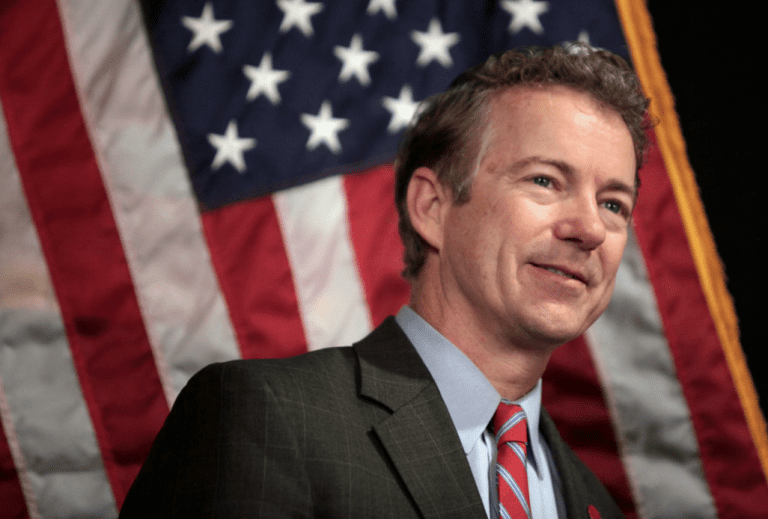 Last year, Senator Rand Paul was attacked while mowing his lawn.  The senator from Kentucky has experienced five broken ribs, including 3 displaced fractures —  "meaning the bones are partly or completely cracked" — as well as bruises to his lungs.  
On Friday, his attacker Rene Boucher is set to be sentenced in federal court.  Boucher pleaded guilty to assaulting a member of Congress, a federal charge.  Boucher says the attack was triggered by Paul, his neighbor, because Paul was stacking yard debris near his property line.  But this was definitely not a yard dispute.  Paul says that "justifies such violence and misses the point." Federal prosecutors will reportedly ask for a 21-month prison sentence; Boucher will ask for probation.
Here's the thing about this horrible situation.  The media hesitated to report on this violent crime.  When reporters did mention the assault, they bent over backward to say it was not politically motivated.  However, as Powerline reports, the WaPo's own reporting paints a very different story:
Jeff Jones, a registered nurse who worked with Boucher at the Bowling Green Medical Center, described Boucher's politics as "liberal."

"He was active on social media and said some negative things about the Republican agenda," Jones said.

"I think it was unfortunate that they lived so close together," he added.
A Facebook page that appeared to be Boucher's included links to articles and memes critical of President Trump and a news article about a Montana Republican congressional candidate who attacked a reporter the day before winning his seat. Jim Bullington, a former member of the city commission, knows both men. He said Sunday that Boucher is divorced and lives alone. Bullington described Boucher as a socialist.
"He's pretty much the opposite of Rand Paul in every way," Bullington said in an interview.The neighbors had been known to have "heated discussions" about health care, Bullington said, adding that Boucher is an advocate of a national health system.
Imagine for one second how the Washington Post would report on a right wing Trump supporter attacking Nancy Pelosi.  The coverage would be wall to wall.  The condemnation of conservatives would be loud and decisive.  Yet, when the victim is a Republican, the media can barely mention the attacker's political stances.  As John Hinderaker wrote:
Maybe new facts will emerge. Maybe there is some other reason why Boucher assaulted Senator Paul, like a boundary dispute or an argument over a barking dog. But that seems unlikely. At present, it appears that Boucher's assault of the Republican senator is another instance of political violence prompted by the climate of hate that has been fostered by the Democratic Party. Where will it end?
Exactly.
While the New Democratic Fascists claim that speech is violence, they continue to commit actual violence against Republicans.
Image Credit: Gage Skidmore on Flickr

Hat Tip: Powerline