In this corner, Sen. Dianne Feinstein, bringing her astonishing mind reading powers to bear on Amy Coney Barrett, Trump's nominee to the Seventh Circuit:
The Daily Caller has useful background. Feinstein's comment doesn't come out of the blue. Amy Coney Barrett, Trump's nominee to the Seventh Circuit, co-wrote a law review article 20 years ago arguing that in certain circumstances a Catholic judge who conscientiously objects to capital punishment should recuse herself rather than enter an order of execution against a convict. Feinstein and other Democrats like Dick Durbin tried probing her on that at today's confirmation hearing. When should a judge refuse to do her duty because the law conflicts with her faith? As you'll see below, Durbin in particular took issue with the phrase "orthodox Catholic," a term Barrett used in the law review article, and asked her if she considered herself an "orthodox Catholic" insofar as her beliefs might trump her obligations as a judge. Barrett gives the Kennedyesque answer — duty comes first — and Durbin seems placated.
You can watch the exchange here:
It is intriguing that Durbin has never ever heard the term "orthodox Catholic", but Barrett acquits herself reasonably well in explaining it and giving the standard reply that she will do her duty by law.
Then Feinstein, who seems to have a genius for coining catchphrases useful for Right Wing Culture Warrior direct mail Panic the Troops fundraising letters, goes on to make clear her anti-Catholic bigotry since (as was obvious all along) the real issue is not capital punishment, but abortion, and that this religious test needs to be applied:
WATCH: Sen. Feinstein to appeals court nominee Amy Barrett, @NotreDame law prof/#Catholic mother of 7: "The dogma lives loudly within you." pic.twitter.com/mpDgNZGRsa

— Jason Calvi (@JasonCalvi) September 6, 2017
Make no mistake. Feinstein is way the hell out of line here and means to make very clear that she not only thinks she knows "the dogma lives loudly within you" (words that will appear on a million T-shirts,
— C. C. Pecknold (@ccpecknold) September 7, 2017
coffee mugs, memes,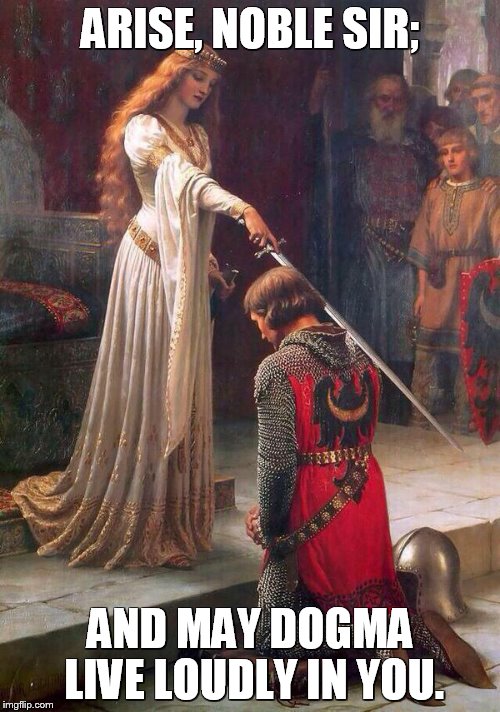 cartoons,
and posters for the next 20 years), but that Barrett needs to be punished for being a Catholic. She means, in short, "Catholics need not apply."
The Panic du Jour Machine on the Right is already revving up. I instantly saw people reacting to Feinstein's grotesque performance with citations of Cardinal George:
"I expect to die in bed, my successor will die in prison and his successor will die a martyr in the public square
Truly, this is the end of days. A Democrat acted like a jerk. Let us sit upon the ground and tell sad stories about the death of kings. The sun is extinguished and doom is nigh. Send your contributions to Trump 2020 now.
Duly noted.  The Marching Orders for this week's Right Wing Panic du Jour are sign, sealed, and delivered.
Meanwhile, today 60 Minutes releases adulterous conservative Catholic Folk Hero and promoter of Alt Right Nazis Steve Bannon's latest screed attacking the Catholic Church:
They need illegal aliens. They need illegal aliens to fill the churches, it's obvious on the face of it. That's what the entire Catholic bishop's condemning. They have an economic interest in unlimited immigration, unlimited illegal immigration….as much as I respect Cardinal Dolan and the bishops on doctrine, this is not doctrine at all. I totally respect the Pope and the Catholic bishops and cardinals on doctrine. This is not about doctrine. This is about the sovereignty of the nation. In that regard they're just another guy with an opinion.
So what's the difference between Bannon and Feinstein. In terms of sheer anti-Catholic bigotry? Not one thing. Both are clearly hostile to the Church.
But in Bannon's case, the anti-Catholic bigot and enemy of the Church is working from within, is called a "devout Catholic", and has passionate and enthusiastic support from the Greatest Catholics of All Time, who repeat his lies.
The first lie he tells is that he respects the Pope and the bishops on doctrine. No. He does not. The core lie at the heart of the Alt Right is racialism, which Bannon passionately promotes in the teeth of the ancient Catholic teaching that, in Christ, there is neither Jew nor Greek, slave nor free, black nor white, male, nor female.  He famously boasted that he made Breitbart the platform for the Alt Right.  And "Alt Right" is a term coined by genuine Nazi Richard Spencer to describe the white supremacist movement that has now captured the GOP and sits enthroned in the White House in the person of its Defender-in-Chief Donald Trump, whom Bannon labored to elect.
The second lie Bannon promotes, which American conservative Catholics have eagerly embraced, is the lie that unless the Magisterium is speaking dogmatically, you can feel free to ignore it and fight the Church. Wrong:
Among the principal duties of bishops the preaching of the Gospel occupies an eminent place. For bishops are preachers of the faith, who lead new disciples to Christ, and they are authentic teachers, that is, teachers endowed with the authority of Christ, who preach to the people committed to them the faith they must believe and put into practice, and by the light of the Holy Spirit illustrate that faith. They bring forth from the treasury of Revelation new things and old, making it bear fruit and vigilantly warding off any errors that threaten their flock. Bishops, teaching in communion with the Roman Pontiff, are to be respected by all as witnesses to divine and Catholic truth. In matters of faith and morals, the bishops speak in the name of Christ and the faithful are to accept their teaching and adhere to it with a religious assent. This religious submission of mind and will must be shown in a special way to the authentic magisterium of the Roman Pontiff, even when he is not speaking ex cathedra; that is, it must be shown in such a way that his supreme magisterium is acknowledged with reverence, the judgments made by him are sincerely adhered to, according to his manifest mind and will. His mind and will in the matter may be known either from the character of the documents, from his frequent repetition of the same doctrine, or from his manner of speaking." (Lumen Gentium, no. 25)
Third, Bannon lies that what the Church herself calls the "social doctrine of the Church" is not doctrine.  This extremely popular lie is promoted all over the place in the rightwingosphere.  Take, for instance, John Zmirak's bunko claim that Catholic social teaching is a "myth".
Fourth is the lie that the Church's interest in immigrants is all about the Benjamins.  Yeah.  Because day laborers in California fields are just filthy rich.  The truth, of course, is that the Church has a duty to her whole flock and is under no obligation to ask for somebody's paperwork before obeying the mandate of Christ to welcome the stranger or give him the sacraments or see to it that his wife and baby don't starve.  And, of course, the Church owes it in justice to see that 800,000 kids who are productive members of society guilty of no crime other than that of "racial impurity" in the eyes of a Nazi sympathizer like Bannon are not subjected to what Pope St. John Paul called the "intrinsic grave evil" of deportation: a sin as worthy of the fires of hell as abortion.
Again, Bannon has passionate support from the Greatest Catholics of All Time for his favorite mortal sin.  And most disgusting, those Super Catholics actually have the gall to use the unborn as human shields for the evil they love.  So, John Zmirak famously wrote that "Amnesty Equals Abortion" and argues that the cruelty of deporting innocents such as Dreamers, veterans, and Harvey rescuers is necessary because these inhuman brown monsters are all eager to abort children.
The bottom line is this; Bannon's anti-Catholic lies, unlike Feinstein's hostility, have seduced millions and millions of Catholics who brag that they are "orthodox Catholics" and who regard themselves as anointed by God to defy the pope and the Magisterium, call the Holy Father a communist and a heretic, and propose a false gospel alien to the mind of Christ.
The Church, starting with Christ, has always warned that seduction, not persecution, is the real threat the she faces:
Do not fear those who kill the body but cannot kill the soul; rather fear him who can destroy both soul and body in hell. (Matthew 10:28)
Nobody serious about the Faith is going to listen to Feinstein and say "Hey!  We need to punish Barrett for being so Catholic!"
But Bannon already has millions of Real Catholics[TM] ready to fight the pope to defend spitting in the faces of innocent kids whose only crime was being three years old when they came here. Millions of Real Catholics[TM] ready to cheer for deporting vets and deporting hard-working innocents who are model Americans to some country they do not know any more than you do. Millions of Catholics ready to denounce the God of Israel for saying "be good to the stranger, for you were strangers yourselves in the land of Egypt."  Millions of Real Catholics[TM] Bannonites have no problem at all cheering for the cruelties of Sheriff Joe Arpaio, which resulted in the death of babies in childbirth and the rape of children in the custody of what he called "concentration camps".  Nor will they have any problem if deporting 800,000 innocents results in death or miscarriage for the pregnant women in that population.
Feinstein and Bannon are both anti-Catholic bigots.  But only Bannon has succeeded in making millions of Catholics into anti-Catholic bigots at war with the Magisterium.
And that's the final irony.  All the people wringing their hands about the Coming Persecution of Catholics at the Hands of Dianne Feinstein don't seem to grasp that Catholics are already being persecuted–by people like Steve Bannon, who would love to see 800,000 innocents subjected to deportation, just for starters.  Feinstein waves around a scrap of paper called Roe v. Wade as her legal excuse for trying punish a Catholic and they see the End of Days.
Bannon waves around scraps of paper like the imbecilic Executive Orders he himself authored and makes calls to punish millions of Catholic refugees and Dreamers, and Good White Catholics pause from trembling about their own Coming Persecution to cheer for the brutal punishment of fellow Catholics who are brown, and therefore, who do not count.