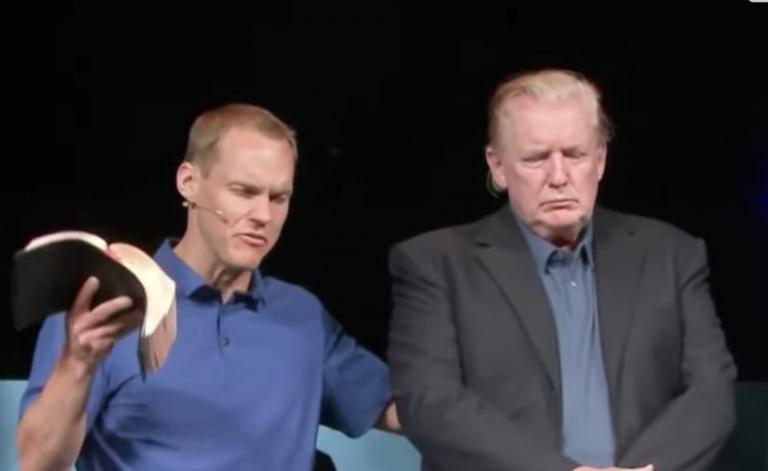 On Sunday, Donald Trump showed up to McLean Bible Church unannounced.
Trump skipped most of the service, having just finished a round of golf. He was in the area showing support for the victims of the recent Virginia Beach mass shooting. He showed up at McLean, a megachurch, expecting to receive prayer since this past Sunday has been designated by many in this country as a day to pray for the President.
The church's pastor, David Platt, however, has been vocal in his criticism of Donald Trump.
And so, one might expect him to offer a challenging word. Nevertheless, that isn't what happened:
These days, where countless evangelical pastors continue to follow a Trumpian decline into socio-political apostasy, it may seem refreshing to watch a pastor adopt a nonpartisan posture, and one that gently and indirectly challenges Trump to do better.
But to me, this moment—this prayer—was an opportunity to embrace the Church's call to prophetic witness.
There was absolutely nothing prophetic about David Platt's prayer for Donald Trump. That so many people, even progressive people, feel that Platt did a good job reveals how thoroughly low we set the bar when it comes to our collective call to prophetic witness.
Yes, in the prayer, Platt prayed that Trump would embrace justice, righteousness, and equity. But these are abstract notions that nearly every leader affirms. Nearly every world leader from Bush to Hitler to Clinton to Mao no doubt believed themselves to be just, righteous, and fair. Trump is likely no exception.
Read these words from Gregory Baum, which contain insights for our current social, political, and spiritual contexts:
…Preachers and teachers know very well that they do not make enemies when they lament the suffering in the world and demand greater justice in general. People want to be seen as favoring justice. It is only when preachers and teachers name the plague that people get angry. In North America and Europe, academic theology tended to shy away from such outright political judgments because they transcend the discipline. Instead, it advocated love, justice, and peace in general terms, sometimes so general that they could be used by speech writers for the government intent on defending its policies. Calls for justice and peace cannot be used in this ideological way when they name the social evil. If Archbishop Oscar Romero had not named the plague, if he had only demanded greater peace and justice in general, he would not have been shot…
Perhaps it is too much to expect David Platt, caught off guard by a visiting president, to be prepared for a prophetic word. And perhaps most of us prefer a church that aims to make peace amidst political strife, a church that avoids partisan political statements, a church that only asks leaders to look to God and value justice and mercy and equity in abstract ways.
But that isn't the prophetic call.
I have no interest in castigating Platt. My frustration is with an American Church that treats prophetic witness as a rarity. That we think that a prophetic posture is an add-on pack to the Gospel or something exceptional or unusual is largely the reason we're in this sort of mess. The church's vocation is prophetic witness. Each congregation. And all followers of Jesus have a part to play in that shared vocation.
We, the Church, need to encourage and exhort one another to embrace our prophetic calling. We need to demand it and assume it. Otherwise, the best we can expect is mild words from megachurch pastors.
Right now, amidst our current political and spiritual crises, we need prophets. Those who get specific in naming social evils. Those who encourage the oppressed and confront the oppressors. Those who, filled with the Spirit of Liberation, don't shrink from the powerful, but contend with them in the name of Jesus Christ, our Liberator.