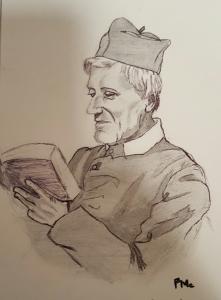 I grew up in the pre-internet age, so I still have a sense of awe every time I turn on a computer. Yesterday morning, for example, I was looking at a great website devoted to the works of St. John Henry Newman (1801-1890), whom Pope Francis recently canonized. For the first time, I read through Newman's sermon notes (as opposed to the text of his full-length sermons). These short insights are Newman in a nutshell. They can also be a useful resource for an attention-starved age. Take a look at them sometime; they're worth it! 
Newman is one of the great English prose writers of the nineteenth century, an Oxford Don turned Catholic priest and Cardinal. Throughout his writings, he addresses issues that are still pertinent: faith, doubt, personal growth, one's purpose in life- all in stellar prose. His Apologia Pro Vita Sua (1864) is probably the greatest spiritual autobiography in the English language. (James Joyce admired Newman's "silver-veined prose.")
Newman's notes for Christmas 1851, titled "The Special Charm of Christmas," are particularly worth a look this week. (They were written only eight years after Dickens' A Christmas Carol.) The difference between Christmas and Easter, Newman writes, is this: "In the one Christ comes to us, in the other we go to Christ." Because of this, he contends, our hearts lean more toward December. We tend to prefer Christ coming to Christ leaving. 
"All our human feelings," Newman adds, "are soothed by Christmas." It's the time when "Christ comes to us as our guest." For Newman, the Incarnation was the central fact of the Christian life. In making the world His home, Christ "deigns to be the light of it, [putting] off his all His glory… to come into this bleak prison and suffer for us." Not only do individual families celebrate, Newman says, but the collective Christian family celebrates as well. 
Let's be honest. This year, most of us don't feel like celebrating. We continue to endure a global pandemic, not to mention social unrest, political division, and economic hardship. Thousands are dying, while many more are experiencing isolation and intense loneliness. How can you sing "Joy to the World" in a year that feels like a "bleak prison," as Newman calls it? 
Yet even in the midst of the death and the ugliness, we can still take the time to be Light to one another, just as Christ is Light to each of us: "Encourage each other while it is still today" (Hebrews 3:13). We can even do this in quarantine. One of the great things about social media is that it can serve as a reminder that we are not alone. This is especially important during the holidays, when so many feel that way. 
Newman was a voracious letter writer, among the most prolific of his time. Personally, I think he would have been at home in our internet age. Through his letters, he cultivated what we might call an apostolate of friendship. While the physical act of letter writing may have died out with the advent of email and texting, we can still use these modern resources for the same purpose as the Victorians did. We can still make a difference with our words, typed or written.   
How? By reaching out to others, especially the lonely and the vulnerable. Let them know you're thinking of them, that they're not alone. Call them, text them. When you're on social media, post something positive, especially in the comments section. (God knows they could use it!) St. Paul urges us to say the things people need to hear, things that will build them up, as opposed to breaking them down (Ephesians 4:29). 
Even in the middle of this bleak prison we call 2020, Christ comes to make the world His home. That's the beauty of the Incarnation. Christ meets us right where we're at. He is the Light who calls us to go further, and be Light to others. As St. Teresa of Avila says, "Christ has no body on earth but yours." That is especially true this year. Let's be Christmas to one another! Let's make the difference!  
(The drawing of St. John Henry Newman is by Pat McNamara.)