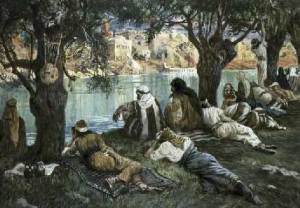 For the month of October, our LifeSign service at Burke United Methodist Church is journeying through a sermon series "By the rivers of Babylon: how to live as a people in exile." My first sermon on October 6th looked at Psalm 137. Here is the audio podcast with some additional commentary below:
Psalm 137:4 asks the question, "How can we sing the Lord's song in a foreign land?" To the Babylonians who captured the Israelites, their songs of Zion were a potential source of entertainment: "For there our captors asked us for songs, and our tormentors asked for mirth, saying, 'Sing us one of the songs of Zion!'" The Israelites naturally resented their sacred songs being treated as objects of "mirth" for their tormentors. Many of these songs were geographically bound to the city of Jerusalem; they would sing them on the procession up the hill to Jerusalem on the great festival days.
This psalm reminds me of the Harlem Renaissance that was my favorite unit of literature to teach about as an English teacher. In the roaring twenties, rich white people would go to nightclubs in Harlem like the Cotton Club to be entertained by black performers like Duke Ellington and Josephine Baker. There were also black poets like Langston Hughes, Countee Cullen, Jean Toomer, or James Weldon Johnson who were often financially supported by rich white patrons.
Many of the rich white folks wanted the "mirth" of black culture without the reality of the Babylonian cruelty they had suffered. But the black intellectuals in the Harlem Renaissance revolted against the paternalism of the whites who were financing them. The rich whites wanted jazz and sexy, scantily clad cabaret singers, not words like these from Langston Hughes's poem "Christ in Alabama":
Christ is a n***er,
Beaten and black:
Oh, bare your back!

Mary is His mother:
Mammy of the South,
Silence your mouth.

God is His father:
White Master above
Grant Him your love.

Most holy bastard
Of the bleeding mouth,
N***er Christ
On the cross
Of the South.
The paradox of the black Christian experience in America is that their songs of Zion came directly out of their experience of Babylonian oppression in the form of slavery, segregation, and racism. James Cones explains in his book
The Spirituals and The Blues
how black people came up with spirituals to praise God on the slave plantations not as an act of "mirth," but as an act of survival, very much like the psalmist in 137 who makes a new song of Zion to stay together as a people in a foreign land: "If I forget you, O Jerusalem, let my right hand wither! Let my tongue cling to the roof of my mouth, if I do not remember you, if I do not set Jerusalem above my highest joy" (vv. 5-6).
I have had little first-hand experience of black Christianity, but in the white Christianity where I live, too often we presume that worship is supposed to be about "mirth." In high school and college, you could always tell who the Christians were by the way they always smiled and had sunny dispositions. Singing songs about Jesus can get subsumed under a suffocating saccharine facade of "positive and encouraging."
I don't want to dis anyone who is bright and shiny because they have a genuinely hopeful attitude. I have a friend named Beth who constantly radiates joy in a way that I cannot be cynical about because I know how pure her heart is. But I do want to say something to people who feel like their churches are filled with Babylonians watching them and demanding that they put sufficient mirth into their praise songs. Worship is not about mirth; it's about clinging to the hope of Jerusalem. In our case, Jerusalem is not a place we remember fondly, but a new Jerusalem where God will dry every tear and right every wrong.
So we sing to live in the reality of this new Jerusalem even as we walk the streets of Babylon. And as we sing our songs of Zion, God draws us into His joy even if the circumstances of our lives do not furnish any rational cause to be joyful. It is a joy that can coexist right in the midst of our real-life suffering and carry us through it.
I guess the last thing to say is that the closing of this psalm should be a comfort to us, as jarring as it is. "Happy shall they be who take your little ones and dash them against the rock!" (v. 9). What a horrible wish to have! It's probably exactly what the Babylonians did to the babies of the Israelites who were too much of a burden to be marched into exile with their parents. But the fact that the psalm ends this way means that God doesn't expect us to put a happy ending on our songs. It's okay if we're still hurt, still confused, still angry. God can handle our rage. He's not going to obey it, but He can absorb it into Himself. That's precisely what He did on the cross.