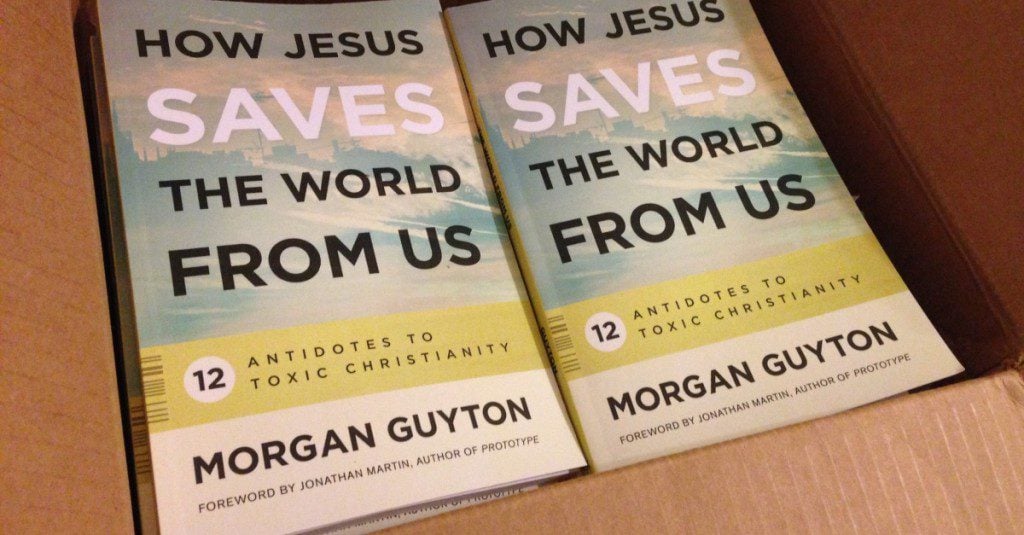 When I was a Southern Baptist, we used to believe that Methodists didn't read the Bible at all. What may be shocking to some evangelicals is to discover that even progressive, LGBT-affirming Methodists actually read the Bible and develop most of our ideas through years of rumination on particular scriptures. There were way more than 12 scriptures that influenced my book How Jesus Saves the World From Us. But these 12 verses seem to link up the best with the themes of each chapter.
1. "Whoever does not receive the kingdom of God like a child will never enter it." Mark 10:15 (#WorshipNotPerformance)
I've seen people create all kinds of contrived interpretations for this verse. Like it means we need to be humble because children are humble (really?). Or it means we need to be obedient because children are obedient (you've never met my children!). As I've pondered this verse over many years, the best understanding I have is that children know how to worship in a way that adults have forgotten because children do not yet have agendas and anxieties. Children can delight in the world because they haven't yet discovered that they're supposed to be performing and obsessing about their image at all times. To discover the warmth of God's loving gaze means becoming like a child again in the ways that children are safe until they lose their innocence. Christians would be much less toxic if we could become like children again.
2. "Go and find out what this means, 'I desire mercy not sacrifice.'" Matthew 9:13 (#MercyNotSacrifice)
This is what Jesus says to the Pharisees when they criticize him for eating and drinking with sinners. Ever since I encountered this verse in 2008, it has been life quest to find out what it means. I think it's a summary of the gospel. We all have to make sacrifices to follow Jesus. It's part of our spiritual discipline. The question is whether we use our sacrifices to tally up points for ourselves in a moralistic meritocracy. Christians who give themselves the moral high ground on the basis of their self-perceived sacrifices are some of the most toxic people around. What should define us is the mercy that God has shown us. If we are most fundamentally people who have been shown mercy, then we will show mercy to others. The point of Jesus' sacrifice on the cross is not to satisfy God's demand for sacrifice, but to provide a basis for putting all of us under the sovereignty of God's mercy.
3. "I know and am convinced in Jesus Christ that nothing is unclean in itself, but it is unclean for anyone who thinks it is unclean." Romans 14:14 (#EmptyNotClean)
The first century Pharisees thought holiness was about staying clean, stringently following a long list of rules and taboos in order to prove their loyalty to God. Many Christians try to create a moral legalism out of the apostle Paul's teaching, but that completely misunderstands Paul. Paul was not a moral legalist, but an ascetic mystic. Nothing is unclean in itself as a universal principle, but anything can become an idol that destroys our souls. If we want to be filled with Christ, we have to empty our hearts of idols. This is a much more rigorous demand for holiness than merely following the explicitly stated do's and don'ts of the Bible. Jesus says that moral legalists who stay clean on the outside are like "whitewashed tombs, which on the outside look beautiful, but inside they are full of the bones of the dead and of all kinds of filth" (Matthew 23:27). If on the other hand, we manage to empty our hearts of idols, then they can be filled with God's love.
4. "Do you not know that your body is a temple of the Holy Spirit within you?" 1 Corinthians 6:19 (#BreathNotMeat)
This verse has been completely poisoned by evangelical purity culture (e.g. since middle school girls' bodies are temples, they should not only wear one piece bathing suits but also XXL t-shirts over it at every youth pool party). But I want to reclaim it because it's such an incredibly empowering statement. Each of us is a temple in which the breath of God abides. What? That's what it means to be fully alive. We are made to be "partakers of the divine nature" (2 Peter 1:4). The problem is that we live in ways that reduce our bodies to meat, what Paul calls "living according to the flesh." To be fully alive, we need to become God's breath rather than Satan's meat. This does not mean that we hate our bodies; it is rather the highest form of physical vitality.
5. "Living in the fear of the Lord and the comfort of the Holy Spirit, [the church] grew in numbers." Acts 9:31 (#HonorNotTerror)
In 2012, I had a series of encounters with scriptures that talked about the fear of the Lord, and this verse was one of them. It completely blew my mind. At face value, the juxtaposition makes no sense. How can you be afraid and comfortable at the same time? Huh? I still don't completely understand the fear of the Lord, but it's definitely not being afraid of God. It's more living in full awareness of God's awesome strangeness and infinite power. Living in the fear of the Lord is the opposite of living in the status quo. It means expecting miracles and divine encounters that are impossible to explain. Another meaning of the fear of the Lord is to live in perfect integrity. When you fear the Lord, you do what's right even if there are no consequences for being oppressive or deceitful. It's not so much that you're afraid of getting struck by lightning but that you're afraid that the lovely presence of God will recede away from you if you succumb to sinful behavior.
6. "The light shines in the darkness, and the darkness did not seize it." John 1:5 (#PoetryNotMath)
John 1:5 is the perfect metaphor for God's truth. It is light that cannot be seized. We can touch the light; we can point at it; but the moment we try to wrap our fingers around it to claim it and conquer it, we end up with a fistful of darkness. Because light cannot exist in a space that's completely closed off from its source. Many Christians approach the Bible as a form of knowledge that they seek to conquer and use to give themselves power. But the wisdom of the Bible cannot be conquered because it's not mere mathematical knowledge. It's poetry whose truth must be embodied in a life of prayer. The degree to which Biblical interpretation is a rationalistic rather than liturgical enterprise is the degree to which it ceases to change anything about our hearts.
7. "And all of us, with unveiled faces, seeing the glory of the Lord as though reflected in a mirror, are being transformed into the same image from one degree of glory to another." 2 Corinthians 3:18 (#CommunionNotCorrectness)
This verse captures the dynamic beauty of true orthodoxy, which is not "right opinion" but "right glory." The Eastern Orthodox get this; the rationalistic Protestant Christians who call themselves "orthodox" do not. The purpose of all Christian doctrine is to gain the deepest possible encounter with God's glory. That encounter itself is what makes us holy; it's what instills faith, hope, and love into our hearts. If what we're seeking is to be the most correct person in the room, we will end up worshiping our ideas about God rather than God himself, and we will not taste the true glory. People can have stupid, erroneous beliefs about God and still encounter God's glory in spite of themselves. But the reason to correct our mistaken beliefs is so that we can more deeply experience God's glory.
8. "One thing I ask of the Lord… that I may dwell in the house of the Lord… to gaze upon the beauty of the Lord and to seek him in his temple." Psalm 27:4 (#TempleNotProgram)
One of the greatest blessings I've had in life is the way that God has given me sacred places. Whether it's the sea wall in Corpus Christi, Texas or the swimming hole in Seneca Rocks, West Virginia, they are places where I sought the Lord in prayer and he came to be with me. There is no greater disaster in the church today than the complete secularization of our worship space. We need sacred space. We need temples where we can go to gaze upon the beauty of the Lord. If we have made all of our space into utilitarian program space, it will greatly diminish our ability to connect with God.
9. "Above all, maintain constant love for one another, for love covers a multitude of sins." 1 Peter 4:8 (#SolidarityNotSanctimony)
A certain type of Christian panics about this verse. Sin is not supposed to be covered up. It's supposed to be measured and accounted for so that the proper punishment can be suffered. But what Jesus shows us time and again is his willingness to not only cover sin, but attack the critics of sinners. The rawest illustration of this comes in Luke 7, when a sinful woman anoints Jesus' feet, a Pharisee named Simon shoots her a dirty look, and Jesus publicly humiliates Simon in response. Jesus shows solidarity with sinners by destroying those who are sanctimonious about their sins. Indeed, the purpose of ridding my life of sin is not so that I can be a shiny trophy on God's shelf but so that I can more completely show solidarity to my fellow sinners. The truth is that sin itself should be defined not as the violation of rules, but the failure to love.
10. "He has chosen the despised ones and those who are not to bring to nothing the things that are." 1 Corinthians 1:28 (#OutsidersNotInsiders)
I discovered this verse in 2003 when I was at rock bottom in clinical depression. It is such a powerful verse because it tells me that God wants to use worthless pieces of shit like me to overthrow the oppressive world order. Is there anything more revolutionary than "bringing to nothing the things that are"? I believe that is the true church's vocation. We are supposed to be ekklesia, the "called out" ones. To say something even more radical, I honestly believe that this verse prophetically anticipates the wrecking ball that queer identity has brought upon the church. The church was perfectly happy creating a moral system whose purpose was to validate social insiders. As long as you avoid drugs, premarital sex, and cussing, you're perfectly free to be as selfish as you like with your resources. Queer identity is bringing to nothing the idolatry of the Eisenhower-era heteronormative nuclear family that has kept many Christians from living for the kingdom of God. Yes, queer people are creating a moral lcrisis, and that's exactly what the church needs to repent of our bourgeois self-satisfaction.
11. "Whoever wishes to become great among you must be your servant." Mark 10:43 (#ServanthoodNotLeadership)
Evangelical Christian culture has a major leadership fetish. Former megachurch pastor John Maxwell has built an empire off of his tremendously popular leadership development program. Maxwell says famously that "leadership is influence." I would say that in our day when platforms seem to matter more than relationships and bloggers are more relevant than bishops, Christian leadership is too often influence without responsibility. What Jesus models for his disciples is not platform-building and influence-maximization. He models leadership as servanthood. To be a servant is not merely to serve or do something for someone else; it requires putting yourself beneath the other person. Servant leadership means being focused on the empowerment of others. Insofar as our leadership is about controlling others, it looks nothing like the crucified messiah who is our leader.
12. "Seek first for the kingdom of God and his righteousness." Matthew 6:33 (#KingdomNotStadium)
Am I seeking the kingdom of God or am I seeking to fill up a stadium? That's one of the most important questions I wrestle with every day as a pastor. Unfortunately, too often what I care about is filling up my own stadium. I want people to come to my events and my worship service so that I can feel sufficiently validated as a Christian leader. Because I'm the only Christian leader who has it right. All the other ones are toxic. If I'm truly working for the kingdom, I have to abandon this attitude. I have to be willing to share God's kingdom with Christians who have been shaped radically differently than me. I have to be willing to accept that God is speaking to and working through Christians who disagree with me on major issues, including the great debate of the 21st century that I always talk about. God meets all of us where we are and uses what he has to work with. He is a sower who throws seeds recklessly all over the place. We need to be pilgrims journeying together into the kingdom rather than gatekeepers of our personal self-validation stadiums.
Please like my facebook author page!