For the last couple months, a dear friend and I have been working through Becoming Myself together. Honestly, so far it hasn't been much fun for me. Every chapter hits a nerve — a raw nerve more often than not. I'm thankful to be going through the book with someone who is so tender-hearted and compassionate. The experience has been enabling me to work through and move on past several painful issues. However, we had to put the study on pause for a couple of months while my husband and I moved our family into a different home in a different city. In the midst of figuring out where the grocery stores were and starting new routines, I haven't had a lot of time to read, but the Holy Spirit has been faithfully tugging at my heart, convicting me that now is the time to tackle the body image/weight/confidence problem that has been suffocating me. Today the sun was shining and the house was relatively clean so I grabbed a chair off the patio and sat down to read. I opened up Becoming Myself to the dog-eared page, expecting another (good) chapter on forgiving others, but read, "Do you love your hips?" Oh goodness, how could I have forgotten that all things work together for the good of those who love God. There I was, going through a seemingly disconnected (and embarrassing) series of events, and He kindly reminds me that He is orchestrating all of it.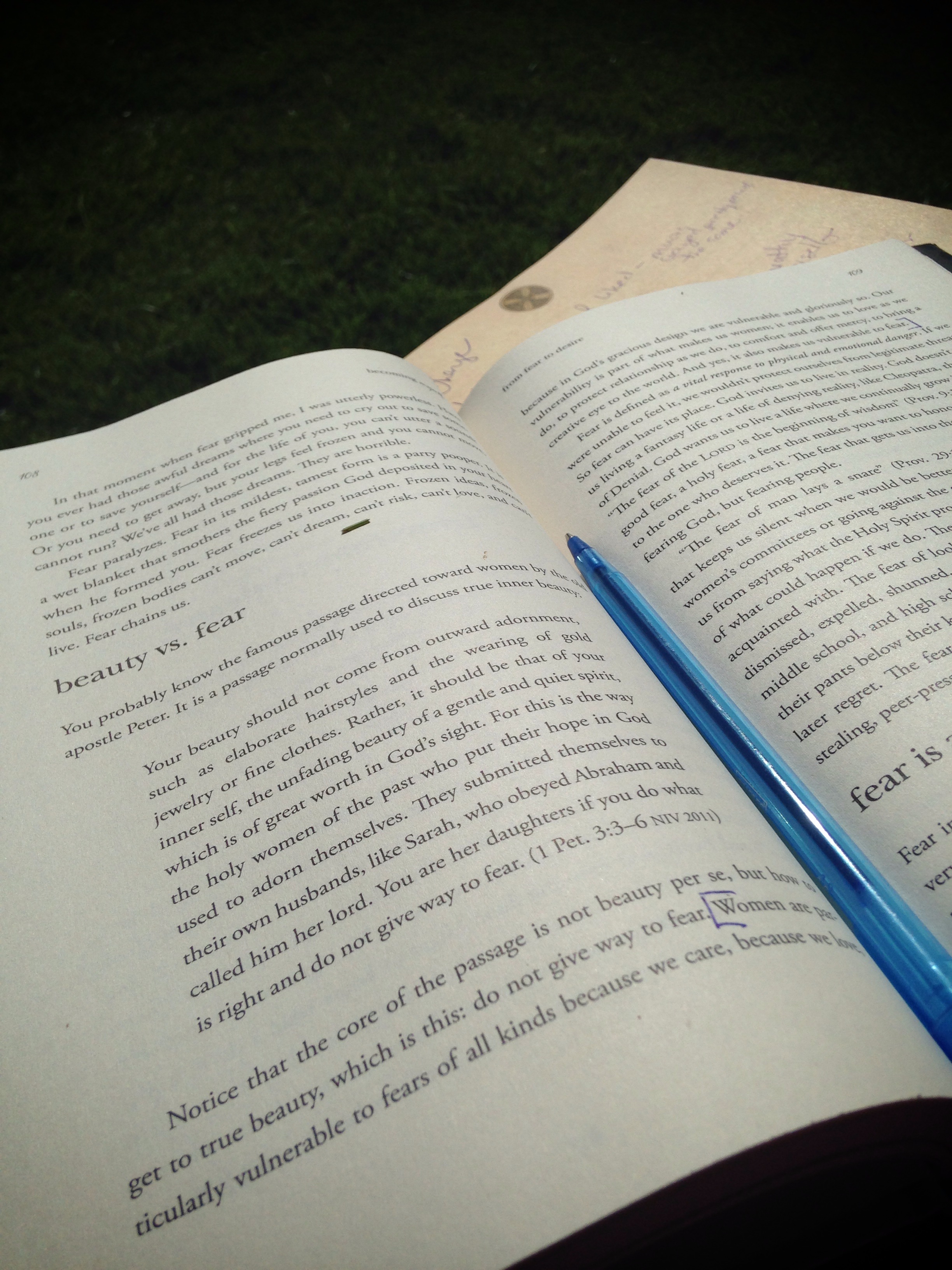 What a wonderful reassurance. I never took much stock in signs, but I'm being convinced. If you are willing to open your eyes, everywhere you look, you will start to see Him. Nothing is chance.
I read chapters 6 and 7, only stopping to attend to the kid's needs. Paragraph after paragraph, speaking truth and wisdom to me.
"God wants you to love and enjoy everything about yourself right now and embrace the truth that you are a beautiful woman regardless of your measurements. Until we can do that, we will not be moving forward."
I got my first plus size dress in the mail today. A simple, wonderfully soft and summer cool, black maxi dress. My last one was a size Large from 2 kids ago. It hung in my closet, taunting me, until I finally handed it to my daughters for their dress up collection. I tried on the new dress, the scary 0X — and it fit. Sigh. Maybe I should find a good push up/suck in piece before our anniversary cruise this summer? You now, just to hike everything in and up a bit? I hate shapewear though, it is always so uncomfortable and I feel like I'm lying. Guilt.
"Seriously now, why do we feel the need to do this to ourselves?

What is so horrific about bumps?"
What is so horrific about bumps? These bumps are signs of a life spent well. My belly embraced four different people, keeping them safe as their bodies grew into the souls they already had. Why do I feel ashamed of the evidence? My chest isn't 16 years old any more. It isn't air brushed. My figure looks as old as I am and what is wrong with that? My husband doesn't mind. If he did, I'd be worried. Wouldn't it be a bit weird if our bodies didn't age with us? Dorian Gray, Barbie, and Vampires — they are all halloween movie material. My bumps are right where they should be. What is so wrong with that? If anything, age is giving me more reasons to praise God. He gave us beautiful and comfortable brassiere technology. Hallelujah!!
"Jesus is inviting us to relax into the beauty he has bestowed upon us and cease striving to attain a level of smooth perfection that looks wonderful on a doll or on a magazine cover but is not attainable in the living, breathing realm of humanity."
Deep breath. Relax. Surrender. Hand over your fears of weathered skin and wrinkles and bumps and stretch marks. Hand over your fears of what other's might think, of not being beautiful, of not measuring up, of being unworthy. Surrendering something to God is not giving up or giving in. It is putting something in more capable hands than your own. Do you know what He says about you?
"God says our latter glory will exceed our former. To our great loss, in our society we no longer value the wisdom and expertise that comes through living well through many years. Silver hair and wrinkles are earned. I have learned that being beautiful, feeling lovely, and enjoying who we uniquely are have absolutely nothing to do with our weight, our age, or the shape of our bodies. Take that in a moment and try it on for size. Let the possibility of that being true settle into your spirit for a moment before you quickly dismiss the idea. Beauty is not about the hair, the clothes, the marital status, the bank account, or the number on the scale. Being beautiful is a quality of spirit recognized primarily in a woman whose soul is at rest because she believes her God when he calls her lovely."
Do you believe that? God designed you. He did it carefully, thoughtfully, joyfully. He made you lovely and He loves you very much. Look at yourself. I dare you. Stand naked in front of the mirror. Look for the signature of the Artist who created you. Can you see it? I think I'm beginning to.
(All quotes taken from Becoming Myself, by Stasi Eldredge, Chapter 6)