Someone I know recently obtained an abortion. The woman, herself, is not a Christian, but I can't help but think that she knows what she is doing. Her sister (who is pro-life and a follower of Christ) spoke with her sister about the life growing inside her womb and encouraged her not to end the pregnancy. She even offered to adopt her niece or nephew after the birth. However, the unwed mother opted to end the life of her child regardless. We are weeping with the woman's sister and praying for mercy and grace for the mother. For Jesus' sake, God, hear our prayers.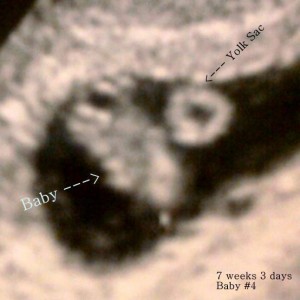 We know that life begins at conception. Jesus was named before Mary conceived Him (Luke 1:31). His unborn cousin, John, leaped in his mother's womb when Mary drew near only weeks, maybe days after she conceived our Savior. I remember feeling pregnant very shortly after my own children were conceived. With my second, I know the moment her life began — I just knew. Eventually, I felt each of my babies move in my belly, I heard their heart's beat. I had the opportunity to see one of their heartbeats on an ultrasound when I needed an emergency rehydration at ten weeks along. A lima bean, human-unformed, being carefully knit together in a dark and secret place. She was beautiful even then.
Unborn babies are people with souls. The only people who don't believe that are the people who don't want to.

When children are not planned, they can absolutely be inconvenient. My husband and I were surprised twice by positive pregnancy tests. I had hyperemesis gravidarum. I didn't have super severe cases, but they weren't mild either. I was sick the whole time and on bedrest a lot. Throughout the 38 weeks of my final pregnancy, friends and family came in to provide my kids and my husband with every meal, babysit and clean my house because I could not. That pregnancy was more than inconvenient; it was a considerable trial. But when I took the test that lit up like a Christmas tree, even though I wasn't excited about the new development, I knew the baby was a gift. God is the giver of life: who was I to interfere with the Almighty?
I truly hate abortion. I hate that it is legal to dismember, burn, and flush the life out of these voiceless souls, created in the image of God. I'm angry that pithy lies are offered up to women who are in need. Because they are in trouble and want it all to go away, they swallow the lie that abortion is an acceptable option. My heart cries out for these murdered babies, but my heart also breaks for their mothers. I cannot imagine the backlash of guilt that comes with destroying the life you were designed to nourish and protect. It is no wonder that depression, suicide, and maternal mortality statistics skyrocket after a mother has an abortion. In the United States, we don't track those things, but in Austraila they do and the results are staggering.
I know that many women decide to abort because they believe, honestly, deep down in their hearts, that their baby would be better off not existing. Maybe the father is violent (as was the case for another mother I know and love who chose abortion). Maybe the father is deadbeat or absent. Maybe she doesn't even know who the father is, or maybe the mom has her own problems. Maybe she is an addict.
Maybe she is homeless, maybe, like me she has mental and physical illness that interfere dramatically with her ability to bear and raise a child. I understand. Motherhood is an incredible challenge to do well.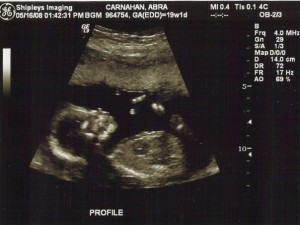 Maybe the baby is a result of rape, which is truly horrible. Any forced sexual encounters are an aggressive and violent blasphemy against God himself and in so being, such actions are a violation against His image bearers. But killing the baby won't bring that evil to justice, and it won't bring the victim closure, peace, or satisfaction. With abortion, nobody wins; the mother is physically hurt (sometimes irreversibly damaged) and scarred spiritually and psychologically. The father may never be held responsible for his abuse of the baby's mother or, alternately, is deprived of his biological right to be a dad. The souls of the medical staff who commit and assist in these crimes are deteriorating at best and deranged at worst. God have mercy.
My "baby" is three years old now. He is supposed to be napping next to me as I write this. But instead, he is playing under the comforter pretending he is on an adventure. "Aye, aye, aye" I hear him moan dramatically. Then he pokes out his head from beneath the covers, smiles broadly and says, "Das betta!" Funny little man. He is wonderfully and fearfully made, and I can't imagine life without him, now.
I know there are women out there today who are wrestling with the question of whether or not they should end their pregnancy. Please, please hear me: I don't know what series of events lead you to this place. I know that if you are considering abortion, you haven't been loved the way God intended you to be. He never wanted you to be used, to be hurt, and to be so very alone. You are a cherished, beautiful daughter of The King, and He loves you so much. He wants you to know His love; He wants to take care of you because your worth is far above rubies. In His love for you, He allowed that life in your belly. I know it doesn't feel like a gift right now, but that little boy or little girl -they are, I promise. You have a choice, you have been given the responsibility to decide what to do next.  Please don't allow who the father is or what he did or did not do determine the outcome of your child's life.

Don't allow what other people have done to you destroy your child's life. I know you feel like you can't handle this right now, but God isn't like other men. God won't use you and leave you. He cares. He knows you are worthy of love and respect because He made you with love and respect. I promise He will carry you and sustain you. Please know that abortion is not the only option. There are so many people who want to help you be the mom you want to be for your baby. If you really believe you can't do this, there are so many wonderful, loving, stable homes who would be honored to adopt your baby — I know my husband and I would. Please reach out let us help. You are not alone in this, don't believe that lie. God gave you this child, He will give you what you need to be a mother.