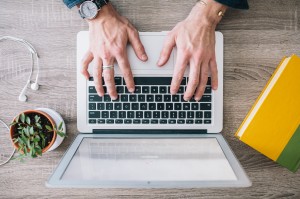 With the advent of the Internet, the sheer volume of information available stretches far beyond what we could possibly have time to process in one lifetime. Less than twenty years ago, our knowledge was limited to what our social circles knew through personal experience or through selective news outlets. Today, we have the whole wide world and everything anyone thinks, feels or witnesses at our fingertips. The data is raw, unfiltered, and largely unmoderated. When I was a child, news consumers had the benefit of being able to discern relative context before taking the information as gospel truth. Folks generally knew whose voice they were listening to, enabling them to filter what was said before absorbing it. For example, if you lived in a liberal state, understanding the probable Democratic bent of your information source would help you take what they reported with a grain of salt. Conversely, if you lived in a more conservative state, the way your news swayed Republican could work as an aid in taking what was said with a grain of salt. Today, information comes to us from so many varied (and often unverified) sources that it would take an enormous amount of time and effort to even begin to know how to process the data.

Just today, two different stories popped up on my Facebook feed.
The first one
was a tragic story of a little boy who tried to taste ground cinnamon and died of asphyxiation ninety minutes later.
The second one
was a popular article about a man who recorded what the doctors and nurses said after he had been sedated for a colonoscopy and ended up with a big pile of money in the consequent lawsuit. In the first story, the article's emphasis was that household items we don't usually consider dangerous can be. The latter was written in a one-sided manner, raking these medical professionals over the coals without bothering to question what the patient had done to solicit such an uncharitable reception (and yes, of course, healthcare workers shouldn't trash talk their patients, but patients also shouldn't be jerks to the staff. See
Luke

6:31
).

I read multiple accounts of each of these incidents and as I reflected upon both, the thing that became most obvious in both was fear and pride. These stories are popularized through fearmongering. Despite what happened to both these people being statistically rare, the way the articles are written implies that this could happen to anyone. The authors want the readers to ask what they would do if it happened to them. While it is true that anything could potentially happen to anyone, this type of thinking is void of both common sense and the undeniable goodness of God's sovereignty. The first story inclines every mama to lock up her spice cabinet to spare her child death by cinnamon, but the fact remains that her child is far more likely to die as a vehicle passenger than by gastronomy. Death by car is
so likely
, in fact, that unless we trust God with our children's lives, we would all go crazy, sell our cars, and never leave the house again.
"And do not fear those who kill the body but cannot kill the soul. Rather fear him who can destroy both soul and body in hell."

–

Matthew

10:28
In the second story, we are invited to either fear medical professionals generally (with an eye for monetary retribution) or allow ourselves to feel superior in light of such a despicable offense.
"The righteousness of God through faith in Jesus Christ for all who believe. For there is no distinction: for all have sinned and fall short of the glory of God, and are justified by his grace as a gift, through the redemption that is in Christ Jesus, whom God put forward as a propitiation by his blood, to be received by faith.

This was to show God's righteousness, because in

his divine forbearance he had passed over

former sins.

"

–

Romans 3:22-25
Both stories imply that, now being enlightened, the consumer can save themselves from enduring the same hardships. You've been warned, now protect yourselves! My point is simply this: Fear of earthly peril and Christian contentment cannot abide in the same soul. We can't serve two masters (
Luke

16:13
). We will either trust God and delight ourselves in His wonderful truth or become slaves to fear, constantly relying upon ourselves for salvation. As Christians, I think we should be wary of sharing information without first examining our motives. Is what we are sharing going to point readers to Christ or will it encourage them to be afraid and rely upon themselves (a discouraging proposition). Are we declaring the good news or breeding anxiety? We will be required to give an account for the words we say, and I think that includes the words we lead others to believe. Let us not be mindless consumers, but thoughtful proclaimers of truth, light, and love.