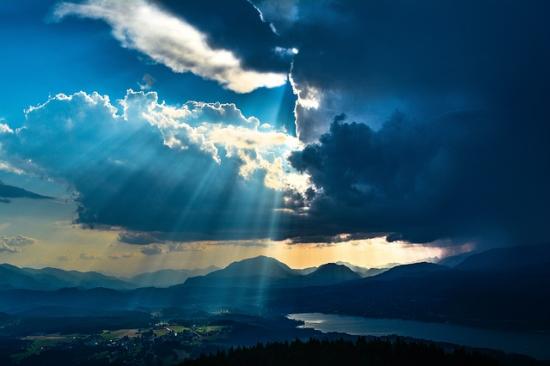 My grandmother passed away last week at the age of 85. She was one of the best people I knew. I was asked to speak at her funeral, an honor I'm still not sure I deserved. But I felt extremely humbled to be able to say a few words remembering this great woman God gave me the pleasure of knowing. Below is the eulogy I read, because I believe everyone deserved to know how great a person my Nana was.
Shortly after my Nana passed, I spent some time with my sister and cousin sorting through pictures. Those of you who know my Papaw know that sifting through the photos he's taken over the years can be daunting, because he takes a lot of pictures. Unsurprisingly, a lot were of my Nana.
There were many pictures of times I remembered. Birthday parties, holidays, trips. But what surprised me most were the pictures of Nana with friends, Nana with her young children, Nana and Papaw as newlyweds. It surprised me because, of course, I only knew her as Nana. For the longest time, I thought she was born with grandkids. And it makes sense. If anyone had been born to be a grandmother, it was her. Even the name grandma doesn't seem to fit; she was Nana, and she exemplified everything that name brings to mind.
For each of her six grandkids, Nana was one of the most important and beloved figures in our lives. Her faith, good humor and love were woven into the fabric of our family from the moment we were born.
Loving, and never harsh
She was the first babysitter most of us had, and more often than not the first person other than our parents to hold us. Going to Nana and Papaw's was always a mini vacation. Their home was always filled with warmth and joy. Nana and Papaw always had their doors open for us. Nana always had candy in her purse — or in a candy dish, or cupboard, or somewhere else within five feet, and there was always food in the fridge.
If you had an event, Nana was there. She'd cheer on your baseball games and concerts with as much pride as if it was your high school or college graduation — which she was also always at. I grew up two doors down from her. Some days you would see her in the garden, other days just sitting on the porch. When she got older, she'd be on her couch, happy to see you show up and talk with her. If you had hard times, she was there. When I was 2, I was in the hospital and subjected to a variety of blood draws and tests. With pride, Nana told me over and over throughout the years how she'd yelled at the doctors, "get away from my grandson." When I was in my early twenties and hospitalized again, Nana had just had bypass surgery. Doctors advised her against making a trip to the hospital to see me, but she was determined to see her grandson and showed up.
Nana was loving, but she wasn't a softie. She'd give you advice, but tell it to you straight. If you misbehaved, she'd threaten to cut a switch off the tree; a threat that, to my knowledge, she never once made good on. She expected you to keep things clean, and not just to your standard. Many were the times she'd come across a "Gom" — the hillbilly word for mess that I think she made up — and she would expect it to be cleaned to her very high standards. I guarantee that the first thing she did when she arrived in Heaven, after catching up with friends and family and making sure they had enough food, was to clean something. And if anyone could find something that needed cleaned in Heaven, it was her. She expected us to do our best and keep the faith she cherished; if she caught you doing something you shouldn't, she'd ask "Would you do that if Jesus were here?"
But Nana was never harsh. Everything she did overflowed with love. She wanted you to be the best version of yourself because she knew what you were capable of. She wanted you to do your best. She expected you to hold to your faith not because she was dogmatic but because her faith was the source of so much joy and purpose. And, to be honest, she wasn't that tough. There's a reason why, when he got his ear pierced without my parents' permission, the first thing my brother did was go straight to Nana. If she liked it, and she did, there was no argument to be had with my mom and dad.
A life of memories
If you talk to any of her grandkids, probably the fondest memory we'll mention is of our annual trips to Kings Island. Nana and Papaw made this trek with all of us every summer for 18 years. Some families had Disney World; we had Kings Island, and it was the highlight of our year. More than the roller coasters, though, we enjoyed the traditions that accompanied each trip. Picnics at rest stops. Breakfast at Cracker Barrel, where Papaw would challenge us to the peg game and Nana would buy candy for the drive. The two of them taking us back to the pool to swim. Nana was always the first to announce when she saw the park's giant Eiffel Tower from the freeway. As soon as we got to our hotel, she would clean the room. And I don't mean she would tidy up. She'd scrub the bathtub and toilet, remake the beds, and dust-buster the carpets. And she'd still tip the housekeepers.
These trips were fun for the grandkids, but I think she enjoyed them just as much. In earlier years, I remember her getting on a few of the roller coasters, and she loved the swinging pirate boat. But even as she got older, she still seemed to love going. She'd take the youngest kids with her for the afternoon. She'd catch a show or eat a funnel cake. She was just happy to be with her grandkids. One year, after we'd all split up to go do our own things, she never showed back up to the meeting point we had agreed on. We looked for her for two hours. We eventually found her sitting on a bench just around the corner with my sister, a baby at the time, taking a nap next to her.
Next to Kings Island, the memories we all have of my Nana usually involve food. Some of us have told our spouses or our mothers that they are the best cook we know, and we are lying. Nana was the best cook. There were family dinners with roast beef, ham, noodles, mashed potatoes and homemade rolls. Annual 'hillbilly dinners' with fresh green beans, potatoes, cabbage and cornbread. Christmas Eves with cookies, peanut butter balls, shrimp cocktail, and countless sweets and snacks. Thanksgiving dinner with homemade stuffing. Birthdays with chocolate cakes and coconut topping. Breakfasts of chocolate gravy and treats of banana pudding. Even simple lunches were memorable– no one made a grilled cheese like my Nana.
She took joy in these; they flowed out of love. She knew how important it is for families to gather around the table. This was where bonds were made, where we'd laugh the hardest and deepest, and where we'd share memories that would last our lifetimes. There was never a tense Thanksgiving dinner or an awkward Christmas. There were no black sheep at Nana's house, and the definition of family was flexible — you didn't have to be blood to earn that label. Many knew her as Aunt Betty, an honorary mom or grandma; I know that she was just as much a part of your family as she was ours, and I know she loved each and every one of you like her own.
For Nana, meals were a family affair. And that didn't just include eating. She taught the girls how to make her homemade stuffing for Thanksgiving; every year, they'd prepare peanut butter balls for Christmas Eve. Nana made us feel like we had important roles to play. She knew it was important for us to learn traditions that we could pass down to our families.
One last memory that all the grandkids shared was of drinking coffee with Nana way earlier than we probably should have. Many of us have caffeine addictions that started at age 4 or so, sitting on Nana's couch with a small mug that was 90% cream and sugar, with a little bit of coffee splashed in. I was kind of surprised to learn that so many of my cousins shared this memory; I thought it was only me.
See, this wasn't something Nana did with everyone all at once. In my memory, it was always one-on-one. It was our time to sit and just talk with Nana. She always was happy to do that. You could tell her anything. A silly story, your problems with school, some conflict in your life. She was always happy to listen and offer advice, and she was never distracted by the television or phone. No problem was too silly, and you never had to feel ashamed to bring it before her. The advice she gave was always guided by her faith in Jesus; she wanted you to do the right thing because she knew it was the thing that would bring him the most glory and would cause you the least amount of heartache. It was always given with love.
As I said, Nana had many honorary grandkids, nieces, nephews, sons and daughters. But you never felt like you were just one of many. When you talked to her, you were the favorite. She listened to you like you were the only person in the world. You knew she prayed for you every morning, by name, and when you called she'd ask about whatever she had been praying about. She was the personification of living by faith and love. Nana gave of herself for others. She and Papaw modeled a marriage built on deep love and joy. They threw themselves into raising kids who went on to become the best parents anyone could ask for. They can look down the line and see kids, grandkids and great-grandkids who love God and love each other.
Leaving a legacy
They say that when someone dies, the best way we can honor them is with our memories. But I don't think that's exactly right. I think the best way to honor them is to take those memories and weave them into your family's legacy. I will miss my Nana, but I know she is alive in the traditions we pass on and the lives we live. A few weeks ago, my 2-year-old daughter was staying the night with my mom, who she calls "Nana." My mom sat down to have her morning coffee and Cece perked up; "Coffee?" she asked. Every summer, we take our kids to Kings Island. Sometimes, we go with my sister and her kids, continuing a tradition of cousins enjoying the park together. But most importantly, I see my Nana every time we bow to pray. I see it in the way her three kids, six grandkids and 13 great-grandkids go to church, put their faith in Jesus, pray for each other and enjoy time together.
I miss my Nana. And today is a sad day. A giant in our lives is gone. But I know where she is. I'm sure she's watching us right now, and I'm sure she'd have several of her own stories to share. And when I get to Heaven, I hope she'll have a cup of coffee waiting for me, and we can sit down and catch up. I love you Nana, I miss you, and I'll see you again.