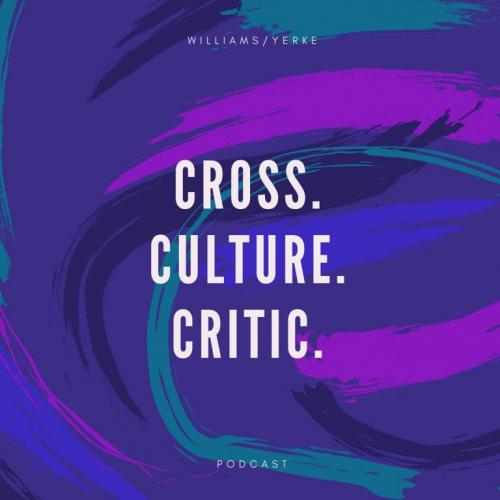 Are you all up for a little bit more Amy Grant talk?
Earlier this week, I wrote about my recent experience at a concert fronted by the queen of CCM. I attended that concert and meet-and-greet with CROSS.CULTURE.CRITIC. co-host Joe Yerke. That's right: The same weekend that moviegoers were watching the most ambitious crossover in history with "Avengers: Infinity War," I was living it out by seeing Amy Grant with the lead singer of The Insyderz.
There's a whole story in why Joe and I went to see Amy Grant, the meet-and-greet experience itself, and our thoughts on the concert. We also briefly talk about videogames and give birthday greetings to a mutual friend on this week's CROSS.CULTURE.CRITIC. podcast!
Five for Friday
And now, my picks for some pop culture-related items for you to enjoy over your weekend.
Avengers: Infinity War: I'm currently taking a break from film criticism, so this was one of the rare Marvel movies I saw with an opening weekend crowd, not at a press screening. While there are times I miss going to those early previews, there are certain movies that I would much rather see with fans, caught up in the moment and not worrying about whether what I'm seeing qualifies as good or bad art. As a fan of the Marvel Cinematic Universe since my first viewing of "Iron Man" a decade back, I was eager to see where these characters ended up. The Russo Brothers did not disappoint. Yes, "Avengers: Infinity War" is an overstuffed, exhausting movie. But it's stuffed with so much goodness. The characters from 18 other movies come together and interact with all the wit, charm and heroism you expect. The Russos keep the film careening, jumping from New York to Wakanda to the outer reaches of the cosmos. Ten years ago, we were wondering just how weird audiences would be willing to let Marvel get; with "Infinity War," they embrace every weird, nerdy and wondrous bit of comic book goodness. Josh Brolin delivers the MCU's best villain with his sympathetic take on Thanos. And just when you're thanking your stars that this is a Marvel movie and they always end on upbeat notes, the movie pulls out the rug and socks you in the gut with a cliffhanger for the ages. Sure, it will all get undone in next year's sequel, but it's delivered with such skill and emotion that I left the theater shaken. Top that, summer 2018.
"I'll Be Gone in the Dark: One Woman's Obsessive Search for the Golden State Killer" by Michelle McNamara: I don't read much true crime, mainly because I find that writers have a tendency to revel in the tawdry and grotesque instead of crafting something of quality. But when it was announced that a suspect in the Golden State Killer case had finally been apprehended, I knew I had to take the advice of my fellow podcaster Beth Golpe and start reading Michelle McNamara's book. The book, which focuses on amateur sleuth McNamara's search for a notorious rapist and serial killer, was already notorious because of McNamara's untimely death before its publication; now that it possibly led to an arrest, it's even more noteworthy. But beyond being newsworthy, it's a pleasure to admit that McNamara's book is also extremely well-written. There was no question that it would be meticulously researched, but McNamara's prose is also exquisite, compassionate and terrifying. It's a book I can't put down but that I also have to remind myself not to read at night, when I'm too aware of every unlocked door and window in my home. A fantastic read.
Westworld: HBO's sprawling, mind-bending science fiction series was a highlight of my television viewing in 2016. A childhood fan of Michael Crichton (who penned the original Westworld film), I was curious to see what a modern update of the "robots run amok" story would look like. What I got was a show that could venture into pulp but also veer into philosophical waters, a twisty puzzle box of a show that was exactly what you'd expect from Jonathan Nolan. The second season, only two episodes in, is picking up from the crazy season one finale, delving into darker waters and presenting new mysteries. Evan Rachel Wood is mesmerizing and scary as Dolores, a robot pursuing godhood, and Ed Harris continuous to be one of our grizzled greats. The show is beautifully photographed and full of mystery…so much so that I can't always pretend I know what's going on. But I'm in for the ride.
NPR's "Up First" podcast: It's hard to keep up with the news. I don't watch TV news and lately I'm suspicious of most newspapers and websites. I try to keep an eye on reputable sources on social media, but there's also the time factor. I just don't have time to devote to being constantly updated, especially when the news changes by the minute these days. Thankfully, NPR's "Up First," by the folks behind "Morning Edition," are here. This concise digest of 3-4 of the biggest news stories of the day is a great way to keep up to date each morning. The episodes last no longer than 15 minutes, which makes it a perfect listen while I'm getting ready, and NPR's correspondents are some of the most thorough and intelligent in the business. A great way to stay in the know without being overwhelmed.
John Mulaney "Kid Gorgeous at Radio City": John Mulaney's shtick should annoy me. He wears a big, smarmy smile. He darts across the stage with and energy and vocal inflection that recalls Harold Hill on cocaine. And yet, nearly every joke in this one-hour Netflix special kills. A slightly crasser Seinfeld (although I wouldn't call him "dirty"), Mulaney is a masterful writer and has confidence that threatens to explode from the room. Nearly every joke delivers big laughs, whether he's talking his father comparing him to a Nazi, riffing on the Catholic church, or telling a story about a detective's intense child safety talks. Mulaney's specials are some of the best on Netflix, and he keeps getting better.