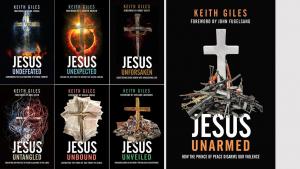 Prolific author Keith Giles rounds out his incredible "Jesus Un…" series today with his seventh and final volume, "Jesus Unarmed: How the Prince of Peace Disarms Our Violence".
Here's my quick review from Amazon:
"There has long been an ideological disconnect between the non-violent Prince of Peace and many of the people who call themselves by His name. While claiming to worship the One who taught us to love our enemies and turn the other cheek, we have stubbornly defended our "God given right" to bear arms, drop bombs, and kill people that we fear.
"In 'Jesus Unarmed', Keith Giles masterfully makes the case that the life and message of Jesus stand in clear contrast to our modern notions of God and the new way of life that Jesus offers. With surgical precision, Giles lovingly wields the scalpel of grace to peel back layers of harmful theology, religious exceptionalism, and fear to leave us in awe of the slaughtered lamb who forever beckons us to seek first His kingdom of peace."
The Series
Giles launched the series by tackling Christian nationalism with the stunningly prophetic "Jesus Untangled: Crucifying Our Politics to Pledge Allegiance to the Lamb" back in 2017 and has hardly stopped writing since. After reading the entire series it occurred to me that these volumes paint a beautifully provocative portrait of who Jesus was and the life that He calls His followers to embark upon in His name.
Read this series and you will understand Jesus far better than you did previously.
Jesus Unarmed
You can purchase your copy of "Jesus Unarmed: How the Prince of Peace Disarms Our Violence" by contacting Byron Borger at Heart and Minds Bookstore.
FULL DISCLOSURE: I received a complimentary review copy of this book prior to its' release so that I could read it prior to publication and offer my honest review.