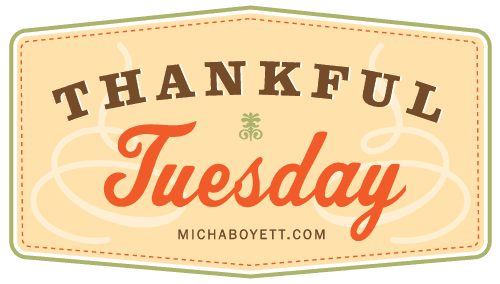 Each week at Mama Monk, we have a little party and tell each other why we're grateful.
We do that for several reasons:
Because we know we might go crazy if we forget to remember how good we actually have it.
Because we learned a secret that if we want to "pray without ceasing" as the Bible instructs us, the simplest and most life-giving place to start is with thanksgiving. (There's something miraculous that happens when you actually notice what God is doing around you.
Because it's a way to share our lives with each other in community.
Why Tuesday?
Tuesday doesn't get much attention. It's so ordinary. It seems like a great day to have a thankful party. (Also, my friends and I made up Thankful Tuesday in college and I think it's kind of the greatest.)
Will you join us?
We have our Thankful Tuesday Link-Up Partaaay every Tuesday at Mama Monk. To participate, write your own Thankful Tuesday post. It can be silly, deep, personal, vague. It can be a list. It can be a rambling reflection. It can be a prayer. Paste a link to your post in the comments of my Thankful Tuesday post. You can also copy the Thankful Tuesday button and post it on your site if you want.
Let's just meet here with our Thankfuls on Tuesdays and see where God takes us?
Love and Thankful,