Some years ago, the big Christmas news story was that churches were closing for Christmas. No, there wasn't a pandemic sweeping the globe, nor was there a polar vortex expected to hit on Christmas Day. What calamity was causing churches to lock up and tell the faithful to stay home that year?
Christmas would fall on Sunday.
This Christmas [in 2005], no prayers will be said in several megachurches around the country.

Even though the holiday falls this year on a Sunday, when churches normally host thousands for worship, pastors are canceling services, anticipating low attendance on what they call a family day.
That's right. Some Protestant ministers decided to cancel Christmas services because they figured that most of their flock would be too busy at home, opening presents and drinking wassail, to bother coming to church that Sunday. If that makes no sense to my Catholic readers, rest assured that the decision didn't make a lot of sense to some Protestant Christians. The move was controversial in Evangelical Christian circles—but, so far as I know, the churches that decided to close stood firm and told their congregations to stay home for Christmas.
Fast-forward to 2020, the Year of COVID-19. Surely, in the year the world is gripped in the jaws of a deadly pandemic that has yet to abate—indeed, is surging back in second and even third waves—there would be no question that Christians would stay home for Christmas. Right? Wrong.
There are, of course, many churches that are canceling public Christmas services this year. The Vatican
announced
back in October that the papal Christmas liturgies would be closed to the public.
Pope Francis' Christmas liturgies at the Vatican will be offered without public participation this year, as countries continue to react to the Coronavirus pandemic.
According to a letter seen by CNA [Catholic News Agency] which was sent by the Secretariat of State to embassies accredited to the Holy See, Pope Francis will celebrate the Vatican liturgies of the Christmas season "in a private form without the presence of members of the diplomatic corps."

The letter, which was sent by the section for general affairs Oct. 22, said the liturgies will be streamed online.
Meanwhile, many other religious believers have suddenly discovered a burning desire to attend church services on Christmas Day. The U.S. Supreme Court recently ruled on lawsuits filed by the Catholic Diocese of Brooklyn and by Orthodox Jewish synagogues, finding that pandemic restrictions in New York "violated constitutional protections for the free exercise of religion." David Samadi, an Iranian-American Jewish urologist and contributor to Newsmax, a conservative media outlet, tweeted that "our churches must reopen. We need to pray at this time of the year. It is the holiest time in the Judeo-Christian calendar."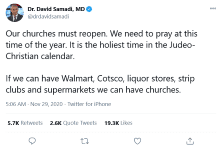 I started counting up the problems in this tweet and gave up, but here are a few of them:
This is not the "holiest time" of the year for either Jews or Christians. For Jews, the holiest time of the year is the high holy days during autumn, when Jews celebrate Rosh Hashanah, Yom Kippur, and Sukkot. As Rabbi Jonah Geffen tweeted, in response to Dr. Samadi, "Jews have already been through our holiest season, and all three of our biggest holidays. And we stayed [redacted] home."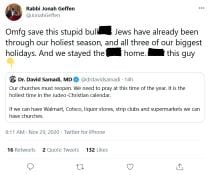 For Christians, the holiest time of the year is the Easter season. While Christmas is a major Christian holiday (unlike Hanukkah, which is a minor holiday for Jews), Easter is the holiest day of the Christian liturgical year. All of our holy days point to Easter, prepare for it, or flow from it. Christmas is important because Christ enters into human history, but the purpose for doing so is to suffer, die, and then rise again on Easter.
There's no such thing as a "Judeo-Christian calendar." Jews have their own liturgical calendar, separate from the Gregorian calendar that was promulgated by Pope Gregory XIII. Jews use the Gregorian calendar because it has been adopted throughout the world for secular use, but their religious holy days are reckoned by the Hebrew calendar.
Dr. Samadi isn't a Christian, but he writes for a predominantly conservative Christian audience, so perhaps his usage of "Judeo-Christian" can be attributed to an attempt to write for both communities. But both Jews and Christians alike understand that they can pray from home and don't need to be in a synagogue or church to pray. In fact, Jews recognize pikuach nefesh, "the preservation of life," a principle that recognizes that the need to preserve life overrides almost every religious obligation if observing that obligation could endanger human life. Catholics can be dispensed from religious obligations, including from the obligation to gather in churches, by their priests. And Protestants, as we have seen, generally don't recognize an "obligation" to go to church on holidays anyway.
Of course, all of these considerations are really just nits to be picked out and discarded when we consider what the real issue is here. For all the posturing over religious freedom and piety, the political fights during this pandemic can be boiled down to power struggles.
Political conservatives have chosen to throw in their lot with Donald Trump, whose epic incompetence in managing the pandemic in the U.S. has led to over 265,000 deaths from COVID-19 in less than one year. They fight against the shutdowns mainly to stymie Democratic governors who have struggled to control the pandemic in their states. Religious conservatives have also thrown in with Trump, seeing him as a useful hammer on social issues such as abortion, same-sex marriage, and trans rights. If pretending that their religious freedom is at stake if they can't gather in their religious houses of worship is necessary to "own the libs," then that's what they'll do—even if recent history shows that they're more than willing to accept shutdowns if their holy day falls on an inconvenient day of the week.
As a Catholic, I can only speak to Catholics here. And this is what I want to tell them.
Stay home this Christmas. Pope Francis has closed the papal Christmas liturgies to the public and most dioceses continue to dispense the faithful from the Sunday/holy day obligation.
If you are so unfortunate as to live in a diocese in which the obligation has been reinstated, you remain free to stay home from Mass on Sundays and holy days if COVID-19 still poses a threat to you or your family. Quite honestly, the reinstatement of the obligation in a few areas in the U.S. seems to me to be both politically motivated and scandalous, so my own recommendation (if that matters to you) would be to wait for the obligation to be reinstated on either a national level or by Pope Francis before worrying about whether you're required to go to Mass on Sundays and holy days.
And if you're one of those Catholics who has been wailing and gnashing your teeth over the shutdowns of churches because you distrust Pope Francis and hate progressive public officials, here's some advice for you too.
Stay home this Christmas. Perhaps you might use that time to meditate on what Jesus had to say to hypocrites who believed that their strict adherence to religious obligations set them apart from the unwashed and worldly masses:
I tell you, this man [a tax collector] went down to his house justified rather than the other [a Pharisee]; for every one who exalts himself will be humbled, but he who humbles himself will be exalted (Luke 18:14).
(Images: Roped-off nativity set, Pixabay. Tweets, screenshots from Twitter.)