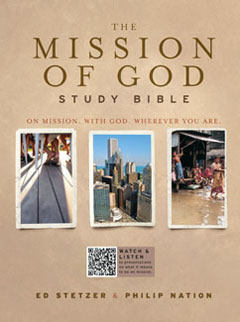 Congratulations to Ed Stetzer and Philip Nation on the publication of the new Mission of God Study Bible, which came out yesterday from Broadman & Holman Publishers.
Ed is giving away a free copy of the new Bible on his blog this week, as well as beginning a new series of blog posts where he'll be sharing some excerpts from the many contributors (all of whom appear to be safely conservative evangelical).
The first excerpt is from an essay by Christopher Wright, International Director of the Langham Partnership International and author of The Mission of God: Unlocking the Bible's Grand Narrative:
"Some people use the term missio Dei as referring only to the sending action of God. The reason they do this is that the 'root' of the Latin verb mitto means 'to send.' However, if we reduce our focus only to the sending acts of God, we may ignore a number of important missional themes and teachings in the Bible, which are crucial for our understanding of the fullness of God's mission and our own practice of missions.

"Missio Dei can have a broader sense drawn from the way the Bible paints a picture of the purposefulness of God. The mission of God is the commitment of God to make Himself known to His creation ultimately for the purpose of redeeming and restoring all creation to its right relationship with God. The story of God making Himself known is the grand narrative of the Bible. God's mighty acts make Him known to the peoples of the world and are predicted, proclaimed, explained, and celebrated throughout the biblical storyline."
"Our theology of God must include the mission of God as a unifying metanarrative for the whole Bible.
What do you think of a missional study Bible? Will you pick up a copy?