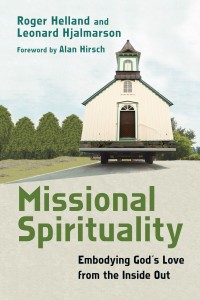 Thanks to Scot McKnight for summarizing these 11 practices laid out in the book Missional Spirituality: Embodying God's Love from the Inside Out by Len Hjalmarson and Roger Helland:
Practicing union with Christ: abiding in Christ is what discipleship is all about. Focus on John 15:1-17.
Practicing obedience: "the spiritual life is the surrendered life."
Practicing humility.
Practicing missio reading and prayer. Not just prayer that fosters intimacy but prayer that fosters love for others, the Jesus Creed.
Practicing worship. The problem is defective views of God; we need an expansive sense of God's grandeur and majesty and glory.
Practicing enchantment. Attentiveness to God's handiwork.
Practicing Christ-mindedness.
Practicing faith-thinking. This is about theological reflection to learn to think our way into the goodness and glory of God and what God is doing in this world. Theological imagination can be developed.
Practicing gratitude.
Then a series on "From all your strength": practicing treasure-talents-time, loving God from our treasure, loving God from our talents, and loving God from our time.
Practicing loving your neighbor: by practicing presence, by practicing refuge, and by practicing hospitality.
Would you add any others to this list?