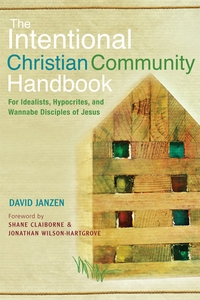 In the foreword to The Intentional Christian Community Handbook, Shane Claiborne and Jonathan Wilson-Hartgrove write, "This is a book that we've needed for a long, long time."
Clearly the intentional Christian community movement and the neo-monastic movement that has since followed were not hindered by the lack of a book to guide the way, but the arrival of this rich, deeply practical and yet earnestly philosophical book is a welcome one.
For those who might be tempted to think this all started when Shane Claiborne decided to move into the inner city of Philadelphia, author David Janzen and his wife have been part of Reba Place Fellowship in Evanston, Illinois, since 1984. But, at the same time, it's hard to argue with Claiborne and Wilson-Hartgrove when they say, "God is stirring something new in our time."
There does seem to be something fresh that the Holy Spirit is up to, and this Handbook could not be arriving at a better time. One can only imagine what great future work will be done by those pioneering to form new communities of practice with this in their hands.
Franzen writes,
"Christians have shifted from slinging stones at Christendom to writing its eulogy and sorting out its will. … The missional, emergent, organic, and New Monastic movements are all streams of creative response to post-Christendom. … These post-Christendom ecclesiologies make most sense when rooted in place, in community, and in humble service. … Like the early church, we are to be pockets of an alternative politics, an alternative society within a crumbling empire. … A post-Christendom church and an anti-Christendom church sound remarkably alike. It may not call itself intentional Christian community, but to linger on labels is to miss the point: there is a broad undertow toward holistic discipleship within the context of shared life."
I appreciate that Franzen talks about the real challenges of community life and shares stories of failure (alongside many wonderful stories of success). This is not an easy path to take — and having this field guide will not make interpersonal relationships any easier to navigate — but hopefully as more people are exposed to these ideas, more intentional communities of practice will form and flourish, and we will all benefit from the wonderful kingdom expressions that they will cultivate.
What do you think about intentional Christian living and/or neo-monasticism? Have you tried it? Are you considering it?