I'm excited to be part of the organizing team for the annual TransFORM Network conference, taking place March 27-30 at Missiongathering in San Diego, California! Here are 10 reasons to register now and join us: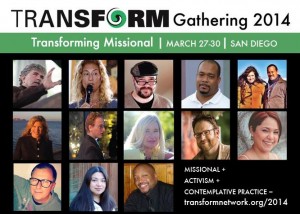 10) San Diego will be warm and sunny at the end of March, when it will gray and cold where you are!
9) Are you tired of just sitting and taking in information at conferences? TransFORM will engage you and put your wisdom to work in small group and large group discussions.
8) If you're critical of conferences that don't address power and privilege, so are we. Come be a part of the solution! By participating in TransFORM, you can be part of the work of acknowledging and seeking to be a corrective to these destructive dynamics.
7) TransFORM will challenge you to explore overcoming empire, cultivating alternatives and building deep solidarity with the guidance of theologian Joerg Rieger (author of Occupy Religion). This is the closest thing to an Emergent Theological Conversation happening in 2014.
6) Come learn faith-rooted organizing from Alexia Salvatierra, and be inspired by the work of Paul Engler (Center for the Working Poor). Together we'll be constructing solutions, training, and tools for the activist church.
5) This is a rare opportunity to participate in a living systems process for social transformation facilitated by Pamela Wilhelms, who is a highly sought after leadership and organizational development consultant.
4) If you're new to the work of challenging white privilege, this will be a safe place to begin that journey. If you're further down the road, TransFORM is your chance to deepen your experience in the work by engaging your social and racial identity as a spiritual practice.
3) Are you curious about the state of emergence Christianity in the U.S.? At TransFORM, you'll have the chance to participate in the debut of the Afro-Emergence conversation (led by Anthony Smith and Peter Matthews) and the Skeptimergent conversation (led by Kile B. Jones), the return of Queermergent (led by Adele Sakler), and the further exploration of the future of Emergent Village (led by Mike Clawson and others).
2) By attending TransFORM, you'll be joining a learning community of kindred souls commonly aligned by the shared passion of becoming the Church the world needs us to be.
1) Lend your voice toward this important effort to translate the language, culture, and practices of the missional church in relevant ways in order to partner with broader movements for change.