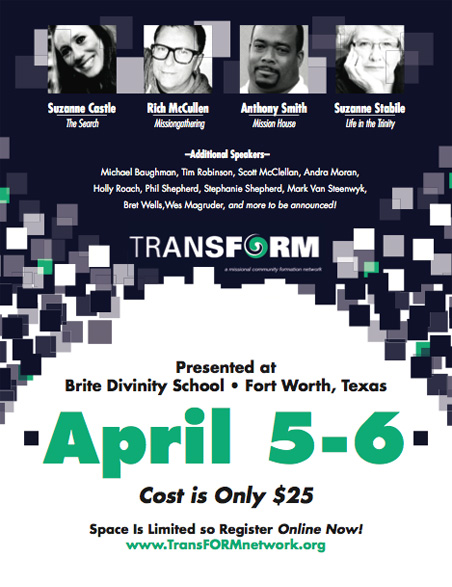 I'm grateful to Brian McLaren for putting out the invitation on his blog yesterday to TransFORM Southwest:
Have you ever thought about starting a new faith community? Or … linking up with others who are doing innovative things in local congregations? You should know about the TransFORM Network.

TransFORM Southwest will gather April 5-6 in Fort Worth. You can learn more here:
http://www.transformnetwork.org/page/southwest-gathering

The registration is really affordable ($25!) … and the people who are coming are some of my favorite people anywhere.
These are not only some of Brian's favorite people anywhere, but they are some of my favorite people, as well. I'm so honored to be one of the organizers of TransFORM Network and this Southwest regional gathering.
When we started TransFORM three years ago, we did it with the vision of being a catalyst for the creation of many new experimental missional communities of practice. That is still our hope and our vision. The truth is we need many, many new faith communities to be formed in the next 5, 10, 20 years, and it starts today, it starts with us!
Are you in the Dallas-Fort Worth, Austin, Waco, or San Antonio areas? This is your invitation: please come and be a part of this!
Or do you know someone who lives within driving distance that you think should be at TransFORM Southwest? Please share this link to invite them to come participate.
I hope to see you in Fort Worth, April 5-6!