Women in Afghanistan tend to be depicted as enigmatic objects that defy human comprehension. Media sensationalism and selective reporting bear some of the blame. But thanks to projects like an Afghanistan-based Community Supported Film workshop that trained men and women on how to tell the stories on film, Afghan women are now also using media to represent themselves.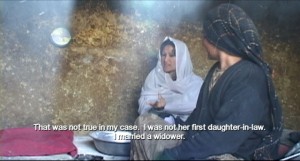 The project, named The Fruit of Our Labor produced ten short films that feature different aspects of Afghans' daily lives. Four of those documentaries were shot and directed by Afghan women. They include Bearing the Weight, by Mona Haidari, which tells the story of a woman who has lost her husband, newborn daughter, and her leg in a rocket attack. In the film, we live with Shafiqa through her daily agonies as she gets fitted with an artificial leg, as well as through her successes of teaching young women the art of sewing.
The second film, The Road Above by Aqueela Rezailt, talks about drug addiction, and how it has affected thousands of families in Afghanistan. Mona is a young woman who lives with her aging mother after leaving her husband, who is addicted to heroin. Mona works in street construction, which is usually a male-dominated job, with her burqa (veil) on.
The third film, Hands of Health, by Zahra Sadat, tells the story of a maternity clinic built for women, but lacks both medical staff and equipment. Many women, like Farida, struggle with having to trek to Kabul for medical advice and treatment.  The last film, Treasure Trove,  by Fakhria Ibrahimi, takes viewers to a bakery to tell the story of women's lives in Afghanistan.
The status of women in Afghanistan is often considered a unique one, because of recent histories of wars and the Taliban government. Afghan women filmmakers have the potential to make a huge impact on their communities. Their success in putting the spotlight on their fellow women's conditions is bound to have far-reaching effects not only on public perceptions of women, but on how women themselves perceive their role in society. The four Afghan women who made those films seemed fully aware of problems and challenges facing their mothers, sisters, daughters, friends. That's why I thought of their portrayal of women in the film was very realistic and spontaneous.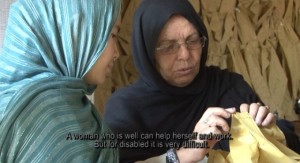 An exciting feature of those films is that they don't just paint the agonies and pains experienced by Afghan women in their communities, but they also add a glimpse of hope in what women could achieve. In Bearing the Weight, despite the fact that Shafiqa lost her leg and her family, she still comforts other women who might be going through less difficult conditions. Shafiqa appears as a strong woman who is able to survive on her own. For me, she represents a role model for how all Muslim women.
Another interesting aspect of the four films is that they do not seem only to show beautiful scenes of the women's world, but they also highlight the many changes taking place in their surroundings. In Hands of Health, Zahra Sadat sheds light on two types of men; the first is the traditional man, who does not believe in contraceptives, and wants to have kids forever, without caring about the negative implications for his wife's health. The other type is the man who is trying his best to convince the ministry of health to complete the maternity clinic in their areas so that his wife, as well as other women, does not have to travel long distances in order to get medical advice. This type embodies an emerging role model for Afghan men.
Filmmaking by women in Afghanistan is a significant development.  And when women themselves take over this creative art, they can certainly make the most lasting and deepest impact on how women see themselves in the midst of political violence and religious extremism.