Almost a year ago, for my very first MMW post, I wrote about Sura al-Shawk, a professional Swiss basketball player from Luzern who was forced to choose between wearing her headscarf and playing professional basketball due to the supposed "uniform" regulations of the local and national basketball associations, both affiliated with FIBA, the International Basketball Federation.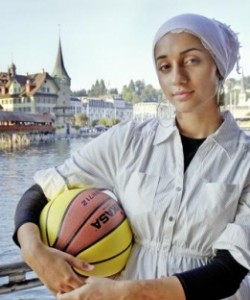 Last March, after my original article was published, the regional courts in Luzern ruled that al-Shawk must go through all possible appeals processes with the regional and national associations. The initial media firestorm has died down to nothing ever since, while the associations and the parties "bounce the ball" back and forth over appeals an conciliations. In the meantime, Ms. Al-Shawk is coaching a series of junior teams in her hometown.
She took Daniel Vischer, a MP from Zurich and head of the National Council's Judicial Committee as her lawyer. They argued in the Lausanne daily 24 Heures and also in the Tages-Anzeiger that her case is not clear from the point of view of jurisprudence; namely, under what circumstances and grounds are headscarves not allowed? Is it a religious symbols thing, or a uniform regulations thing (both have been used as justification)? In the comments for the various Sura-related posts, a common refrain in Europe is that Muslims want to exclude themselves from sports, with the oft-citied "swimming classes" (whereby Muslim parents removed their children due to "nudity concerns"), apparently showing that Muslims want "special treatment" in athletics. But in this case, she doesn't want to exclude herself; she wants to play, but ostensibly because of her religion, she isn't allowed. And of course, what better "integration" (in quotes due to sarcasm) than to play on a team?
In "post-minaret" Switzerland, the question of religious freedom for Muslims seems only to be important in terms of sexy headlines for groups anxious to win in the court of public opinion. And once the firestorm dies down, headscarf questions are pushed aside until the next round of elections, as was the case here. But yet again another woman is caught up in headscarf politics, with the end result being that her career choices, talent and potential are compromised.
The question I asked in my original article still stands: is Ms. al-Shawk's case about FIBA uniform rules or Muslims? While some may argue that this is again about Muslims excluding themselves with unnecessary demands on non-Muslim society, I argue that the exclusion of Ms. al-Shawk from her team is all about stigmatizing Muslims for political gain in a climate of Islamophobia.
While Sura al-Shawk has sadly lost more than a year of what could be a promising career, hopefully the jurisprudence of her case will help create a context where girls and women in headscarves are allowed to play professional sports.