This post is written by guest contributor, Sarabi N. Eventide (@SarabiNEventide)
Ansarullah Bangla Team (ABT), the extremist group in Bangladesh responsible for the deaths of numerous secular and liberal bloggers, is once again attempting to dictate what is and is not acceptable in Bengali media. In its most recent move, the group issued a threat to media companies employing women and insisted that the female employees are in violation of Islamic law, especially the unveiled models in advertisement campaigns. ABT's threat is problematic for three main reasons: it is an attempt to stunt the progress Bangladeshi women have made in the way of women's rights, it directly contradicts Bengali law, and it is an attempt to propagate one interpretation of Islam above all others.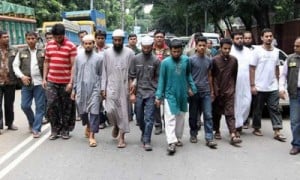 Bangladeshi women have fought long and hard for equal rights and financial independence, but challenges remain, and working men outnumber working women by far. Bengali media gives a disproportionately large amount of screen time and print space to stories involving urban people while rural women receive the least amount of media coverage. Only 8% of new stories focus on women and only 3% of women actually report the news, making it even more important that Bangladeshi women remain involved in the media.
The women working in the companies that have been targeted have expressed concern for their safety, though the Bengali law enforcement officials have promised to protect them. Their concern is not unwarranted; ABT seems to be growing increasingly more violent. Just last month, the group published a list of secular bloggers it is targeting, after ABT already attacked a few bloggers on its previous list. Bengali law, however, protects both secular bloggers and women. Secularism is one of the four principles on which Bangladesh was established. Though Islam later became the state religion, the Constitution of Bangladesh mentions religious freedom in two separate sections. Further, Article 19.3 affirms Bangladesh's responsibility to "equality of opportunity and participation of women in all spheres of national life."Article 28.2 reiterates this right. By pushing against secularism and against women, ABT is disregarding the laws of its country.
Ansarullah Bangla Team's threat against women in the media is dangerous first and foremost because of the threat to these women. However, in addition, such threats damage the image of Islam and the image of Muslim countries. "Ansarullah" literally means "Helpers of Allah," but the group is ignoring several of the major principles of the religion it claims to be defending. It is written in the Quran that "there shall be no compulsion in the acceptance of religion," meaning it is not ABT's job to force Islam upon the secular bloggers whose rights to free speech and practice of religion are protected under the Bengali law. While ABT might argue that they are attempting to respect women by asking them to be covered, such an argument suggests that unveiled women are undeserving of respect.
It will be difficult for Bangladeshi women in the media to continue working after these threats. ABT has already proven it is more than capable of following through with its promises, and reporters have an especially high level of visibility, making them even more susceptible to attacks. In this case, however, fear cannot be a deterrent.  More female faces and louder voices, combined with strategic movements and increased governmental protection might be enough to counteract ABT's toxic campaign. Outside voices too, can help the women in Bangladesh. ABT's threats have not been widely covered, and where they have been, there has not been enough of a global response to their attempts at censorship. The world has rallied time and again against attempts to muzzle free speech through attacking the media (as in the Charlie Hebdo attacks) but often less attention is paid to threats and attacks against journalists and the media in the "third world". A free media is a crucial part of any democracy. It's time that we recognize the dangers of censorship, wherever it appears, including by taking a stand against ABT's actions.