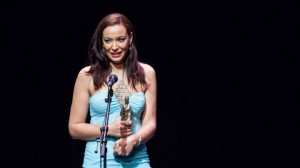 Emma Watson met with Malala Yousafzai in an interview posted online this week. I will let you draw your own conclusions (more sources here and here).
Speaking of Malala, U.S. Presidential candidate Marco Rubio named her as someone he would like to have a beer with. The Republican Party, always with its fingers on the pulse!
An interesting article about "Lithuania's Forgotten Muslim Heroes" in the Baltic Times.
The Wall Street Journal has an article about barriers to voting in this week's election for Myanmar's Rohingya population.
Also in Myanmar, an article from Al-Jazeera about punk rockers who "challenge anti-Muslim rhetoric."
In Turkey, a veiled female judge ran a trial for the first time, as reported in Al-Arabiya.
Canada's new Premier, Justin Trudeau, introduced his new cabinet this week. Out of 31 members, it includes 15 women, including Maryam Monsef, who is also the youngest of the cabinet members.
In AltMuslimah, originally published at xojane) an article about a Muslim woman who trained local police officers on cultural sensitivity in Texas.
A man identifiying as an "Islamic radical" was arrested for a planned attack against French MP Seybah Dagoma, a member of the Socialist party (article in French here).
Mathias Enard has won France's Goncourt Prize for 2015, beating out the expected favorite Boualem Sansal.
Moroccan actress Loubna Abidar was attacked in Casablanca this week. Her most recent film, Much Loved, was banned in Morocco and this summer she received death threats in relation to her role in the film (articles in French).
Ahmad Ghanem's company, Veil, aspires to be "the Nike of Muslim women". They "created the first water-repellent, climate-adapting "Cool Dry" hijab as the brand's signature product."
Author and educator Zohra Sarwari will "share a message of tolerance and diversity in "Muslim Woman Behind the Veil"" at East Tennessee State University on Tuesday, Nov. 17
Rohina Malik, a playwright and actress raised in London and living in Chicago, will be performing her one-woman show "Unveiled" at Duke University on Saturday