A recent post on the now dead phenomenon of Onitsha market literature and efforts to keep the genre alive by digitising its pamphlets brought contemporary Hausa popular literature to my mind. Not surprisingly, similarities have been drawn between both market literatures due their aesthetics, themes, and the manner in which they deal with social issues. While Northern Nigeria may be notorious abroad due to the extremism and destruction of Boko Haram as well as interethnic and inter-religious violent outbreaks, the region is also home to a thriving entertainment industry.
Kano city, in particular, is considered the heart of Northern Nigeria. Kano has a long history that stretches back a thousand years as a commercial centre. It boasts the second largest metropolitan population in Nigeria after Lagos. Kano is the centre of home videos shot in Hausa, now referred to as "Kannywood", and is also the lifeline of Hausa market literature as most Hausa contemporary novels are written and sold in the state. Novels which Western academics have called "Kano market literature", are referred to in Hausa as littattafan soyayya (books of love). Littattafan soyayya, as the name suggests, mostly deal with themes of love and marriage although the books often deal with a wide range of issues.
It may or may not be surprising that the people who sustain Kano market literature are women. Popular littattafan soyayya sell hundreds of thousands of copies. Furthermore, according to Balaraba Ramat Yakubu, prolific writer and head of the Kallabi Writer's Association, a group of women writers, there are more than 300 Hausa women writing and publishing books in Northern Nigeria.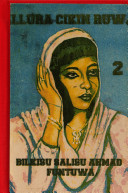 Women make up the majority of the writers and readers of Kano market literature, and this is not simply because the books are about love, but  because they tackle issues that speak to the reality of Hausa youth and in particular Hausa women of today. Littattafan soyayya may deal with the difficulties that lovers face, from nosy family members or parents who oppose the relationship, but they also often offer advice on maintaining healthy marital relations and deal with more complex and difficult issues such as polygamy, forced marriages, purdah, the importance of educating female children and the issue of HIV/AIDS  and its spread in the region. These are all topics that are relevant to contemporary society in Northern Nigeria, and in this sense littattafan soyayya can be seen as not only representing society but also offering critique and advice.
Some books attempt to let women know that their husbands are their mates and equals, while others try to impart the importance of relying on Islam as opposed to indigenous forms of religions or give marital advice because of the high divorce rates in Northern Nigeria. The authors come from a variety of backgrounds, one of the most famous being Bilkisu Salisu Ahmed Funtuwa, who lives in purdah. Purdah as practised in Northern Nigeria requires married women to remain indoors for most of their lives only stepping out of the house with their husband's permission and always veiled, when they are ill or want to visit friends or attend a funeral. In my hometown, the few women who practice purdah are usually married to Islamic scholars and are known for the big black veils they wear and for covering their faces.
Readers of this genre are just as diverse, from young unmarried women who are curious and want to learn more about relationships, to married women and women who have only recently wedded.
For a while now books and films made in Kano have been under threat of being put down by the Kano State Censorship Board because of their immoral nature. Littattafan soyayya have been accused of corrupting the minds of young women. They have also been accused of glorifying monogamous marriages and writers have been denounced for allegedly being paid by European countries to defile Hausa culture and society.
The drama between state censorship and the entertainment industry began in August 2007, when a leaked sex tape featuring Hausa film actress Maryam "Hiyana" Usman and her boyfriend Usman Bobo found its way into the public space. Following this, restrictions on the interactions between male and female actors in movies, as well as some restrictions on dress, were imposed by the Kano State Censorship Board, an organisation that was created to further ensure the implementation of Shari'a law in the state. Films were also required to pass through the censorship board before being released or sold in Kano. Maryam Usman had to go into hiding after the scandal  but since then several actors, actresses and comedians have been arrested for trumped up charges of indecency. Meanwhile the Director of the Kano State Censorship Board was himself caught in a sex scandal involving a minor in 2010.
It has been suggested that the Kano film industry is ruining popular literature, but I believe they are both in the same boat. Books have been burned alongside films at a local girl's school by the A Daidaita Sahu, a programme designed to "re-orientate" society. Not to mention writers such as Balaraba Ramat Yakubu who works in both fields of literature and movies, writing movie scripts and novels which shows how intertwined the industries are in Kano.
Most of the littattafan soyayya are self-published by authors or sometimes with the help of a writer's cooperative. A few years ago in 2008, the Kano State Censorship Board sought to force writers in Kano to register before they can publish or sell their writing. This essentially meant that the state would have individual files for each author. The authors went on strike in response. No agreement has been reached since then
Despite the precariousness of being under this constant threat of censorship however, the popular novels knowns littattafan soyayya continue to thrive today, providing a source of entertainment for a wide and growing audience.