Celebrity marriages always come with a lot of public anticipation, and this was the case with the wedding of Saif Ali Khan and Kareena Kapoor, who after five years of a very public courtship, married on Oct 2012. However, the speculation surrounding the relationship didn't end post-marriage. Apart from being India's heartthrob, Saif Ali Khan was crowned the Nawab of Pataudi in 2011, after his father's death. The Nawab of Pataudi is considered to be the Islamic religious head in the state of Pataudi, Haryana. So it was not very surprising when the Darul Uloom Deoband proclaimed that, as Kareena Kapoor hadn't converted to Islam prior to marriage, the "Saifeena marriage" is illegal and "anti-Islam," and that "Since Saif has married a Hindu girl, he wouldn't be a believer in Islam."
Saif Ali Khan's mother, Sharmila Tagore, who is a renowned actress herself, converted to Islam and became Begum Ayesha Sultana before marrying the then Nawab of Pataudi, Saif Ali Khan's father, Mansoor Ali Khan Pataudi, and was under pressure from her mother-in-law who didn't want a "sexy siren who wore bikinis and worked in films' as her daughter-in-law."
Amritha Singh, Saif Ali Khan's ex-wife, also converted to Islam before their marriage and their children Sara and Ibrahim are also Muslims. However, this time around, prior to their marriage, Saif denied that Kareena would convert, saying:
"I would never want her (Kareena) to change her religion. That is the trouble with religion really… it expects conversion. I don't buy or believe that. I think it's good that the government, too, has amended to include it in the Special Marriages Act. If and when we do get married, no one has to change his or her religion."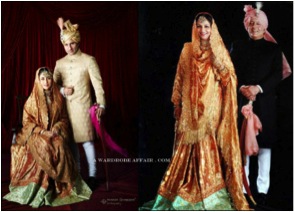 Being high profile celebrities of the 21st century, Saif and Kareena were able to brush off the Darul Uloom's halal arguments.
However, the media storm around them raises a question: can a Hindu-Muslim marriage happen in India without the couple being in the eye of a storm, the target of inflammatory comments by Islamic vigilantes, if they chose to do so without conversion?
India is a secular country, where people of different religions, castes and creeds co-exist, and mingle with each other, and so the Indian Government has varied marriage laws for different religions: the Hindu Marriage Act, if the bride and groom are Hindus, the Muslim Marriage Act if they are both Muslims and the Special Marriage Act, specifically aimed for people of different religions who want to marry without conversion.
However, between 2009 and 2012, Kerala saw a massive increase in the number of young Hindu and Christian girls who converted to Islam. This lead to the infamous Love Jihad controversy, where Hindu and Christian groups alleged that the conversions where the result of an organized terror activity, with funds coming from the Middle East. The Kerala High Court issued an investigation into the matter. This was massively played out in the media with some organizations forming Anti-Love Jihad campaigns resulting in increased communal tension.

The Kerala HC 's final verdict found no evidence of organized activity behind these conversions, although the trend continues: the chief minister of Kerala confirmed last year that 2600 girls have converted to Islam in the state of Kerala alone since 2006.
So what is the difference between the Special Marriage Act and the Muslim Marriage act?
The special marriage act was designed for the purpose of supporting men and woman who want to get married in spite of belonging to different religions. In a country where honour killings are rampant, it goes without saying that a huge part of such inter-religious marriages will be conducted in secrecy due to fear of vigilantes, relatives and parents. However, the special marriage act clauses make this difficult.
According to the Special Marriage act,
"Notices of intended marriage: At least one of the parties to the marriage has resided for a period of not less than thirty days immediately preceding the date on which such notice is given."
Either the bride or the groom should have resided in the place where they are registering the marriage for 30 days, so ideally it should be registered in your hometown. The very place where you may be trying to escape from.
"Objection to marriage: Any person may, before the expiration of thirty days from the date on which any such notice has been published object to the marriage."
So you have to stick to one place for two months (the 30 days of needing to reside in the place, and then 30 more days of notice) before you can get legally married and that gives ample time for your family to house arrest or "honour kill" the bride or groom. Lawyer, Aarti Mudkar explains here (time 1:35), how the 30-day notice period is just not a feasible option for anyone eloping or marrying against the family's wishes.
"Effect of marriage on member of undivided family: The marriage solemnized under this Act of any member of an undivided family who professes the Hindu, Buddhist, Sikh or Jaina religion shall be deemed to effect his severance from such family."
The Special Marriage act automatically assumes that people who marry under it are doomed and WILL be severed from the rest of the family.
"The Marriage Officer shall cause every such notice to be published by affixing a copy thereof to some conspicuous place in his office."
Which means the eloping couple will have their photographs stuck onto a public notice board for 30 days.
This article in the Times of India mentions that the Special marriage act is the "least preferred" by couples to get married because "Couples who elope cannot take the risk of having their photographs pinned on the notice board and there is always a chance that their parents may raise an objection."
Though the article dates back to 2002, last week one of my Hindu colleagues who wants to marry his Muslim girlfriend told me that once he issues his notice he plans to go back to the registrar office and "hide his notice behind other papers." The state of affairs remain the same even today. Not to mention the general disconcert and "vilifying" looks with which government officials themselves treat people who are registering under the Special Marriage act, as is described in this personal account.
With all these hurdles in mind, the Muslim marriage act, comes across as very straightforward and simple.
As per the Indian Muslim Marriage Act, registration is not compulsory. The religious official can issue a Nikahnamma, which is a marriage certificate.
No mention of a notice period.
No verification deemed necessary for the religious head who officiates.
These reasons makes marriage under the Muslim Marriage Act easier for women and men who hastily want to make their relationship legal.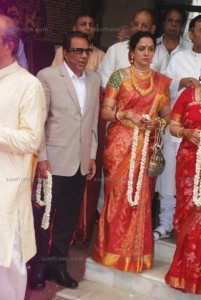 The Muslim Marriage Act is also the only legal marriage law in the country that allows an Indian Muslim man to have up to four wives, in accordance with the Shariah laws. This has been the second reason for rampant conversions to Islam, in the case of men who either want to remarry while their first wives do not agree to a divorce, or want to remain married to both women. The most popular case for conversion to Islam to take a second wife has been that of Indian superstars Dharmendra and actress Hema Malini in 1980, who converted to Islam and changed their names to Dilawar Khan and Aisha B, to get legally married, as Dharmendra was at the time also married to Prakash Kaur. Dharmendra continues to be married to both women to this date.
Then there is the conversion of then Haryana Chief Minister, Chander Mohan (Chand Mohammed) to marry his girlfriend Anuradha Bali (Fiza) while still being married to his first wife.
The Union Cabinet are taking measures to make inter-faith marriages easier, by alleviating the need to mention the religion of the bride/groom in the registration starting from April 2012. But no mention has been made about how to alleviate or amend the various 30 day notice periods mentioned in the Special Marriage Act.
Kareena Kapoor's decision to remain Hindu while being married to the Nawab may be a strong example in a country where she is emulated and idolized. However, not everyone feels the same way as the Pataudis.
The idea of a uniform civil code rule in India remains a hopeful proposition, but until then, if India wants to remain a secular state which encourages inter-faith marriages while retaining communal harmony it needs to amend the Special Marriage Act to make it more appealing for people who have to get married without familial support.
That way, converting to Islam would not be a matter of picking the least bad option out of the marriage laws.