Recently, the Huffington Post re-published an Associated Press article on Sufi resurgence in Somalia. Following the withdrawal of the armed militant group Al-Shabab from the country's capital of Mogadishu, Somalis are once again allowed to engage in Sufi practices without fear of death and violent repression. The article paints a landscape of men and women chanting in divine states of worship. The writer makes mention of women:  "Beyond the circle of worshippers are dozens of women, some of them so moved that they are crying."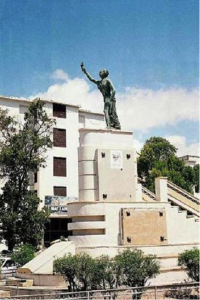 The passivity that is thrust upon women in conflict, particularly in media coverage, reeks with patriarchal and racist notions of brown and black women being incapable of speech. To illustrate the presence of women only "beyond the circle of worshippers" is to deny the active presence of Somali Sufi women asworshippers, and their agency over their own spiritual selves. Through focusing on the sheikhs who have returned to allow for Sufism to again be practiced publically, the narrative becomes one-dimensional, ignoring both the historical and contemporary roles that women have played in Sufi and Somali traditions.
In this context and at other moments, Somali women have never, despite media reports portraying them purely as victims of extreme forms of violence and female genital mutilation, been docile or victims. In fact, Somali women have become entrepreneurs, police officers and soldiers, and have always been advocates for the people in their communities across the Diaspora. Recently, Anike wrote a post on how Somali women from the Diaspora are now returning to rebuild their nation that has been ravaged by civil war and international interventions.
In much of the reporting on the struggles of women of colour (in this case WOC living and caught in conflict), men are the main actors on the stage. As the instigators of war, famine and rape, the leaders of the various rebel militant groups take centre stage thanks to journalists and media outlets. Treated almost as a sick and twisted show to be enjoyed by those who are detached from the conflicts and are comfortably sitting in the West without knowing on an experiential level the amounts of violence that populations experience, the storyline is embellished around dark men who just can't get along. Women are treated as the undercurrents, the ones who are only affected, but are not able to affect their environments and circumstances. Much of this erasure of in this case, the agency of Somali women, also stems from an erasure of herstories of Somalia's rich history.
So, in order to counteract the common narrative of victimized Somali women, let's learn about some other Somali women who are on the forefront of resistance. And let's keep in mind that these women are not the exceptions but are the reality of the complexities of Somali women and other women of colour across the globe. 
Hawa Taako:
A member of the Somali Youth League (SYL), an organization that was later eradicated with the incoming of dictator Siad Barre in October 1969, Hawa Taako was killed in 1948 during a Somali Youth League demonstration that was violently interrupted by pro-Italian groups. A statue has been erected in her name, portraying her as having a sword and stone in hand, and schools in Somalia have been named after her.
Hawa Jibril: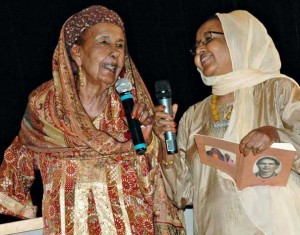 Hawa Jibrilwas a poet who stemmed from a family that placed high importance on expressing themselves through the art of poetry. In 1993, Jibril migrated to Canada during the civil war without documents that supported her identity and date of birth; she thus had to wait years to achieve Canadian landed immigrant status. Jibril utilized both forms of popular Somali poetry of gabay and buraambur (mainly used by women) and spoke about issues relating to the war and Somali society. She managed to use her own lived experiences to communicate and express her opinions about violence against women, the civil war, and Somali independence, highlighting the issues of female genital mutilation, the experiences of refugees in Canada and other themes that relate to the Somali diaspora. Her daughter Faduma Ahmed Alim compiled Jibril's poetry and translated the Somali written poems into English, so as to allow Somali people who may not speak fluent Somali to be able to appreciate and read her work.
Jibril's poetry was acclaimed by numerous media circuits in Canada, the UK and throughout East Africa including the countries of Somalia and Djibouti. Her life and poetry was the inspiring foundation for the play "Bridge of One Hair" that was created by Jumblies Theatre in Toronto.
Her contribution as a poet and as a woman has managed to empower the voices of Somali women and she has been an example for other Somali poets to tell their stories.
"At the time we were fighting for our flag

Sisters, we chanted and we clapped

Till our hands and jaws got sore

Sisters, we sold our jewelry

Depriving ourselves

And donated to our League

Enriching the struggle." – Hawa Jibril
Dr. Hawa Abdi:
Hawa Abdi also known as "Mama Hawa," was born in 1947 into a rich family that supported her medical education abroad in the Soviet Ukraine, and she became one of Somalia's first female gynecologists.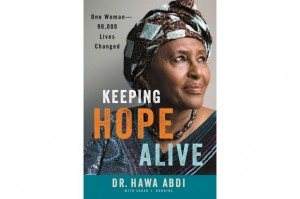 In 1983, Dr. Hawa Abdi  opened a small health clinic for women on a farm owned by her family outside the capital Mogadishu. With onset of the civil war, high numbers of people came to her seeking protection, resulting in her decision to extend her clinic into a camp, thus establishing a refuge from conflict for local Somali women and their families.  In 2008, she established an education centre that provided tools of fighting malnutrition and female genital mutilation, in addition to the inclusion of math and language skills. Empowering Somali entrepreneurs, Dr. Abdi and her daughter Deqo Mohamed were able to share knowledge that would allow Somali women to keep track of their businesses and profits. Over the span of 22 years, Hawa Abdi's hospital and camp named, Hawa Abdi Village, has employed women as nurses and midwives, in addition to empowering them to know that they have the right to defend themselves, are equal to their husbands and have the ability to be self-sufficient.
Dr. Abdi has been referred to as "one part Mother Theresa, one part Rambo" for her kind nature to the women who came to see her, and her fearless attitude directed towards militia men who would come close to the clinic. Militia men tried several attempts to prevent her clinic from running, through attempting to block aid, intimidating Dr. Abdi with death threats, and other forms of violent intimidation. Dr. Abdi however, did not back down. In 2010, militia men tried another attempt to shut her clinic down. 750 men came to her clinic demanding her to surrender the hospital; however, instead of ceasing to their demands, Dr. Abdi invited the men to dinner while signaling the women staying at the hospital to flee. The militia men did not like Dr. Abdi's brashness and fearless communication with them, and began ransacking, shooting and utterly decimating the hospital. They placed Dr. Abdi under house arrest. During this time however, Dr. Abdi got in touch with anyone in the international stage that would listen to her. In the end, Dr. Abdi, after being released, demanded that the leader of the men make a public apology, while giving resources to restore the hospital so she could resume providing services to women. Her defiance has not gone unrecognized, as she was nominated for the Nobel Peace Prize in 2012.
Fartun Abdisalam Haji Adan:
As Executive Director of Elman Peace Centre and Somalia Sister based in Somalia, Adan fled to Canada after the war first broke out, but returned to Mogadishu in 2007 to address issues of rape and sexual based gender-violence. Her organization works in south and central Somalia. Somalia Sister works with rape victims and created a space for women to look for justice and a space to speak about their experiences. In addition to providing spaces for women to share their experiences of sexualized violence without fear of being stigmatized, the organization also provides support for women to start and sustain small-businesses. Recently, Adan was one of nine recipients of the International Women's Courage Award given by the U.S. Government.
Here is an interview with Fartun Adan: