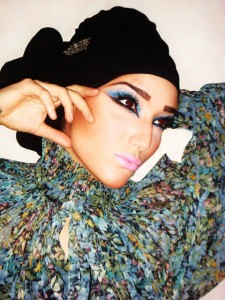 It was after my marriage that I decided to wear a hijab in public. Like most others who are evolving on their hijab journey, I had my fears – my biggest one being that it was going to make me look horrendous. After all my hair was my best feature.
To help me on my hijab journey, one of my friends suggested that I look for hijab tutorials, online, so I started googling. This "easy" hijab tutorial told me that to cover my hair and to look good while doing it, I will have to take a piece of cloth, twist it turn it, then "hide the excess," and finally give it a twirl. Then get a necklace and put it on my hijab. If I were a trained makeup artist and a part time fashion designer then maybe, MAYBE, I would be able to emulate one of them.
Hijab tutorials are praised in general because they encourage new and young Muslimahs to wear the hijab. Or they dispel the misconception that hijabs make us look unattractive and thus encourage women to wear it. However, below is what happens, at least in my case.
STEP 1: You decide to follow the tutorial; after all, they say you can look chic and cover your hair! You have bought the three colored scarves, and twisted and twirled them to no end, and still look nothing like the model in the tutorial. So then you tell yourself, "It must be her makeup."
STEP 2: Go then to the makeup tutorial (also available as part of the hijab tutorial series): How to look fresh and dewy in "simple" "everyday" steps. All you need to look dewy is buy 17 products of MAC and shimmery shine, and there you are!
So you do that too; now, you have spent about more than half of your (or your husband's) salary to get the exact products mentioned, and you still look NOTHING like YazTheSpaz. You know why? That's because she is really thin.
STEP 3 Jump to her weight loss video:
She lost 30 pounds of weight! OMG. I am so following her routine.
After NOT being able to follow her routine or look like her, no matter how hard you have emulated all her tutorials, you feel UGLY.
Sounds familiar? Huh? How is this tutorial any different from the many Western Images of beauty that is being displayed in ads and criticized?
The above ad impels a woman to buy and use a product, believing that after two weeks, she will walk out looking like Yami Gautam – when you, me, and Yami herself know for sure that it's not Fair and Lovely but genetics (plus makeup plus airbrushing) that makes her look the way they do. In the same way, if it is said that you twist and twirl three hijabs, and place a necklace on top, and then you would look just like Amenakin, you must be kidding yourselves.
Now of course many Muslim women don't feel they can emulate J Lo or Beyonce. But we can emulate YaztheSpaz and Amenakin. They are the new line of halal celebrities. The fans are obsessed with their pre-post pregnancy weight, their marriage, their flawless skin.
http://www.youtube.com/watch?v=DU7F4zpgJ-E
Someone please tell me how different this is from obsessing over Angelina Jolie?
Of all of the body image issues, one of the most threatening is that of the body weight. We/Muslims are proud to repeatedly say that the hijab and a Muslim woman's modest dressing sense should protect us from the West's unhealthy obsession with looks. We don't have to wear shorts, so we don't need to have the perfect toned legs. We don't need to "conform" to Western standards of beauty/weight loss.
Why then do we have elaborate tutorials on "How I Lost my Pregnancy Weight?" released as part of hijab tutorials? (On the other hand, the very Western Busy Philips and Amanda De Cadent have a much deeper and well-rounded opinion about our obsession with Pregnant Celebrities. And how pregnancy and childbirth, should be about growing a human being inside of you, and about actually giving birth to your offspring, and NOT about the before and after pictures, or how you look two weeks after giving birth.)
Not to mention the aforementioned "weight-loss" video, which begins with the statement "I lost 30 pounds."
Is it different for a hijabi to lose weight than it is for non-hijabi? I don't think so. (Unless it's about the perils of working out with a hijab.) And why should we all want to lose 30 pounds? Because we want to be super skinny like Gwyenth Paltrow – or one of the hijab tutorial celebrities.
The Western world, is slowly realizing the ill effects of advertising unattainable standards of beauty. Mainstream beauty products like Dove have evolved their marketing strategy; to positively portray "real" women while addressing body image issues.  I can't be sure if it's a marketing gimmick, but I enjoy them. I identify with them. Dove gets me.
So if at least some people in the West (yes the horrific West that objectifies women) have started taking measures to raise awareness, and implores people to "Talk to your daughter before the beauty industry does," then aren't the hijab tutorials regressive? I really do not want to have to talk to my daughter before a hijab tutorial does.
I am in no way saying that there is one particular way to wear a hijab, neither am I criticizing women who do wear colorful hijabs and want to look pretty while wearing it. I understand, and totally concur with their beliefs. There is also nothing wrong in experimenting with what you wear.
But most of the tutorials do not make a Muslim woman any better than what is so often criticized about our non-Muslim Western counterparts, who are supposedly obsessed with being extremely lean, follow a gruesome workout routine, and stack up on makeup and beauty products, to achieve a level of beauty that is unattainable for most of us.
In my hijab journey, I haven't felt included or glad, after watching any of the tutorials. All I have felt is that I am not thin enough, or that I really need to run to the makeup store and get a million products, or maybe do a course in designer wear, BEFORE I can look OK in a hijab. And somehow that doesn't seem right. It doesn't seem like what Islam is trying to achieve for women. Every person has his or her own hijab journey, and I believe in being patient, inclusive and tolerant about it. I did finally learn to wear the hijab in a manner that I'm comfortable with from my sister-in-law, who doesn't wear makeup. Not even lip gloss. I have in my own personal way, learnt to deal with my changed appearance in a hijab. I still don't apply makeup, and haven't yet seen a concealer. And I think I look pretty enough.
While the real intention of these tutorials is to invite more young Muslim women to wear the hijab and have fun while doing so, some of them take it too far, turning it into a clothed version of everything that's wrong with media's depiction of women.