Last year, I got a call from a young cousin who informed me, with sheer glee, that the new One Direction music video featured a young Muslim in hijab. Those few seconds in the video that highlighted a giddy, veiled teenager were a breakthrough for young identifiable Muslimahs in the world.
I think this meant that I was supposed to embrace the boy band that I had successfully been trying to avoid. I must admit I checked out the video. OK, I can't lie. I watched it on repeat about ten times. (It's a catchy song). And yes, from 1:20 to 1:23 in the video may seem like young eager Muslimah pop fans have been well represented. No inferences of weakness, oppression and need of immediate liberation. There isn't race. There isn't creed. There isn't blatant stereotyping of women; there is just 1D fangirling – which unites us all.
Normally, Muslim women are depicted as wearing hijab. That is first and foremost the most identifying factor – albeit inaccurate – of a Muslimah.
One of the first videos I could recall featuring a variety of Muslim women (both veiled and unveiled) was about four years ago from Outlandish. The song was a cover of Cheb Khaled's 'Aicha'. It depicted different women of colour: some covered, some not. Just going about their lives, working, walking and nodding their heads. Mostly smiling. No rage.
I really hadn't heard a song I liked with a legit video before. Not a video made in someone's bedroom with a song declaring Muslim women to be pious royalty, while pictures of women exclusively in hijab doing amazing things, like wearing a flashy burqini, flash across the screen. All Muslim women cover and protest regularly at socio-political rallies and figure skate. Or wear lovely, bright scarves and have very fair skin. RIGHT!?!?
Another video by country music singer Kareem Salama was pretty decent in representing different Muslims from the community. "A Land Called Paradise" was directed by Lena Khan, a filmmaker who was recently interviewed my MMW for an upcoming project. This song was not on Ryan Seacrest's Top 40 (we should probably be grateful for that…) but it did win the Grand Prize for the "One Nation Many Voices" Competition.  It is still one of my favourite videos. No coincidence there was an intrepid woman behind the camera.
Mainstream artists in North America don't really feature happy, Muslim women in their videos unless you are Roseanne Cash and wanting to sell America as a "Land of Dreams" in some pseudo immigration-campaign video.
But who would have thought that an articulate Muslimah would be a part of a Maroon 5 video? In their "Daylight Project" documentary/ movie, a woman in hijab speaks at 0:36-0:40 and again at 1:46-1:50. There is a glimpse of another covered woman at 6:15.
It goes back to the concept that Muslim women are part of a wider society and are completely human. A novel idea, particularly coming from the music industry.
These videos are not professing to speak for Muslim women, but they represent some very successful artists who have included identifiable Muslim women in their videos.
Should we be relieved that we aren't as sexualized as other women in English-language music videos? That we aren't being ogled, fondled (sexualized) by dancing around a yacht while a sleezy, sunglasses-wearing man assesses the party scene? Yes. That our faces and our voices are not part of a large part of mainstream media? Well, no. And certainly not when images of Muslim women are stolen, used and abused by artists for a shock factor or for personal "artistry."
There are some very odd videos out there with artists being incredibly absurd in their attempts to portray veiled women as sexy, exotic and untouchable.
Then there is the reductive and horrible appropriation of the irritating Lady Gaga and her new autotuned mess called "Burqa" (read: garbage). Gaga appropriates the garment, using the concept of something so intensely personal and political and "foreign," while not only creating a sheer version of the burqa (one that no actual burqa-wearer would consider) but not engaging in any sort of dialogue with Muslim Women's groups or pretending to understand the issue.
There is no video as of yet, but we are certainly waiting for her to come up with some artistic and offensive piece to match her tacky Burqa obsession. I am anticipating perhaps something Barbapapa-esque.
Another popular artist to represent Arab and/or Muslim women (fully clothed, faces covered) in a very controversial manner is MIA. The MMW crew already addressed her video "Bad Girls" in a roundtable discussion. She, too, had appropriated stereotypes and used a culture (not her own) for a video that purportedly made a lot of money. I am not comfortable with MIA using blinged-out Khaleeji women as props. Her entourage of Arab-looking women with expensive sunglasses and covered in rich and golden fabric all scream hijabi and/or niqabi rebel.
But the options for Muslim women to be represented in music videos should be limited to One Direction or MIA.  I prefer that female Muslimah artists, be it hip hop or pop, represent themselves, particularly in videos, as film is an incredibly powerful medium to communicate a message.  There are spaces being created where the art and skill of Muslimah performers are showcased; for example, there is an incomplete database of Muslim artists, including links to some videos as well.
Having real women artists who identify as Muslim, such as Poetic Pilgrimage (featured in the film Hip Hop Hijabis and recently profiled on MMW by Sharrae), Deeyah or  Jamila Firdause,  create and share their art is so important. I may not like all their music but that they have agency to express themselves while presenting their music is critical.
There are even hijabi pop singers in South East Asia  who sing about their love for hijab; the piece is actually called "Hijab – I'm In Love."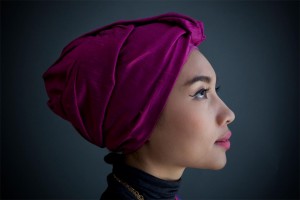 Although this particular video gives me cavities, I find it important that these women are singing about hijab and representing themselves and their voice – literally.
A few other videos that show Muslim women are the formidable French rapper Diam's, who has publicly declared herself to be Muslim, to the chagrin of her French compatriots. Her video "Enfants Du Désert" shows her running and contemplating life and materialism, and she's just wearing a tracksuit. Her paroles (lyrics) speak for themselves.
Yuna is a Malaysian folk singer / guitar-playing global phenom who has pretty much taken the world by storm. She writes her own music and her videos are relevant and interesting. She is unapologetic, confident and ridiculously talented. Her cover and video of Nirvana's Come As You Are is brilliant.
Pop n Lock Niqabis were featured in Brother Ali's "Mourning in America" video, and he also invited them to perform onstage during his set at a recent music festival.
http://www.youtube.com/watch?v=7O-J2Vh-9gM
Muslim women should have creative control and opportunity to show their ideas is necessary to continued dialogue and understanding about the many different identities of the Muslim woman.
Just as we aren't not keen on hearing voices of Muslim women as interpreted by others, music videos that have Muslim women may be best created and developed by…*waitforit*…Muslimah artists. They write and perform about issues that are personal, political, spiritual and societal. Hopefully, attention to their art will help provide avenues for videos, movies and other mediums that are the most relevant to youth today.
As much as I am thankful to Harry, Liam, Zayn and the other ones (whose names escape me) for including a woman in hijab in their video cementing her normal place in society, I am also pretty certain that there is enough talent and creativity for Muslim women to come up with brilliant videos of our own to match their incredible artistry and skill.