Editor's note: Malala Yousafzai has been extensively covered in media lately, and several MMW writers wanted to weigh in on the way she is being portrayed. This is the final post about her; see also Amina's and Nicole's posts from earlier this week.
Malala Yousafzai has figured in MMW's posts since the Taliban attempted to kill her due to her activism, which was discussed by Merium last year.  In another post, guest contributor Ossob described the difficulties that Malala's figure posed not only to images of silent Muslim women, but also to narratives of imperialism. Today, these narratives permeate the news.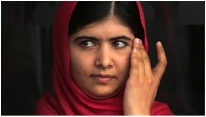 In the past few weeks, Malala was granted honorary citizenship in Canada. She was also nominated for the Nobel Prize (which she did not win), and has been recently awarded the Basavashree award in India. Malala also had the chance to meet Barak Obama and discuss drone attacks. These developments have led Aljazeera to describe her as a "feminist."
For a few weeks now I have been pondering the "Malala issue," but I could not pinpoint what was bothering me about media coverage on her. Fortunately, in the past few days I have discovered I am not alone in my discomfort with portrayals of Malala. The issue is not Malala's work per se. Her activism for girl's education is empowering and important, but her image has become associated with the politics of "the West vs. Islam" since her attack. Malala in now portrayed as a star, a heroine of women's rights and a symbol of everything that is wrong with "radical" Islam. At the same time she has been made into the "brown-next-door-girl" through her love of Twilight and American TV shows.  But is Malala all those things?

Supporters of Malala's stardom in the Western world see her as the missing link between Islam and the West. On one hand, some sources report that conservatives have accused Malala of fabricating her attack to seek Western support. On the other, authors like  Fouad Ajami see Malala as the path to Islamic modernity. Likewise, Aanya Niaz argues that Pakistan has not been able to support Malala, and other activists, but she sees opportunities within the Western world and she says:
"Rather than bashing the "developed" world's efforts, albeit nuanced in its' hospitality, perhaps we can turn this into an opportunity to point towards the million other Malalas and ask the UN, the elected peace-keeping force, and the Western world, to finally invest in something other than plain-yogurt foreign aid?"
Being the skeptic that I am, I can't help but wonder why Malala is receiving all this attention. Without taking away from her work, Malala Yousaizaf is not the only child activist in Pakistan. Hina Khan, another young activist,  was actually threatened by the Taliban a few weeks after Malala was attacked. Children around the world campaign for a number of causes. One can visit the International Children's Peace Prize website to see those kids who have been recognized for their efforts since 2005, but who have not received even a fraction of the attention given to Malala.
While Assed Baig believes that Malala has become a tool of the West to justify their interventions in other countries, Taufiq Rahim contested this argument by saying that oppression comes from within Muslim countries as well. For Cristina Maza, in a recent piece for PolicyMic, the lack of inquiry into the Western agenda in promoting Malala is problematic. A similarly interesting opinion piece published in the Edmonton Journal by a fellow university classmate resonated a lot with me. In another piece, Mustafa Farooq argues that Malala's image is challenging because it completely ignores the fact that education in Pakistan or lack thereof has a lot to do with international policy and conflict rather than just the Taliban. In other words, it ignores the Western role in war and military conflict.
As these articles suggest, Malala can be seen through many lenses; many of which she would likely not identify with. I truly believe that we have all made out of Malala what we want. Omid Safi recently wrote "How To Keep Malala from Being Appropriated: 5 points on Malala, Obama, and Jon Stewart," in which he warns against making Malala something she is not, and he suggests, instead, learning to redefine justice in a holistic way.
Yet, Malala has already being appropriated. We see her as a feminist, as a Muslim champion, as a "brown" heroine and as a fighter against Western enemies. Her image has been appropriated not only by much of the mainstream media in the Western world but also by many Muslims. Her portrayals show the deep need to mediate Western and Muslim guilt and complexes over gender relations, patriarchy, imperialism and the extent to which we are truly concerned with children rights.
But what is left at the end?
One question that has received little attention is what is next for Malala? The hype will come to an end and the prizes will eventually stop. Western media sources will find their next star and concerns about women's education in Pakistan will fade. Will Malala continue to pursue activism? Or will she pursue higher education in a context where she can expand her horizons?
By imposing roles on Malala we are not doing anyone any favours. And while today we want to see her as the "buffer" that mediates between Western blame and Muslim guilt over religious extremism, we need to wonder if it is ethical to place such a responsibility on any activist.