In Singapore, the hijab is more commonly referred to with the Malay word 'tudung', which simply means a covering. In October this year, a petition was started on Avaaz.org by a "Syafiqah K." to allow Muslim women in Singapore to wear tudung (hijab) in the workplace. It aimed to reach 20,000 signatures, but was closed down recently with about 7600 signatures short of its goal. It was originally planned to be sent to several figures in the government.
As of today, the Singapore government has what appears to be an almost arbitrary policy on Muslim women wearing hijab in the workplace. According to political rhetoric, the hijab is not allowed in "front-line positions"  that require daily contact with other Singaporeans, including non-Muslim ones. However, there is no law that details this specifically.
According to my observations, there are professions that involve contact with people (thus appearing to be rather "front-line" for all intents and purposes) and yet allow hijabs. Examples include public transport companies, teachers, doctors (except when in scrubs), and politicians. In the government, for example, hijab is allowed as long as it doesn't involve the "front-line" (case in point: my sister works in the tax authority wearing a hijab). Examples of professions that totally do not allow hijabs include police, military and navy officers, and nurses. As for private companies, their dress code is left to their own discretion.
This petition sparked a public debate in the mainstream and social media, for the second time. The first time (that I know of, at least) was in February 2002, when four little girls were banned from government primary schools after their parents sent them to school in hijabs and modified school uniforms (with lengthened sleeves and skirts). The then-mufti of Singapore (who is considered a civil servant because the Islamic authority is considered a government body) declared that "education is more important [than the hijab]" and urged their parents to comply with the school uniforms.
A glaring omission in this past debate was the voices of those girls. Note that their parents packed them off to school with hijabs when they were only seven years old. As hijab was not even obligatory on them, it appeared to me that their parents politicised the issue of hijab to highlight their own concerns that Malays, as the indigenous people of Singapore, were being marginalised in public policies. As for the government, the stock answer is that maintaining harmony between a Chinese majority and a Malay minority is hard work.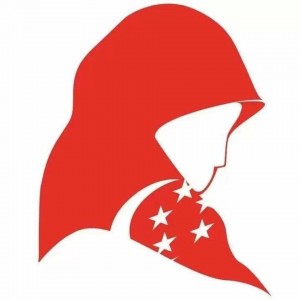 This theme surfaced again in the recent hijab debate: the "integration" of Malays into the Chinese majority. Malay (and presumably Muslim) nominated member of parliament* Zulkifli Baharudin's opinion is that Muslims need to integrate better, and "not expect others to accomodate them all the time". He attributes the "strong religiosity" of Singaporean Muslims to something primitive, and resistant to the "years of progress, education and Westernisation". His views echo the sentiments of Singapore's minister mentor** in his book 'Hard Truths' (2011), when he said:
"I would say, today, we can integrate all religions and races, except Islam… Be less strict on Islamic observances and say, 'Okay, I'll eat with you'."
Predictably, the Malay community feels attacked by the continual belittling of their customs and faith by the state apparatus and the Chinese majority.
The current mufti of Singapore, Mohamed Fatris Bakaram, has framed the issue in a way at least one blogger thinks is correct: that the hijab should not be seen as problematic to integration or racial and religious harmony, and that Muslim women who feel inclined to wear hijab on the basis of religious conviction should be allowed to do so in any profession, just as Muslim women who do not feel inclined to not wear hijab should be able to do so as well.
What about the voices of Muslim women? Their lack of visibility and voice is lamented in the public debate. On one hand, the thousands of Muslim women who signed the petition were dismissed by an MP Zaqy Mohamad, as engaging in a strategy of "astro-turfing" which he implied as being illegitimate and not constructive.
"The initiator has not identified himself or herself. So no one knows who initiated it, or whether the response is real."
On the other hand, the handful of hijabi Muslim women who work within the state apparatus, such as Speaker of Parliament Halimah Yacob, are pressured into giving her stand. I don't find it surprising that she is hesitant to do so, because she is part of the state and she cannot openly counter its official stance, just as MP Zaqy Mohamad has to push official rhetoric in order to remain in office.
Personally, I believe the inconsistent hijab policy in Singapore has allowed a space for Muslim women to practise their personal convictions through different strategies. For example, I know one long-time hijabi who wanted to stop wearing hijab by deciding to become a police officer, thus avoiding social pressure. Another works as a nurse, and wears her hijab going to and leaving from the hospital. Yet another hijabi trained as a nurse, but decided to become a teacher after she realised she could not wear her hijab.
So what do we make of this debate?
It's difficult to raise our voices in restrictive political conditions. In the semi-authoritarian state of Singapore disguised as a liberal democracy, there is no room for petitions and referendums. The inconsistent policy of allowing hijab in certain professions means that the issue can be used by both the state and the people to point out how much and how little freedom Muslims have, respectively.
At the same time, it is not to say that only democratic societies are able to handle such debates. Perhaps the blurred lines of the policy means that it is possible to have dialogue and debate in society about this issue. One profession at a time, it may be possible for Muslim women in Singapore to freely choose their career and how they practise their faith.
—
* NMPs are a uniquely Singaporean political creation, consisting of politicians who are chosen by the president to enter parliament, and do not represent any political party or electorate.
** Again, another uniquely Singaporean position for the man to whom much of the country's development is credited under his authoritarian rule, Lee Kuan Yew.
---