"Being free from shame is a beautiful freedom"
Corona is Bushra Rehman's riveting first novel. The first sentence of the book begins by smashing assumptions; we think "Corona" and think alcoholic beverage. Well, I certainly do. But that's not what Rehman is writing about.
"Corona, and I'm not talking about the beer. I'm talking about a little village perched between under the number 7 train in Queens between Junction Boulevard and 111th St."
Corona is a close community in Queens, previously inhabited by many Italians, in which Pakistanis and Dominicans have more recently set up halal meat stores and places of worship. Our protagonist is the intrepid and intelligent Razia Mirza. Razia journeys through sexual, spiritual, cultural and familial realms. In the novel, Rehman subtly focuses on how shame is often a large part of the narrative of Pakistani Muslim girls who are brought up in Western countries.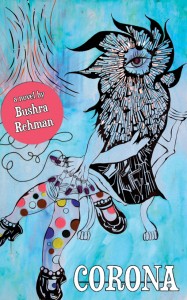 The story is not told in chronological order but flows beautifully, with each short chapter weaving together our understanding of Razia's feeling and experiences.Rehman lyrically narrates the places: ("…and when I opened the door to my friends Lucy's and Saima's house, it's glass metal sides tugged on the grapevines. Cooled-down rain, which has pooled on the leaves, showered down on me and wet my salwar kameez") and spaces that are the setting for her stories. Readers can easily visualize the environment of an underground Bhangra club in New York City, hear the sounds of her Italian male friends cackling with laughter on the porch in Queens as they generously pass around a joint, or feel the sticky, hot leather on which Razia sits with her girlfriend while hitchhiking in Florida, where she is intimidated and ogled by an ultra-religious Christian couple.
Razia often describes characters who play a huge role in her life, and how they made her feel judged. Central figures in this role are the familiar "Auntie-types" from her tight-knit Pakistani community, something that many young Muslim women can relate to.
"'I don't want to get married.' It was a knee-jerk reaction from all the years of answering back to meddling-Pakistani aunties who seemed as if they had only one pastime: trying to get the girls in the community married. As soon as they finished with one, they pounced on another. Before the blood was even dry."
Razia is a self-professed excommunicated member of her family, yet still identifies as a Pakistani Muslim. The fear of being shamed has always been carried close to her identity.
At one point in the novel, which will resonate with many readers, Razia is labelled "Besharam" (Urdu word for shameless"), yet ponders if this unflattering comment is actually an unspoken gift:
"And Besharam became my nickname for the weekend. But Besharam, being without shame. Is that really such a bad thing?"
Muslim women sometimes struggle with narratives of "reputation" and "shame". Often Muslimahs are bullied into obedience (be it physical, religious or cultural) through shame. This stress, coupled with expectation, can often feel overwhelming. We are worried about embarrassing our family and community, and the effects our actions will have on them. We are taught to fear Allah (swt). But we also fear the tears of our mothers and rage of our fathers, sometimes just as mightily. Razia tells us about the systems of patriarchy, without delving too deeply into theory as she shares her thoughts.
"He looked at my covered legs. 'You are a very good girl.' I hadn't been called a good girl since puberty."
In a recent interview, Bushra Rehman spoke about the concept of shame and how it it played into her main characters voice:
"I wanted to include this feeling because, later in the book, Razia is accused of being shameless, and she is shameless precisely because she has experienced shaming. At some point she just grew tired of this feeling and decided she would be shameless. Being free from shame is a beautiful freedom."
Razia's journeys vary through relishing the affection of her pious and generous father to her devastating experience of losing boyfriend after he returns to India.
"As a parting gift, like the kind they give contestants to make their public humiliation worth it, Ravi gave me his Queen-size mattress."
She reflects on loss intensely and rationally, particularly in an episode where she is being abused by her white boyfriend:
"My father had made me choose: the family or Eric. I had thought I was choosing freedom."
Bushra Rehman is a poet. Corona is not the usual formula of a plot and later a reconciliation or conclusion. Rehman chooses instead to have us understand specific, profound experiences Razia's life, without going in sequence.
We are taken to different places and spaces; Razia unapologetically explains her politics and opinions on social issues – from sexual abuse to LGBT issues to G.W. Bush's invasion of Afghanistan to Ground Zero – without preaching. She delights us with raw honesty, wry humour, and very acute observations and self-reflection. The chapter of Razia working in a Pioneer Village in Salem, Massachusetts as a tour guide is particularly hilarious. Razia decides to change the script a little, much to the chagrin of some, old white visitors. The exchanges are brilliant.
I really, really enjoyed Corona. I related so so many pieces of young Razia's experience; her doubts, her sadness, her curiosity. I could sense her vulnerability as a child, but then was applauding her self-awareness as a woman pretty much the same age as me. I found myself respecting her growth along the way. Although I haven't made similar choices, Razia's decision to respect others and let herself travel along a road, her road, made for an amazing read.
This isn't a fairy tale or a novel that will make us weep with its love story. It will make us think about how every decision impacts us and how we need to love ourselves despite age-old traditions of intimidation and shaming. We want our heroine to survive and succeed. Razia is one of us.