The bodies of at least 87 migrants, predominantly women and children, have been found in the Sahara desert in Niger, close the Algerian border. They died earlier this month in a failed attempt to reach the Algerian border; 21 migrants of the same group survived and have all been returned to Niger.
Complaints about anti-Islamic ads on buses in Edmonton, Canada, have resulted in the removal of all five ads. The ads were targeting Muslim girls and young women and linking them to possible threats of honor killings by their families or communities.
Russian authorities are collecting saliva samples of Muslim women ahead of the Olympic Games in Sochi, to ensure that they can identify suicide bombers' bodies after they attacked.
According to activists, at least 60 women joined last weekend's driving ban protest in Saudi Arabia and although Saudi authorities seem to downplay the importance of the protest, dozens of videos of women driving were uploaded on YouTube. Authorities say they have fined at least 16 women for driving that day.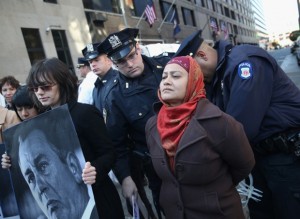 Despite important gains for Pakistan's third-gender community, third-gender citizens, specifically those residing in Peshawar, are still subject to discrimination and threats.
Indonesia has seen a rise in young girls pimping out other girls. This year alone 21 girls between the ages of 14 and 16 have been caught working as pimps, and it's likely that the number is far bigger.
In South Africa, a woman has been granted the status of legal spouse of her late husband in court, even though the couple was married according to Islamic, but not civil, law.
It is reported that in Azerbaijan almost ten percent of female births are being prevented, due to sex-selective abortions and a preference for boys.
Thuria Damaj, a Yemeni women's rights activist, says that she is optimistic that a law will be passed in Yemen, that will require a 30% participation quota for women in the government.
In Egypt, sexual violence has reached epidemic proportions, but most victims of sexual assault often do not receive any justice when they report their cases.
Four Turkish female MPs attended a session of Turkish parliament last Thursday in headscarves; only subdued protests could be heard, which is a major difference from the last time a woman in hijab entered parliament in 1999.
At 300 couples have been married during mass weddings at camps for the riot victims of Muzaffarnagar, India. Some claim this to be a way to start new lives, while others view the weddings as unnecessary distractions.
VICE features an article on Kurdish female fighters in Syria.
More Bedouin women and girls in Israel are being encouraged by their families and communities to enroll in university education; it is even said to have become an advantage for finding a husband.
The BBC features an article on the Moroccan "mule women" of Melilla.
Police are hunting for a man in a small Pakistani town, who has at least stabbed 25 women over the last few weeks.
After the bombing in Russia last week, the Russian security forces released a picture of the passport of the alleged bomber, in which she wears hijab. Fact is that in Russia, women are not allowed to wear head coverings on passport pictures, and it is said that the headscarf picture was placed over the real picture by a security agent.
The latest UN statistics suggest that there is a huge gender gap in the Iranian workforce, with only 16 percent of the women employed compared to 72 percent of the men.
Three Pakistani men have been arrested for their involvement in the marriage of two underage girls, aged 5 and 13, to settle a domestic dispute between two families.
Despite the fact that many of their names have been forgotten, Palestinian women played a key role in the early national struggle.
A roadside bomb in Ghazni province, Afghanistan, killed 18 people in a minibus, all of whom were on their way to a wedding; 14 of them were women.
Approximately 20 female Muslim Brotherhood supporters have been arrested during clashes in Alexandria, Egypt.
The BBC shares the story of Meena, a Pakistani widow, who lost her husband in a bomb blast in 2007.
A Russian expert says that if a girl wears the hijab, that that doesn't immediately mean that she is a terrorist. In case we didn't know…
A small group of Syrian female refugees in a Turkish camp have been given the opportunity to fight boredom by learning to weave carpets.
Goli Abdurahman, a breast cancer survivor herself, is fighting against the ignorance surrounding cancer in Iraqi Kurdistan.
The debate on whether or not yoga is halal has hit Turkey; for many Turkish women (secular and religious), yoga doesn't have to do with religion, but is considered a great way to exercise.
A Florida, USA, Muslim woman says that a man tried to run her off the road, when he noticed that she was wearing a hijab.
Last weekend, Ghanaian police stopped a Muslim ceremony where a 13-year-old girl was being married off against her wishes. Her father has been imprisoned.
The BBC features an article on the survivors of the Rana Plaza complex collapse in Dhaka, Bangladesh six months ago. While many workers and/or their families have received money, the sums are too small to provide a decent compensation.
The rise of internet use and social networking has been changing Yemeni society; it has been even said that in some areas women and girls are covered more now than ever out of fear of them being photographed and their pictures emerging online.
A British judge has criticized the high costs for tax payers of a legal battle by Muslim parents to be granted the right to shave the pubic hair of their disabled, adult daughter.
A school in Ahmedabad, India has allegedly denied admission to a 5-year-old girl, because she is Muslim.
Three female journalists, from Afghanistan, Cambodia and Syria, have received the Courage in Journalism award from the International Women's Media Foundation last week.
Two American Muslim women have created an Islamic fitness DVD, which features covered instructors.