Black Muslims took to Twitter last month in light of Black History Month, which is celebrated in February in North America. The Muslim Anti-Racist Collaborative (MuslimARC), a collaborative of diverse Muslims dedicated to combatting anti-Black racism, discrimination and exclusion within the Muslim community, launched a Twitter campaign that has opened the door to discussing anti-black racism within the Muslim community.
In an interview over email correspondence, Margari Hill, a member of MuslimARC, said that discussions began in 2013 about creating a Twitter campaign that would shed a spotlight on Black experience within the Muslim community. The call out was sent out in the second week of the month, notifying Black Muslims to participate in the live twitter conversations #BeingBlackandMuslim, #UmmahAntiBlackness, and #BlackMuslimFuture.
The #BeingBlackandMuslim campaign has situated Black Muslims as the drivers and leaders of the discussion that proceeded and was covered on Al Jazeera's "The Stream." One of the main events that prompted the creation of the Twitter campaign was CAIR- Michigan's Executive Director Dawud Walid's article entitled "Responses to my calling out the term 'abeed'," which denounced the use of the word, which means "slave" and has been used by both Christian and Muslim Arabs for Black people. As Margari told me in our email correspondence,
"Dawud Walid began to address the frequent use of the the Arabic slur word ab**d among Muslim and Christian Arabs. Several members of MuslimARC's original core supported his Twitter campaign, and we were all shocked to see numerous Muslims who professed faith be so casually racist. Dawud Walid's article on how individuals responded to his campaign went viral."
Some key tweets from the #BeingBlackandMuslim conversation: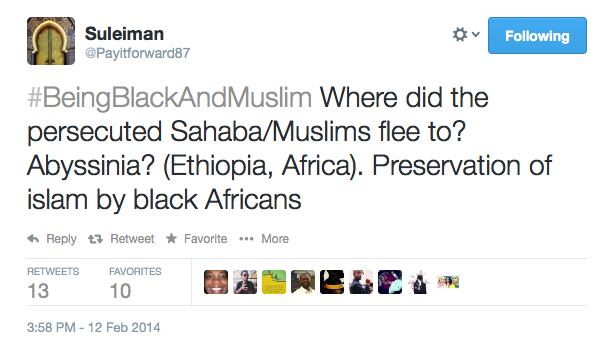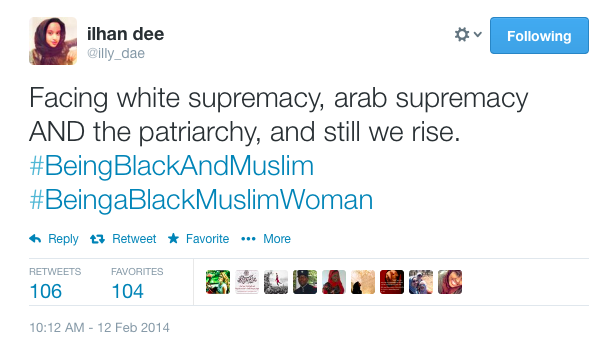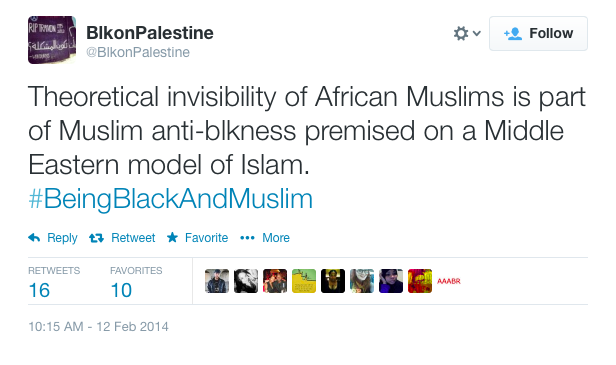 Non-Black Muslims also encouraged others to not derail the conversation and to allow Muslims who experience anti-black racism to voice their stories of both struggle and empowerment.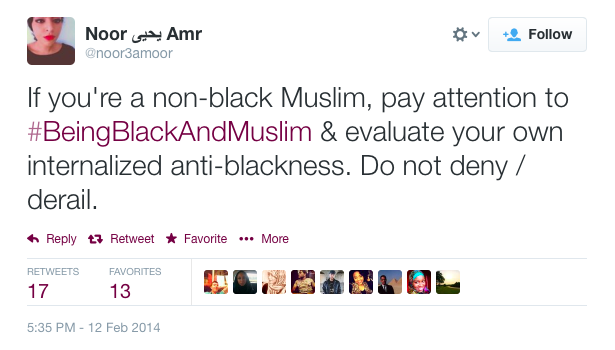 Some Muslims engaged in the conversation with the notion that "We are all Muslim," yet they were quickly met with responses that explained the particular and very real experience of marginalized Black voices in predominately South Asian and Arab Muslim communities.
"For Muslims to be engaging in anti-black racism is unacceptable given the main thread that connects us: a religion that is explicitly against racism," says Namira Islam, another member of MuslimARC, about the importance of centering conversations about anti-blackness in the ummah.
Margari further explains,
"Muslims are long overdue for an internal conversation; we need to have a family meeting about this taboo topic. Stereotypes and discrimination have shaped the ways that we interact on a communal level. We are supposed to pretend that we are on a unified front in face of the onslaught of Islamophobia, but it is clear that there are fissures."
I participated in the first conversation and was energized by joining in with other Black Muslims who have experienced marginalization and racism within the broader Muslim community. I had wanted to include and open a space for folks were identify as queer and Muslim, so I tweeted: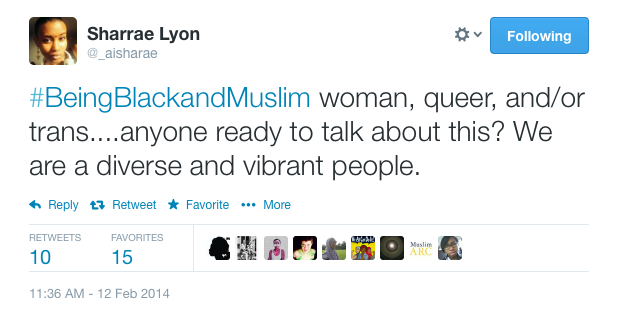 There is always the need to ensure that we are not silencing the stories and experiences of others in our attempts to make pathways to our liberation. The added measure of being queer, along with a Black Muslim identity, contributes to further marginalization, isolation that needs to be addressed Although the tweet didn't go far into discussions of queer experience, scholars, artists, students who identified both as Muslim and queer had an opportunity recognize and acknowledge each other and have side conversations on the struggle of resisting on multiple fronts beyond our race and faith.
Through using the social media platform, Namira and Margari and the folks at MuslimARC are sparking an international dialogue that could potentially inspire and influence a change in the relational dynamics between non-Black and Black Muslims.
"Islamophobia is external, and antiblack racism is internal. At the end of the day, they're two separate issues […] it's important to take care of our intrafamily issues."
Let the family meeting continue.