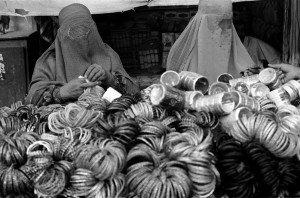 Earlier this month, Slate featured a photography-poetry project, "The Secret Lives of Afghanistan's Female Poets." The photography-poetry collaboration stems from the work of journalist Eliza Griswold and photographer Seamus Murphy, who reported "Why Afghan Women Risk Death to Write Poetry" for the New York Times magazine in 2012. Griswold and Murphy's work will be published in a book, I Am the Beggar of the World: Landays from Contemporary Afghanistan, next month.
In the New York Times article, Griswold reveals the world of a homegrown Afghan women's poetry group, Mirman Baheer, and the women from around the country who are its members. She reports on the important role of poetry among women as she describes the poetic form of the landai (a popular form of couplet):
"Pashtun poetry has long been a form of rebellion for Afghan women, belying the notion that they are submissive or defeated. Landai means "short, poisonous snake" in Pashto…The word also refers to two-line folk poems that can be just as lethal. Funny, sexy, raging, tragic, landai are safe because they are collective. No single person writes a landai; a woman repeats one, shares one. It is hers and not hers. Although men do recite them, almost all are cast in the voices of women."
Griswold notes that while some poets receive support from their families, for others such poetry becomes a personal refuge from unsupportive family members and a way to speak of their sorrows. She shares some landai verses penned by women, some more risqué and lighthearted:
"Making love to an old man is like
Making love to a limp cornstalk blackened by fungus."
Others display a powerful sense of melancholy and unfulfilled dreams:
"On Doomsday, I will say aloud, 
I came from the world with my heart full of hope."
The Slate article features photography from the I am the Beggar of the World collaboration and elaborates on the creative process involved behind selecting photography to accompany the women's poetry: "The idea was not to 'illustrate' Afghan life in a straightforward sense. Photographs were never intended to correspond to poems directly."
The photographer, Murphy, also was hesitant to reveal women's faces in the photography he selected, in order to both emphasize the women's words and preserve the anonymity of the authors:
"Taking pictures of women has always been a fraught endeavor in Afghanistan, and even photographing burqas has gotten Murphy into trouble. But the project itself called for concealment. 'One of the virtues of landays, and how these women can continue to produce them, is [because] they're anonymous,' Murphy explained. 'So it's kind of against the spirit of what they're doing to be chasing faces. The deal is that it's the inner world of women.'"
I'm glad to have come across Griswold and Murphy's work. Their approach seems nuanced and reflective towards portraying often-stereotyped Afghan women's lives as ones brimming with independent and creative fulfillment—the women's poetic endeavors were ones that I was entirely unaware of. I look forward to reviewing the book to see how their approach came to fruition.
Stay tuned for my review of I Am the Beggar of the World.