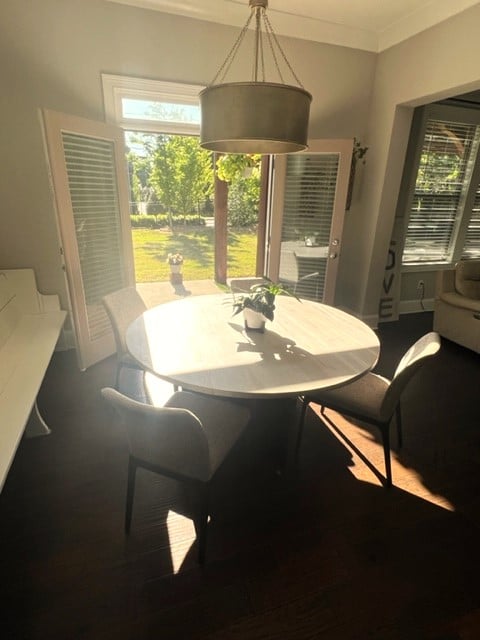 Mealtimes for our family of four have always been a source of stress for me, ever since our children were small.
Whether it's the grumbling over the soup du jour, my husband's loud criticism of our kids' table manners, or the incessant requests to shut off the electronics while we are at the table, mealtime with the family is not something I looked forward to.
As we have assumed more "traditional" roles in our home, it's really up to me to make family mealtime happen.
Because of the tension at dinner, our meal times during the week became staggered.  The kids would eat casually at the kitchen counter, and my husband would later.  I typically do not eat dinner, especially when I cook, which is pretty much every night.
On Friday nights we typically we sit together at our rectangular dining table for a traditional Shabbat dinner, where my husband blesses the bread and the wine before we eat a better-than-average Friday night meal.
The eating at different times during the week is not ideal, especially when it's well known that family dinner is a very important bonding time for a family.
Still, I was all for minimizing dinnertime tensions by spacing out our family's mealtimes.
That all changed with the purchase of our new circular kitchen dining table.
Change of Scenery
We searched and searched for the perfect table and narrowed our focus to a few we liked from a newly opened furniture outlet.  I wanted a round or oval table, as our kitchen space is not that large, and all our other tables were rectangular – it was time for something different.
Sitting at our new table has been transformative.  Suddenly, there's no Head of the Table, we are all equals – each making a contribution to the conversation.  Each of us are able to see one another eye to eye, and breakfast, lunch, and dinner tensions have diminished.
Now, we can open the double doors that lead from our kitchen to the backyard, and it's as if we are dining al fresco.
In the morning when the kids are off to school, sitting at the table alone, drinking coffee – is peaceful and calming.  The need to escape for a coffee run has disappeared.
A Roundabout Decision 
While my motivations for wanting a round table are practical, there is actually some Jewish wisdom and even superstition that's applicable to the decision.
First, it's the avoidance of sitting at the corner of a table, which may inevitably happen with a square or rectangular table.
There's a popular superstition in Judaism and throughout Eastern European culture that says that a person who sits at a corner will not be married. In Russian tradition – the person may not get married for 7 years.
Even though it may sound silly, I can't help but feel badly for a hapless guest who many find themselves squeezed to the corner of the table when there's enough room at a regular seat
Perhaps the other rationale for choosing this shape table is the metaphorical connection with the Circle of Life — a common theme in most every religion or spiritual school of thought. On the Jewish New Year Rosh Hashanah, we eat a circular challah to remind us of the circle of life.  And when we are celebrating a simcha, we dance in a circle.
It does not matter how I look at it – when I sit at the circular table, whether its alone or with my family, I feel a sense of fullness and contentment.