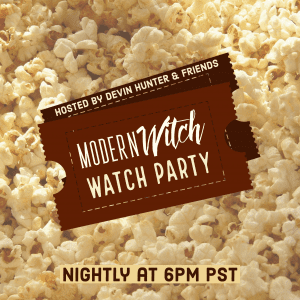 Life in isolation can be tough and many of us still have weeks to go before we can get back into our normal groove. Starting Weds, April 15 and running at least until the end of the month, Modern Witch will be hosting nightly Netflix Watch Parties, and you're invited! All you need to do is check out one of our social media pages (listed below) each day for the watch link, follow that link, and join us for a spell!
Things you should know:
*Curious about Netflix Watch Parties? Find out more about Netflix Watch here.
* The majority of what we will be watching are horror and fantasy movies, mostly horror. If you are unsure of what the film is about or if it might be too much for you, check out their trailers on Youtube.
*18+ only.
*Google Chrome is the recommended browser for this experience, as Netflix Watch is a third-party app extension through Google Chrome. Other browsers should work fine for watching the film, but those who want to participate in the Watch Party Chat will need to download the Google Chrome Netflix Party extension.
*There is a chatroom and we will be using it during the watch party for those using GOOGLE CHROME and a secondary chat through Zoom! Be kind, responsible, don't be offensive and NO SPAMMING! We will boot you.
*All showtimes are Pacific Standard Time.
*See the OFFICIAL WATCH PARTY page on ModernWitch.com for details and daily linkage!

Showtimes
April 15 – The Evil Dead @ 6PM PST
April 16 – Pan's Labyrinth @ 6PM PST
April 17 – The Witch @ 6PM PST
April 18 – Best of Charmed (Original) THREE EPISODES starting at 6PM PST
April 19 – Best of American Horror Story: Coven THREE EPISODES starting at 6PM PST
April 20 – House of the Witch @ 6PM PST
April 21 – Tucker and Dale vs Evil (comedy) @ 6PM PST
April 22 – Errementari: The Blacksmith and the Devil @ 6PM PST
April 23 – The Spiderwick Chronicles @ 6 PM PST
April 24 – The Ritual @ 6PM PST
April 25 – Best of the Chilling Adventures of Sabrina THREE EPISODES starting at 6 PM PST
April 26 – Best of The Magicians (Season 1-4) THREE EPISODES starting at 6 PM PST
April 27 – The Wickerman (1973) @ 6PM PST
April 28 – As Above, So Below @ 6PM PST
April 29 – I am the Pretty Thing That Lives in the House @ 6PM PST
April 30 – In the Tall Grass @ 6PM PST
Get the daily invite by following us on Social Media!
Facebook: https://www.facebook.com/ModernWitchOnline/
Twitter: http://twitter.com/modernwitchshow
Instagram: http://instagram.com/modernwitchofficial
See you there!