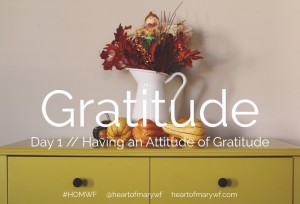 From the Heart of Mary Women's Fellowship:
It's easy to feel grateful when things are going well, but we really need gratitude when our lives are chaotic and messy, when we feel like there is no hope, because gratitude gives us something to hope for. Through gratitude, we find the hope for a better future because we already have good things in our lives in spite of the hardships that we suffer.
Go read the rest of the study here.
The study also comes with a free study journal linked here.
And follow the Spotify playlist I created with this study! I think you'll like the songs I chose.