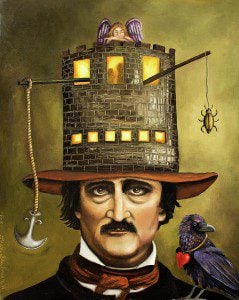 Edgar Allan Poe was born on this day in Boston in 1809.
Among the East Coast cities where he spent time was Providence. On occasion as I walk around the church standing in the most historic area of the city, I see among the walking tours with small bands of tourists gawking at the lovely this and thats we have in the neighborhood, is the Poe tour. Our city's little claim to Poe fame is that his work brought him here on occasion, and somewhere along the line he met the Transcendentalist and Unitarian Sarah Helen Whitman, and for a time courted her.
And, because of Ms Whitman, and that they were in this very neighborhood, while I haven't found confirmation yet, I find it at least plausible that Mr Poe sat in the pews of our old Meeting House.
That's it. Just a tidbit of a question on a frosty mid January morning…
And now in conclusion, and just to set the mood properly, how about William S Burroughs reading Annabelle Lee?