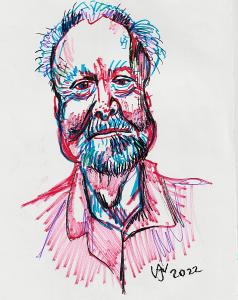 The Reverend James Ishmael Ford is a Unitarian Universalist minister, a Zen teacher, and an author.
Over the years he has led Zen groups and Unitarian Universalist churches, several occupying the same physical spaces. He currently guides the Empty Moon Zen network, and serves as consulting minister to the First Unitarian Church of Los Angeles.
He is deeply interested in the currents of the spiritual life, particularly in that place where cultures meet. He finds social and particularly political engagement a natural outcome of the spiritual quest.
James has written or edited five books, mostly addressing aspects of the Zen life. His most recent is an Introduction to the Zen Koan. His articles have appeared in Buddhadharma, Tricycle, and the UU World.
He is married to Jan Seymour-Ford, a retired librarian. They live in the Alamitos Beach neighborhood of Long Beach, California, together with their three-legged cat Cassie.
For more about James and his work go here.