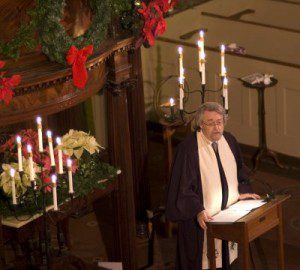 Arthur Tooth, a priest of the Church of England, was part of that movement within the mid-nineteenth century to revive Catholic rituals within the CofE. As the Anglican church in England is a state religion, it is governed in many ways by law, and in reaction to the rise of ritualism, in 1874 a Public Worship Regulation Act was passed by Parliament. Mr Tooth was in regular violation of the act for use of vestments, incense, etc. He was charged but refused to attend the trial. Finally, on this day in 1877 he was arrested and thrown into the Horsemonger Lane Gaol. This event making him a martyr to what would come to be called the Anglo-Catholic movement…
So, what does this matter to me, A Zen priest and Unitarian Universalist minister serving for more than two decades in UU congregations?
Well, one of the things I've observed over these years is first a leveling off of attendance in UU congregations, even a tiny dip in our very small numbers reported nationally. And, then, what looks to be a turning.
I'm now some four and a half years into serving at the First Unitarian Church of Providence.
When I arrived here I noticed a sprinkling of younger adults in worship services. In the subsequent years every year there have been more. Last year we experienced significant growth, ten percent net over the previous year. It looks like the same thing is happening this year. And, much of the driver for this, in addition to the young families we've always assumed and the general churn of the professional classes bringing UUs here from around the country and elsewhere, are significant numbers of twenty-somethings. Sometimes married with kids, but just as likely couples without kids, singles, and small herds, that is people who like to come in groups…
I've come to like to ask these millennials, as demographers like to tag 'em, a question. First, I say, okay, you're coming to First Unitarian, where we offer most commonly what is essentially a high Protestant service featuring dead white guy music, done to the nines (really, really done to the nines), and with what amounts for the most part to a rationalist Buddhist sermon. Then the question. Are you attending in spite of this? Or?
One response summarizes what I mostly hear. "Could you please put robes on the choir?"
Now, I've been inundated with a literature of growth that assumes people want pulpits taken down, pews removed, and organs burned.
Rather, what it looks like I'm seeing in the actual real people who are coming into church I'm at least tentatively characterizing as neo-traditionals.
Within the Jewish tradition at least here in America there is a fourth wing emerging called Reconstructionists. They look like the Orthodox. And their services are traditional to the max, running hours at times, tons of singing, quite powerful, compelling. And, they count women for minun. And they have absolute personal freedom of interpretation of what is going on. It seems from where I sit some significant percentage of Reconstructionists are either agnostic or straight out atheist, or probably more appropriate usage, nontheist.
Maybe, possibly, it looks like it might be that we're getting a "Christian" version of this. The scare quotes because I think it reflects Christian culture and a desire to mark major Christian holidays, but all deeply personally interpreted, and possibly without a single one of the people coming believing in a traditional, shall we say normative literalist straight ahead telling of the Christian story – and with lots and lots of room for those coming in from other religious perspectives, particularly Jewish, but also most notably earth-centered and Buddhist. And, as always, always a seat in the pew for the agnostic and atheist…
Fascinating.
Now, I have no idea if this is a trend. Or, perhaps, just an interesting and ultimately meaningless blip.
But, I watch with interest.
Actually that doesn't say it.
I watch with a heart full of excitement and wonder.