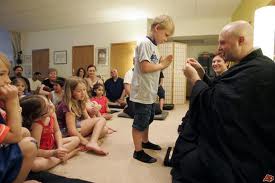 Had such a lovely time visiting with the Great Heartland Buddhist Temple of Toledo over the weekend. I joined them for the end of their jukai sesshin and then served as principal celebrant at the jukai service on Sunday.
In addition to the adults who all completed a rigorous months long program in preparation, teens and children made various promises in age appropriate versions of the ceremony.
I am particularly impressed at how they are maintaining a pretty hard core traditional Zen practice, including near monthly sesshin, while also reaching out to families and others who find a Sunday service featuring a pointing to deeper perspectives including ethical teachings as foundational to a healthy life. Their Dharma school program is something to behold.
I'm fascinated at the beginnings of what can truly be seen as a Western style for our Zen lives.
And, no doubt, the Toledo community are helping to lead the way…