I've just learned that Kyozan Joshu Sasaki Roshi died at 4:25 pm, this Sunday, the 27th of July, 2014, at Cedars Sinai Hospital in Los Angeles. He was one hundred and seven years old.
Sasaki Roshi was the founder and abbot of Mount Baldy Zen Center as well as head of the Rinzai-ji organization of Zen centers.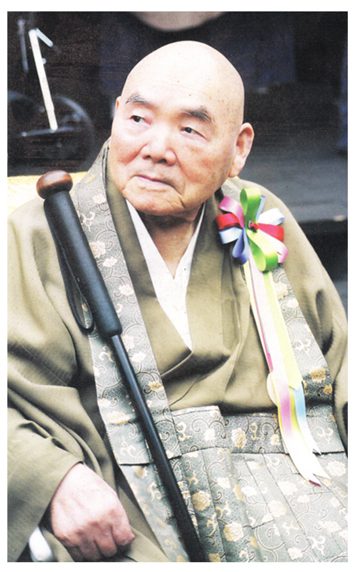 He was the most credentialed Zen teacher of the many Japanese priests who have come to live and teach in the West. However, his teaching career in the west was followed by whispers and allegations, and in the last years by public allegations of sexual misconduct, non-consensual groping, and coerced sexual relationships.
While a few of his priests and at least two affiliated centers have disaffiliated, most have not, and the continuing scandals and the Rinzai-ji board's inability to either hold him to account or even reign in his behaviors, allegations of groping lasted well in to his hundreds, cast a shadow across the whole organization.
Sasaki Roshi left about twenty fully ordained priests, although none received dharma transmission, authorization as full spiritual directors within the Rinzai style. So, ironically, a Rinzai master leaves an organization that does not advance a formal koan curriculum. What will happen for the organization next is an open question.
By all accounts a great teacher.
By all accounts a sexual predator.
A great sadness for the Dharma come west.