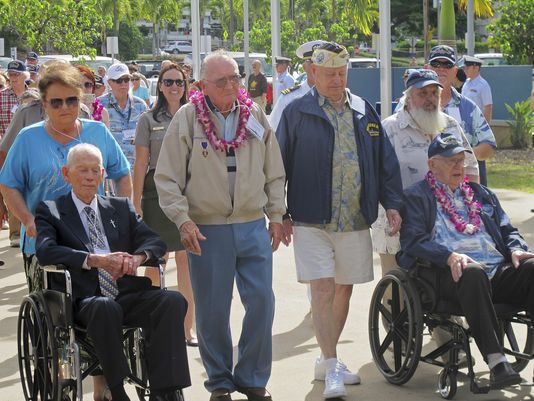 Over my life I've watched how the observances of December 7th, the attack on Pearl Harbor, and the beginning of our American involvement in the Second World War have slowed down. Once banner headlines on every newspaper, today, well today there barely are newspapers.
Among those stories I did see was one about the gathering of survivors of the attack who were on the USS Arizona. There are nine left, four present at the event. The story was nearly as much about how this was going to be the last official remembrance.
It put me to mind.
When I was born there were still a small band, maybe seventy or so survivors of the Civil War. By 1955, when I was seven, there were about a half dozen and a sort of tontine formed. Their pay in was their lives in that terrible war. The pay off? Well, not much. To be the last survivor.
Still people vied for the title. The records were much less clear for Confederates, and there were a handful who claimed to be veterans but for whom there's no evidence they actually were there. The last of the Confederates known for certain to have been there was Pleasant Crump, who died at the age of 104, in 1951.
While there were three men who were still alive who claimed to be Confederate veterans at the time, the last person who was undoubtedly a survivor of the war was a union veteran, Albert Henry Woolson.
He died in 1956 at the age of 109. He served as a drummer boy when the war ended. He was fifteen when he mustered out.
Me, I was eight. And I recall the hubbub, particularly that he was a boy veteran. There was a big Life magazine story.
Not a major memory for me. But one…
And now, another count down begins.
The men and women who served in the Second World War are beginning to thin out. There were well over sixteen million men and women who served in American uniforms in that war. Today there are a fraction over a million left.
Stories and memorials of the Second World War are still there. A million people carry living memories, as well as their loved ones and others who didn't wear uniforms, but lived in the shadow of that war.
And.
The sands continue to race down that glass…
Death stands in the corner, in the shadows, watching as we ruminate on our deeds.
As the Buddha sang to us:
We are of the nature to die…
(photo by AP photographer Audrey McAvoy)